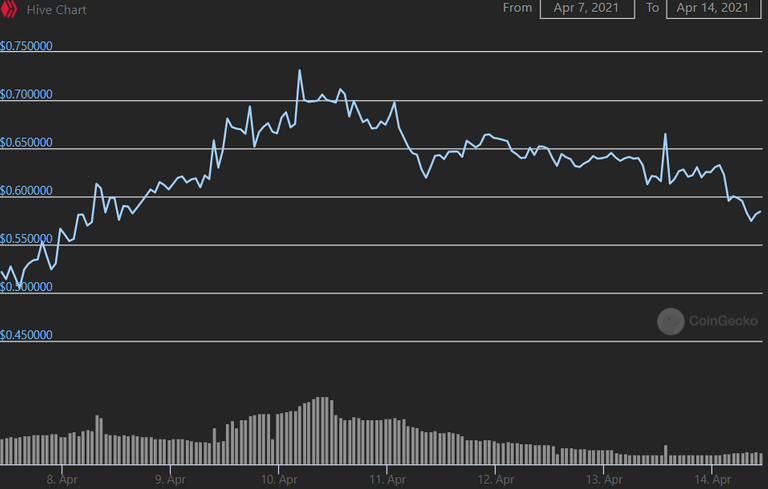 Latest bull run, altcoin season or whatever you might call this trend, is now going on for couple of months. It seems that anyone who have jumped into this train is travelling to Fortune City. Of course, the veterans still expect negative trends to rear their ugly head again in the form of another long "crypto winter" or at least some healthy or not so healthy "corrections". But, for most people who follow prices, what Bitcoin is doing, including latest modest, but nevertheless impressive trip to new All Time High, gives reasons to put smiles on everyone's faces.
On the other hand, while most people are happy, some are less happy than the others. Among those are people who have invested in HIVE expecting this new cryptocurrency to do the same its predecessor Steem did during the last bull run. HIVE is not doing that and, while way over the depressive levels of 10 cents, is disappointingly losing pace both with Steem and Bitcoin. HIVE reaching 1 US$ looks not so certain as it did two weeks ago and price of HIVE surpassing price of Steem, although such situation briefly occurred few weeks ago, is not so likely. It's even more depressive to see HIVE stagnating or even going down while the King Bitcoin smashes another record, situation which was rather common in past few months.
On the other hand, it is all matter of perspective. If someone sees HIVE as way to get rick quick, this project is disappointment. If someone sees HIVE as foundation of healthy and financially rewarding social network, or to be precise, social networks that allows individuals all over the world to put their creative energies in a personally beneficial way and even put some food on the table, HIVE is, regardless of its price, a smashing success. Just as Steem's price dive two years ago allowed many users to accumulate their favourite cryptocurrency, latest stagnation could be seen as an opportunity for future HIVE dolphins, orcas and whales.
Blog in Croatian https://draxblog.com
Blog in English https://draxreview.wordpress.com/
Original Hive blog (Film & TV) https://hive.blog/@drax
Minds profile https://www.minds.com/drax_rp_nc
Uptrennd profile https://www.uptrennd.com/user/MTYzNA
Hiveonboard: https://hiveonboard.com?ref=drax
Rising Star game: https://www.risingstargame.com?referrer=drax
1Inch: https://1inch.exchange/#/r/0x83823d8CCB74F828148258BB4457642124b1328e
BTC donations: 1EWxiMiP6iiG9rger3NuUSd6HByaxQWafG
ETH donations: 0xB305F144323b99e6f8b1d66f5D7DE78B498C32A7
Posted Using LeoFinance Beta