Aliento.LEO Update | Alliance with Erarium & Buying/Staking LEO Again!
It's been almost four months since I started the @aliento.leo project, a curation project similar to @aliento but for LeoFinance. Since last January, many things have changed, and now I have more responsibilities with @Aliento (Newbies Initiative and Support to Communities) and with 3Speak (@aliento.speak).
Hace casi cuatro meses que empecé el proyecto @aliento.leo, un proyecto de curación similar a @aliento pero para LeoFinance. Desde el pasado mes de enero, muchas cosas han cambiado, y ahora tengo más responsabilidades con @Aliento (Iniciativa Newbies y Apoyo a Comunidades) y con 3Speak (@aliento.speak).
---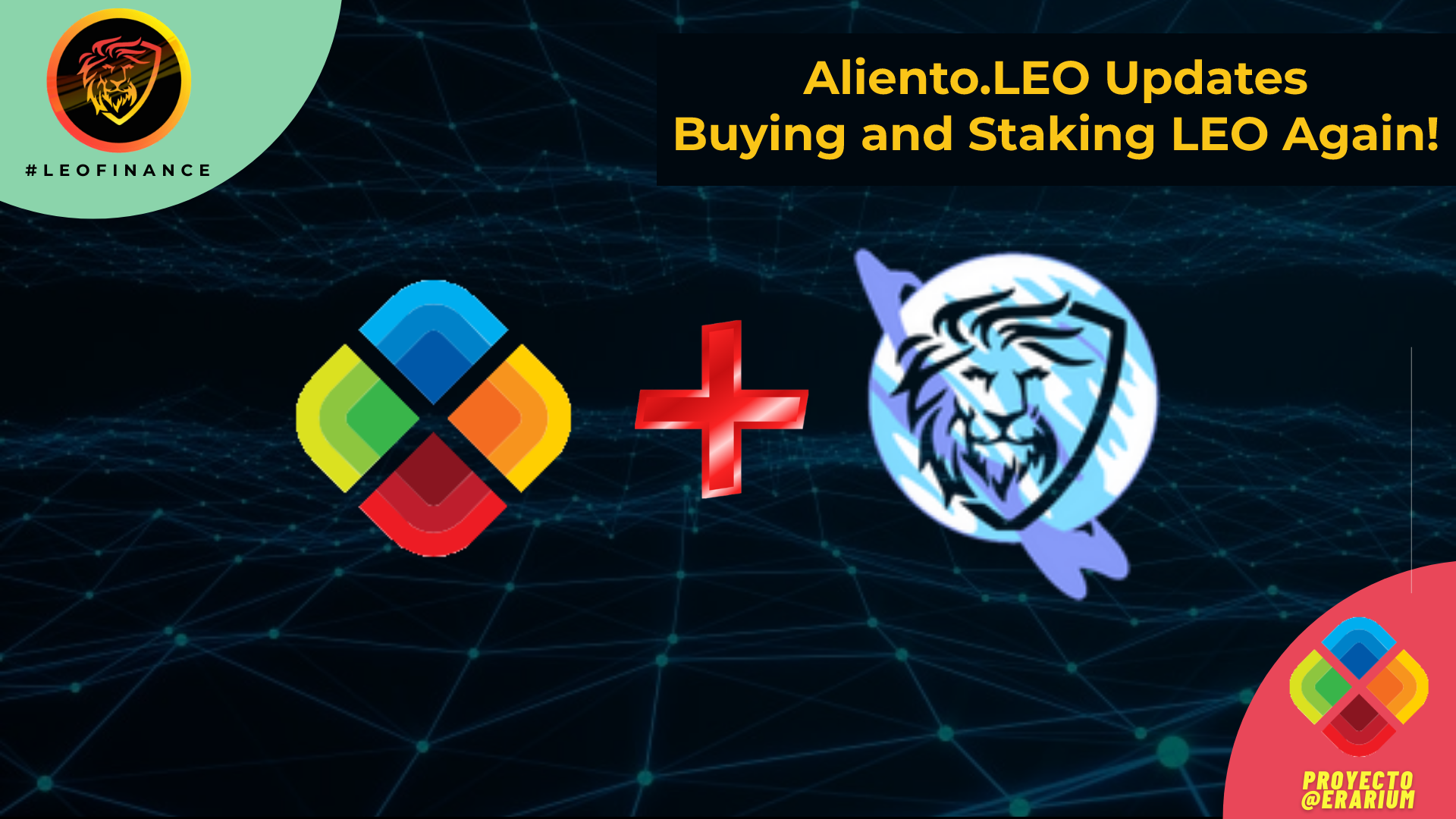 Image taken from @erarium´s post, edited with https://www.photopea.com/
Imagen tomada del post de @erarium, editada con https://www.photopea.com/
---
Because of this, I now have less time to curate content on LeoFinance manually. However, I don't want to vote blindly or always vote for the same users. That's why I decided to team up with @erarium. Right now, I'm following their trail for both posts and comments, and we are also organizing some initiatives. You can see the first one here.
Debido a esto, ahora tengo menos tiempo para curar el contenido en LeoFinance manualmente. Sin embargo, no quiero votar a ciegas ni votar siempre a los mismos usuarios. Por eso he decidido asociarme con @erarium. Ahora mismo, estoy siguiendo su rastro tanto para los posts como para los comentarios, y también estamos organizando algunas iniciativas. Puedes ver la primera aquí.
If you have any feedback or suggestion about this, let me know in the comments.
Si tienes alguna opinión o sugerencia sobre esto, házmelo saber en los comentarios.
---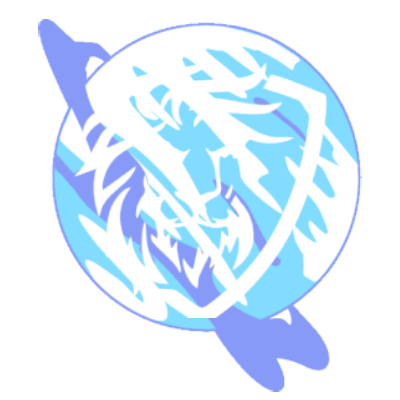 The other big update is that I am buying and staking LEO again. For some weeks, I have been taking some profits on the LEO I had. But right now, I think that LEO is at an excellent price to buy. So I want to start to accumulate again, and my goal is to reach 2,000 LeoPower soon. I have all my LEO on the @aliento.leo account, and right now, I have 811 LeoPower, and I have a delegation of 10k LP, which makes my vote worth a little more than 1.200 LEO.
La otra gran novedad es que vuelvo a comprar y apostar por LEO. Durante algunas semanas, he tomado algunas ganancias en la LEO que tenía. Pero ahora mismo, creo que LEO está a un precio excelente para comprar. Así que quiero empezar a acumular de nuevo, y mi objetivo es llegar pronto a los 2,000 LeoPower. Tengo todos mis LEO en la cuenta @aliento.leo, y ahora mismo, tengo 811 LeoPower, y tengo una delegación de 10k LP, lo que hace que mi voto valga algo más de 1.200 LEO.
I know that I have not been as active here as I was in the beginning. However, I still believe in the project and the potential. LeoFinance is one of my favorite places, and I want to see it go to the moon and take all of us with them. I wish I could post more often, I have tried it, but my activities have consumed me. I want to post more videos on 3Speak, too, make more gaming videos or other types of content. I will make an effort to achieve this.
Sé que no he sido tan activo aquí como al principio. Sin embargo, sigo creyendo en el proyecto y en el potencial. LeoFinance es uno de mis sitios favoritos, y quiero verlo llegar a la luna y llevarnos a todos con él. Me gustaría poder publicar más a menudo, lo he intentado, pero mis actividades me han consumido. También quiero publicar más vídeos en 3Speak, hacer más vídeos de juegos u otros tipos de contenido. Me esforzaré por conseguirlo.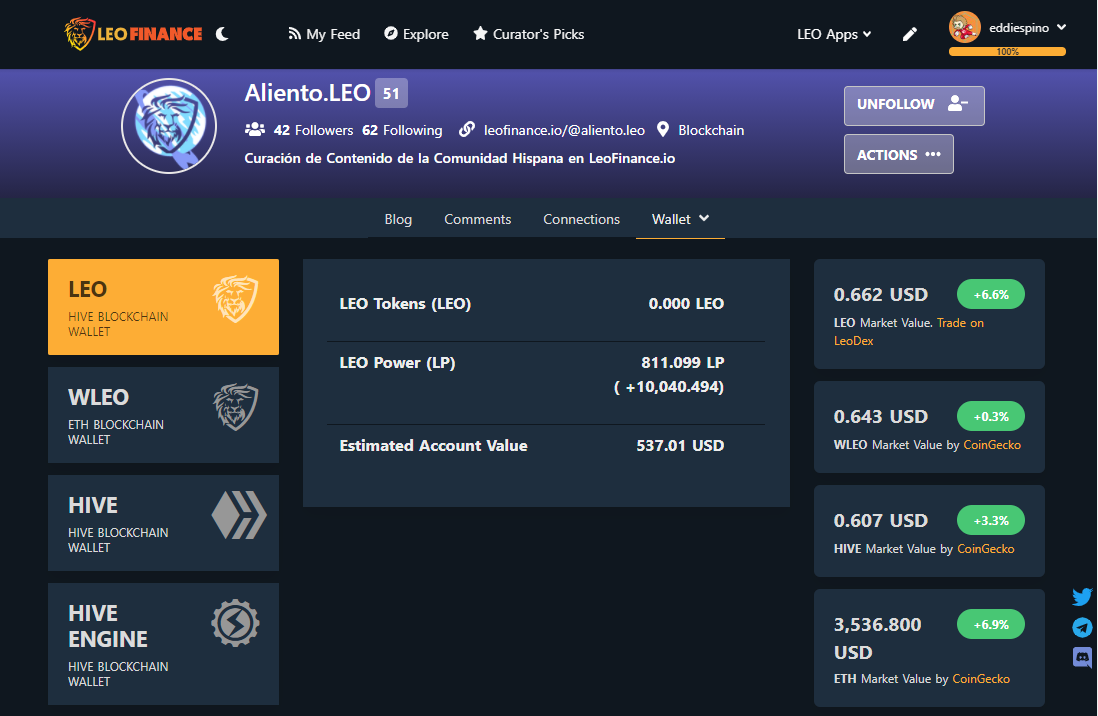 https://leofinance.io/@aliento.leo/wallet
---
Oh, and in other news, the @aliento bot that @enrique89 did is working great. In case you did not read that post, I'll share it fast. This is a bot I asked Enrique so I could transfer the delegators of @aliento their rewards. It is already on the cloud. It works with Discord and soon will be open source so more Hivers can use it and contribute to the bot's development.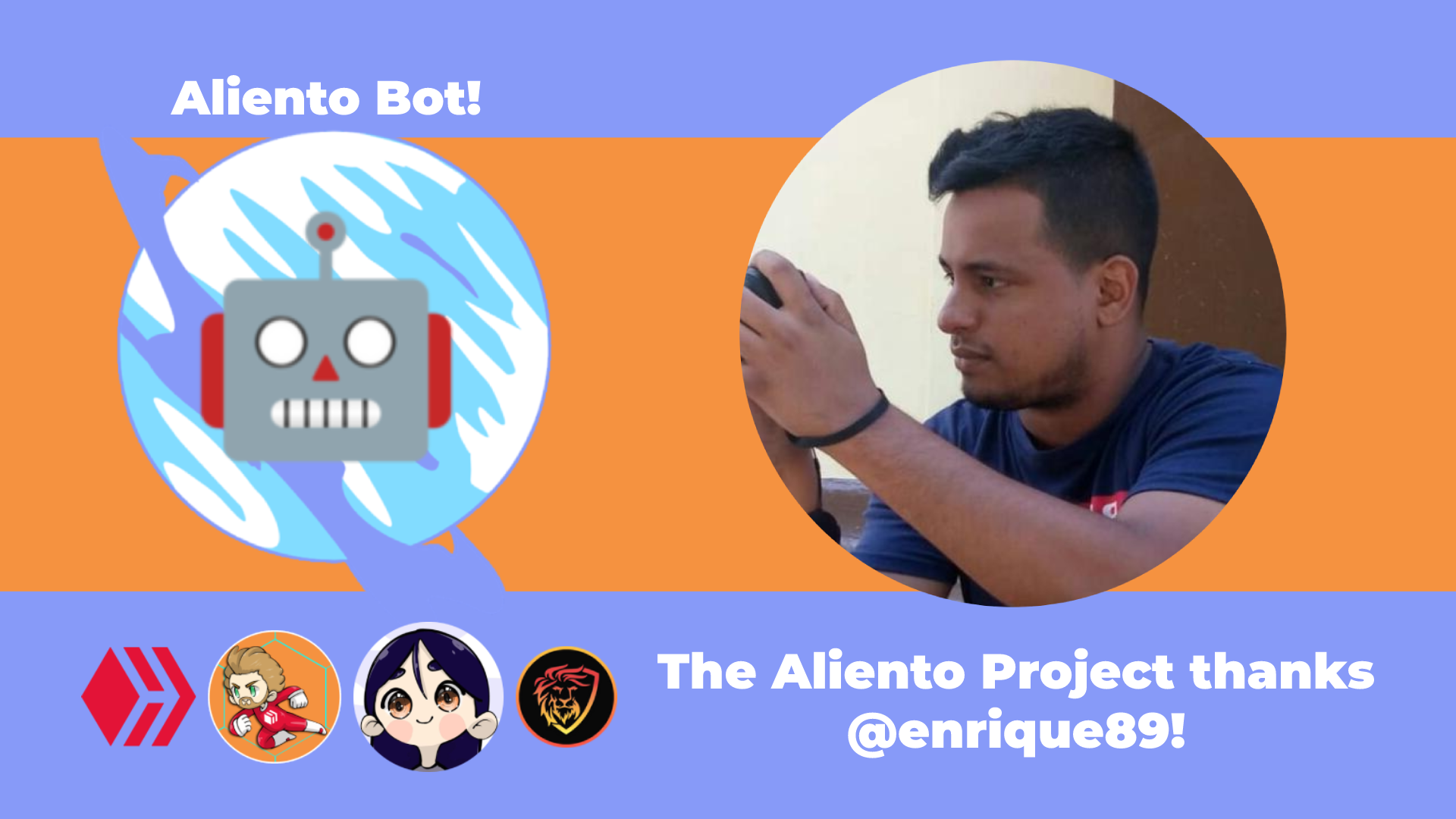 ---
Stats for this week:
---
Ah, y en otras noticias, el bot de @aliento que hizo @enrique89 está funcionando de maravilla. Por si no habéis leído ese post, lo comparto rápidamente. Se trata de un bot que le pedí a Enrique para poder trasladar a los delegados de @aliento sus recompensas. Ya está en la nube. Funciona con Discord y pronto va a ser de código abierto para que más Hivers puedan usarlo y contribuir al desarrollo del bot.
Thank you for reading!
¡Gracias por leer!

@aliento a project by @eddiespino and @grisvisa
@aliento un proyecto de @eddiespino y @grisvisa
---
Translated from English to Spanish with the help of https://www.deepl.com/translator
Traducido del inglés al español con la ayuda de https://www.deepl.com/translator
Posted Using LeoFinance Beta
---
---