Aliento Project - Achievements and Goals
Hello everyone! It's been a hectic couple of weeks, and I haven't had a lot of time to post. It's a little overwhelming, but I'm delighted. I love what I'm doing here on HIVE. I love helping the community and be part of unique projects. About a month ago, I started working with the 3Speak team, and a couple of days ago, I started helping a friend of @theycallmedan set up a tribe in Hive Engine. Thanks to the fantastic help of @aggroed, we were able to accomplish that goal today.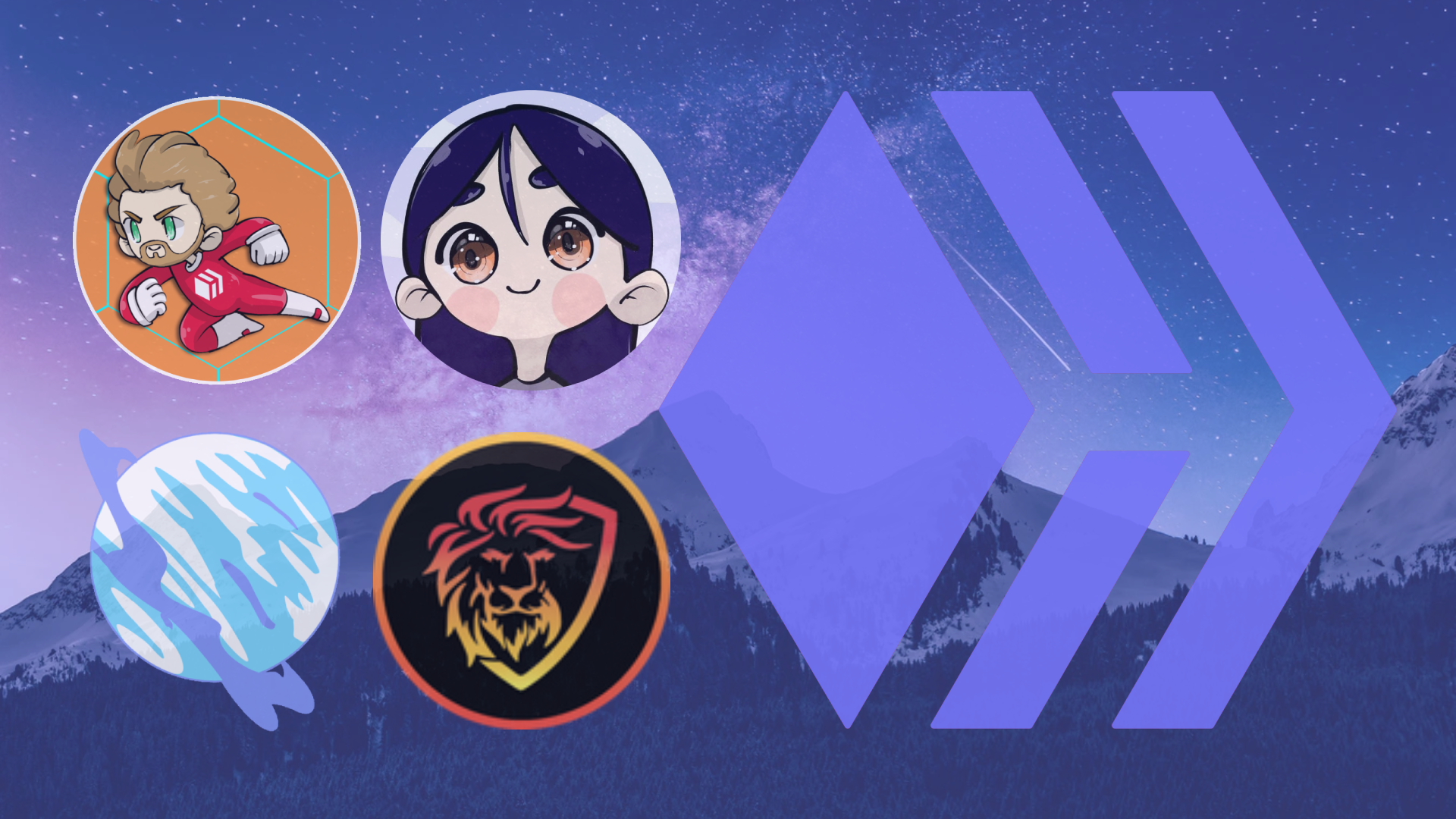 With @enrique89, @victoriabsb, and @ilazramusic, we are working on some exciting projects for the Spanish community. But right now, I want to talk about our project: @Aliento.
My wife @grisvisa and I have been working in @Aliento for the past six months, and it's our baby. I think we have made significant progress, and we will continue pushing. In this post, I want to share some of the achievements, lessons we have learned, and our goals.
---
Hive Power on the Account
To help new users, we need to increase the HivePower available on this account. For that, we have been doing a lot of Power-Ups, and we have avoided powering down Hive. The goal is to have at least 55,000 Hive Power before 2021 ends. Maybe we can do it sooner, perhaps it will take more time, but we want to do that. Just today, we powered more than 2,800 Hive to the account.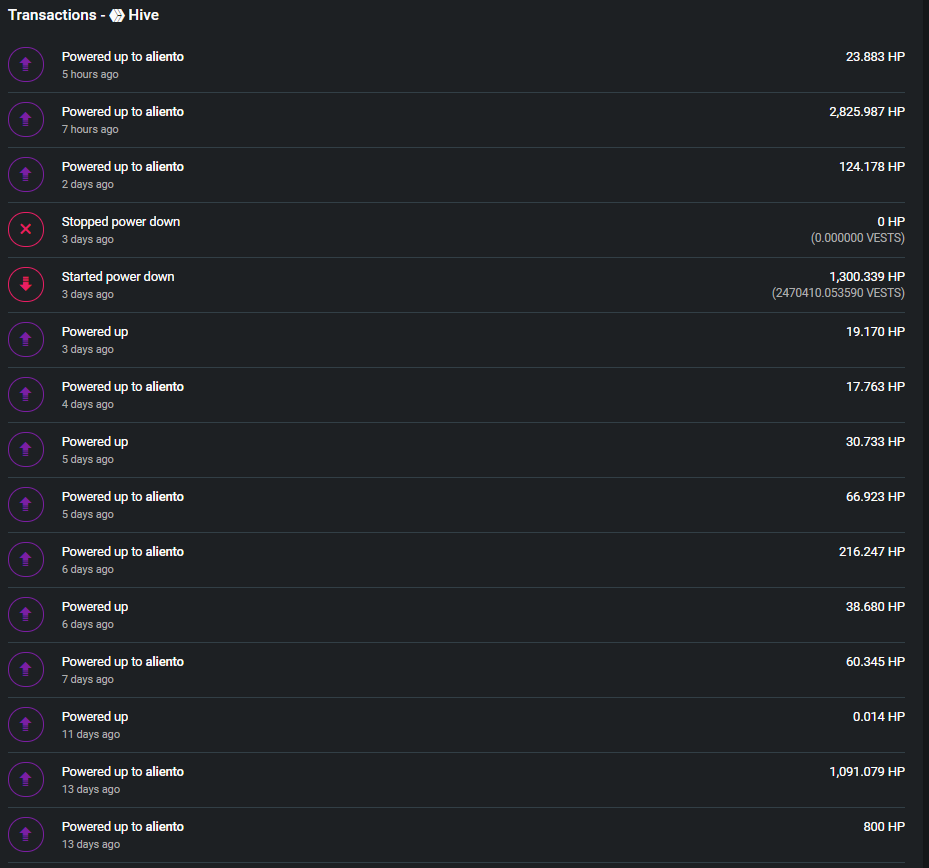 That power down was just a test I made when explaining how it worked to a new user.
Growth in the last 7 Days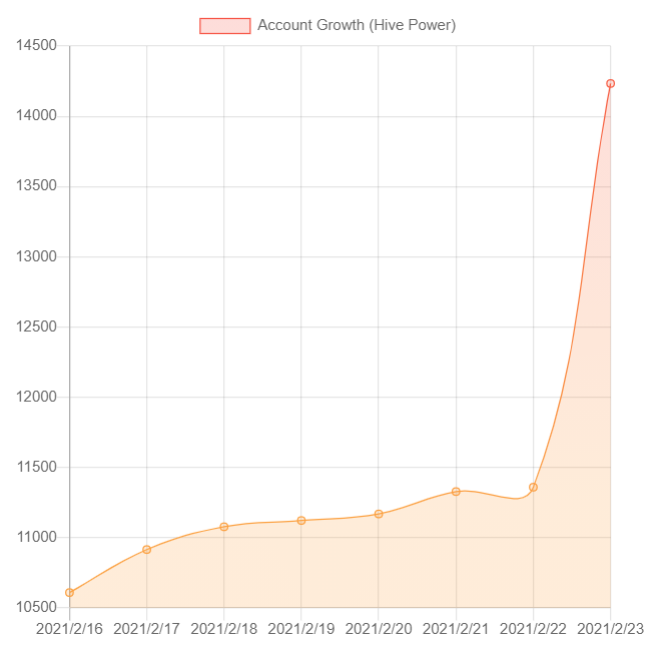 Growth in the last 30 Days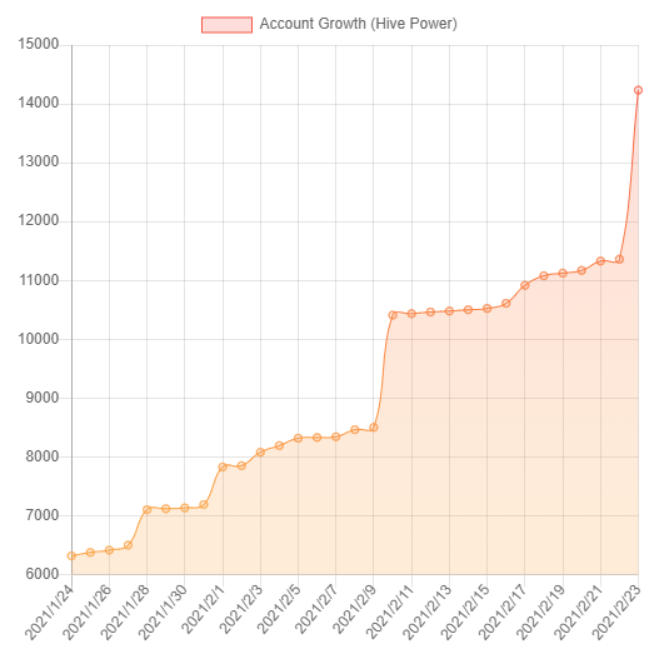 Total Hive Power on the Account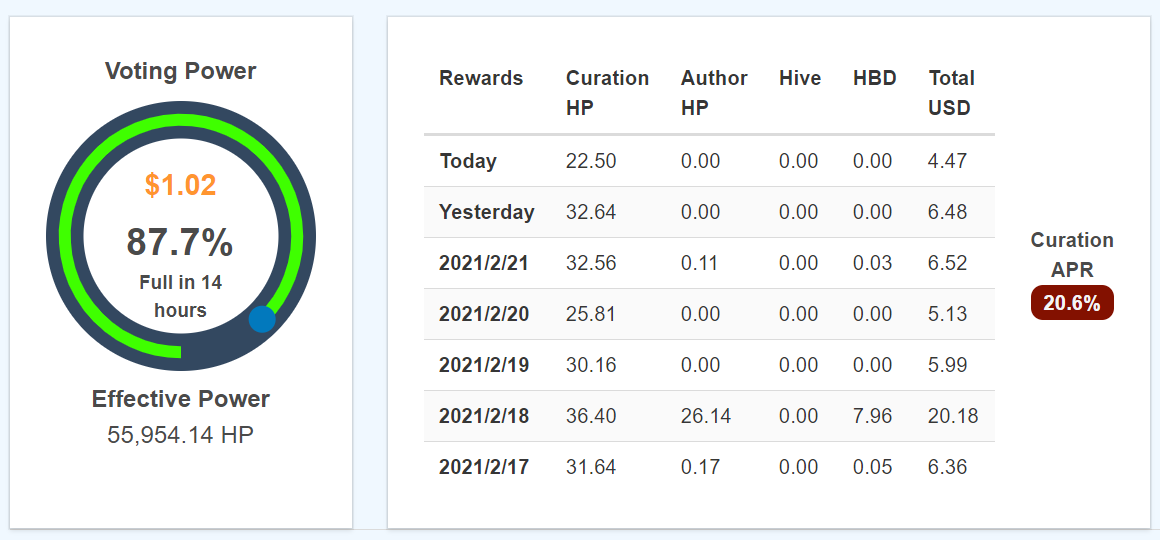 The account currently has over 55,954.14 HP. Thanks to all the delegators supporting the project and trusting us with their HivePower. We appreciate it. The account would have a lot more Effective Power, but at the moment, we are delegating to a bunch of newbies and also sponsoring a couple of projects too.
Curation Rewards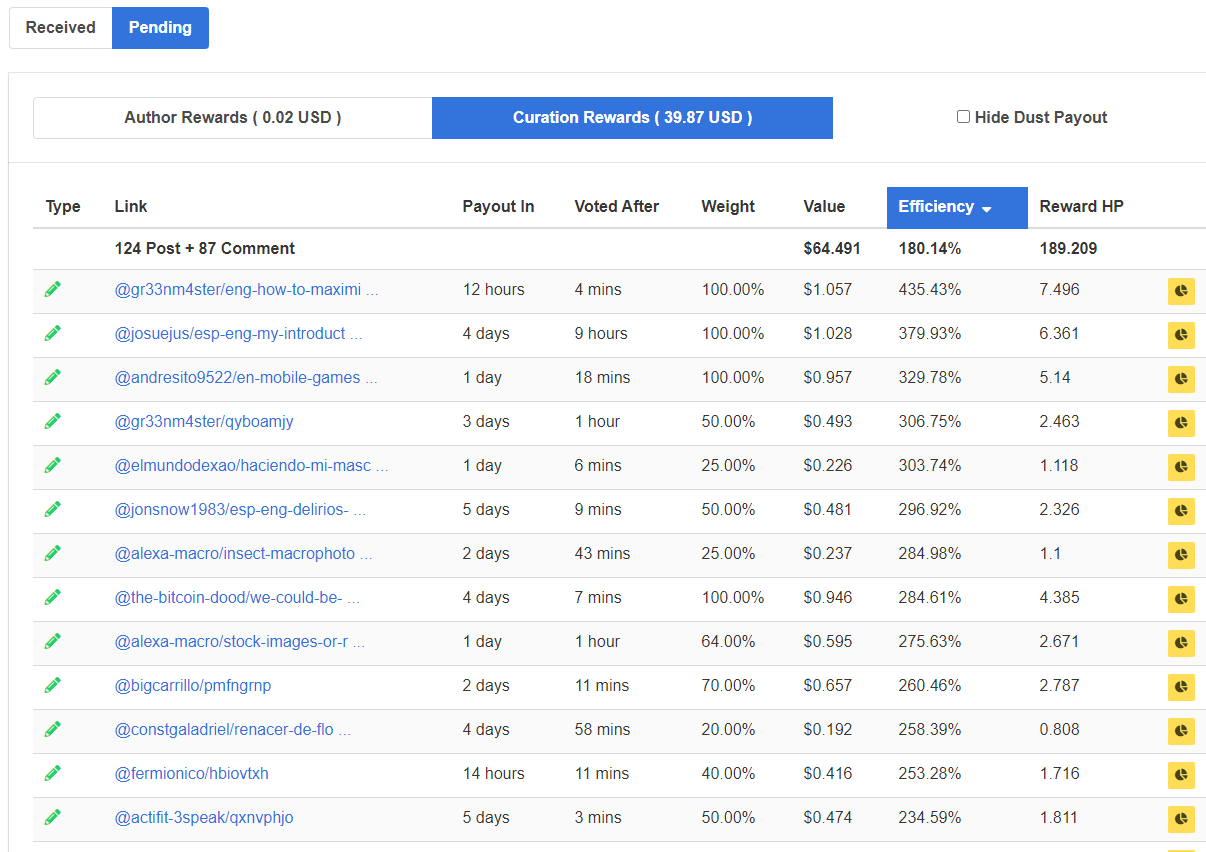 We make an effort to make the most of our votes, but we also support users that don't always have significant votes. We want to have a balance in this. Also, most of our votes are followed by @theycallmedan, so if @aliento votes you, you may also have a vote from Dan.
We are still looking for delegators. We offer 85% of the curation rewards, and as you can see, we have been doing pretty well so far. The last couple of weeks have been a little more challenging, but we thank all our delegators for being with us.
---
LeoFinance Curation Account: @Aliento.Leo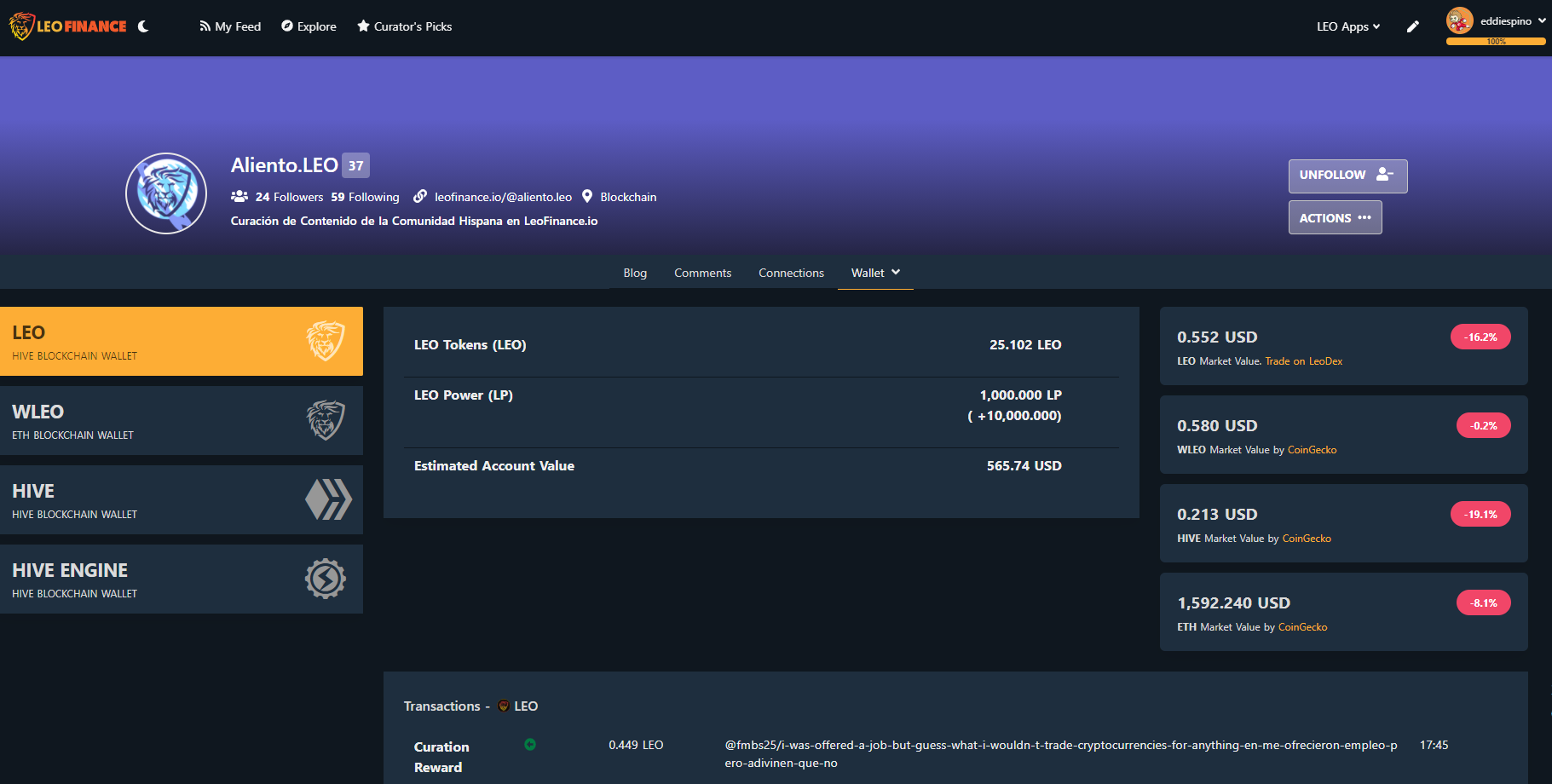 A little over a month since this project started, we are very thankful for @empoderat, who delegated 10,000 LeoPower to the account. I have staked 1,000 LEO, and tomorrow I will stake at least 500 more. If you are an LEO holder and don't have a lot of time to curate, you can delegate to this account, too, and I can send you your LEO rewards weekly. With this account, we are focusing the votes on content in the tags #spanish and #spanishleo.
---
These are the goals and achievements of Aliento so far. We plan to continue growing, and every time we have a chance, we will power up Hive to the account. I think I already mentioned this before, but I'm powering down some HIVE from my account and transferring it to @aliento.
---

---
Main Image Source Edited with https://www.photopea.com/
Posted Using LeoFinance Beta
---
---