How Cub Finance helped me pay my credit card in full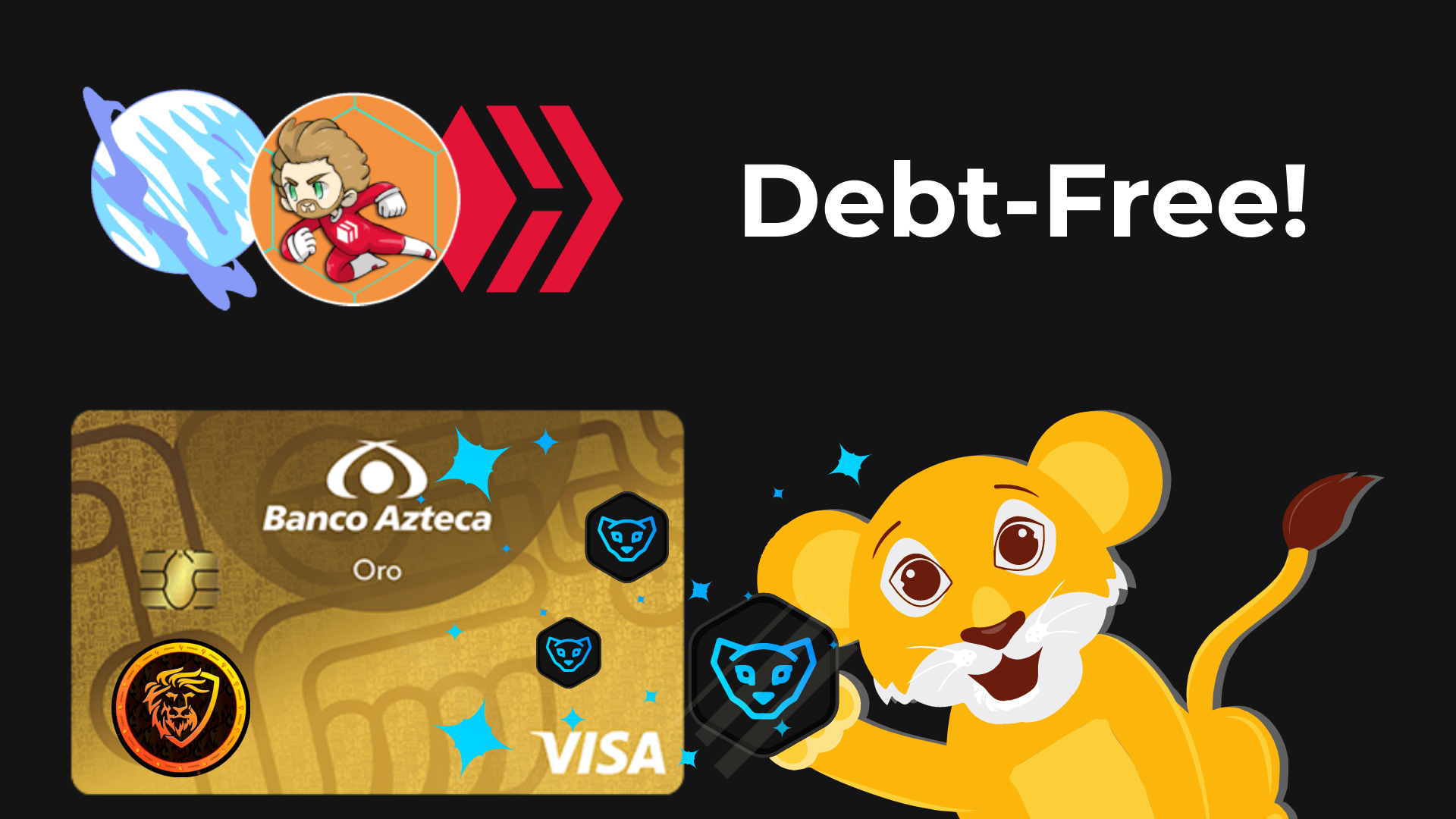 I invite you to read my story of becoming debt-free thanks to LeoFinance, HIVE, and especially Cub Finance. I will share some context first, and I will use some screenshots and try to dig into my archives. About two months ago, a very popular bank in Mexico called "Banco Azteca" offered me a credit card. I was like, "meh" I don't need it, but it would be good to have it if I need something or an emergency.
---
Source - I felt proud because I was offered the "Golden Card," but when I was in the store, I heard the bank employees offer it to a bunch of people.
---
Many Mexicans have a debt with this bank because they also have stores called "Elektra," where they sell all kinds of items, from refrigerators, washing machines, furniture, livingrooms, cellphones, and even gaming consoles. They offer credit in all their purchases, and the payments seem tiny, but if you make the math at the end, you will be paying almost double or more because of the interest of the credit of the weekly payments.
---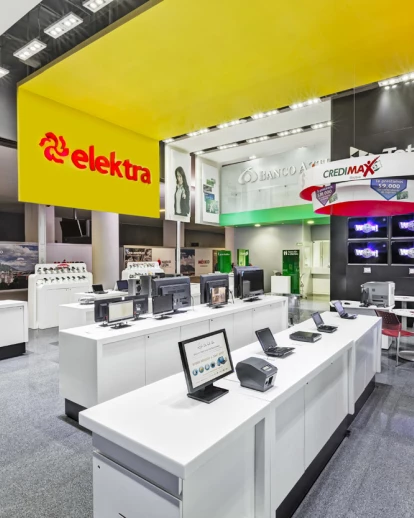 Source - This is how an Elektra store looks in the inside. Well, this is a little bit fancier than the average.
---
The card that I got was different. Instead of having a weekly payment, I have to pay monthly like a regular credit card. It works exactly as any Visa or Mastercard. I have to pay between every 5th and 25th of the month, well I had to do it.
So I decided to test these cards. I made some small purchases, bought a couple of games on Amazon, bought something in the store, and paid for some services online. One day I was looking at all the options I had in Binance, and I found one that said: Buy Crypto with Credit or Debit Card. I have already bought some BTC with my debit card, so I decided to test my credit card, and I was careful not to go over my income limit. On the card, I had a limit of 16,000 MXN, around 800 USD.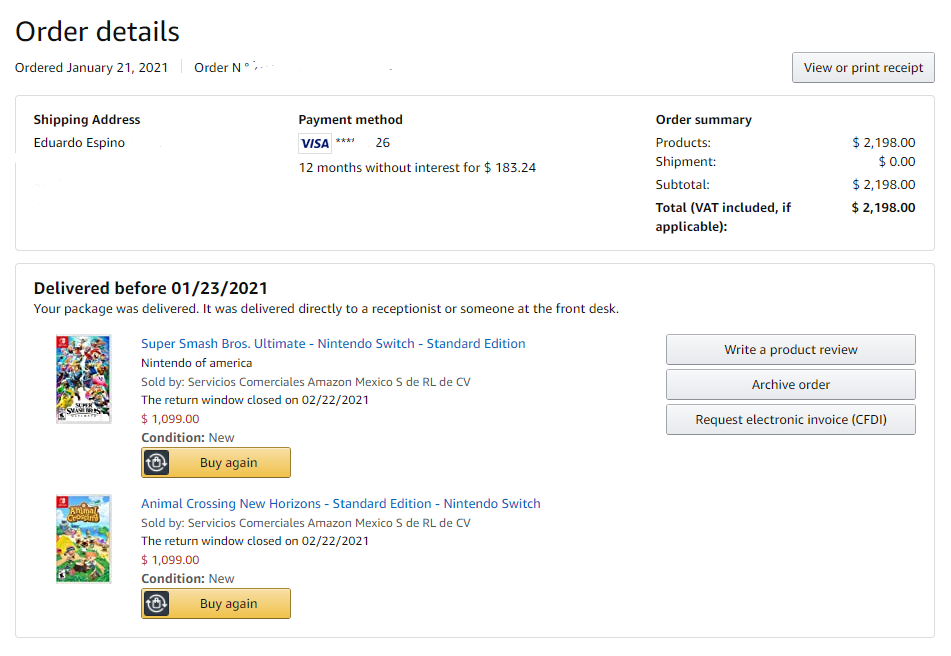 When the DOGE pump was happening, I took the risk, and I bout like 2,000 MXN. I was "lucky" and ended up in profit, but I still had to pay the debt next month. I made a couple of more purchases that month and I think I spend like 5,000 MXN in crypto in total. I was going to cover that, but to my surprise, the bank divided the payments into three. So instead of 5,000, I had to pay less than 1,700 MXN. I was happy.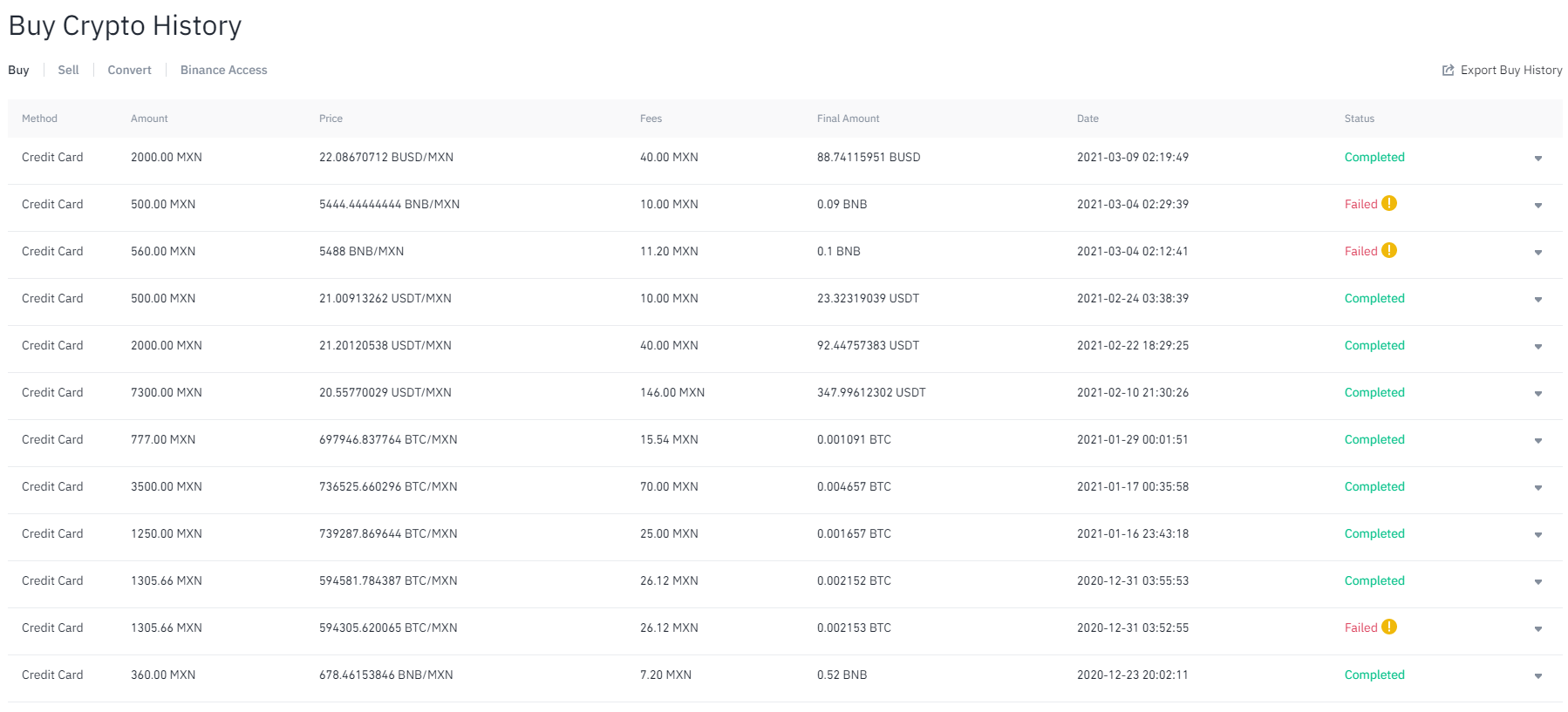 Screenshot taken from Binance - Buying crypto with a credit card is only good if you will hold long term and, of course, if the asset goes up.
Not all of these purchases were with the credit card. Some were with a debit card.
Next month I decided to buy more, but this time something happened with the bank that when I got my billing in earlier this month, I had to pay a total of 9,840 MXN, this time they did not divide the payments in three, and I had to pay much more than what I thought. This payment was to avoid paying interest rates, I had to do at least that to prevent them, but I could pay only like 700 MXN, but that would generate my interest rates.
I made some calculations and figured out that if I won enough in Hive this month, I would pay the minimum before the 25th, so I started posting and started saving some HIVE. The good thing is that the Hive I bought back with the card has gone up in value and now is powered up to the @aliento account. I was making calculations and figuring out how I would pay this card when Cub Finance was launched.
---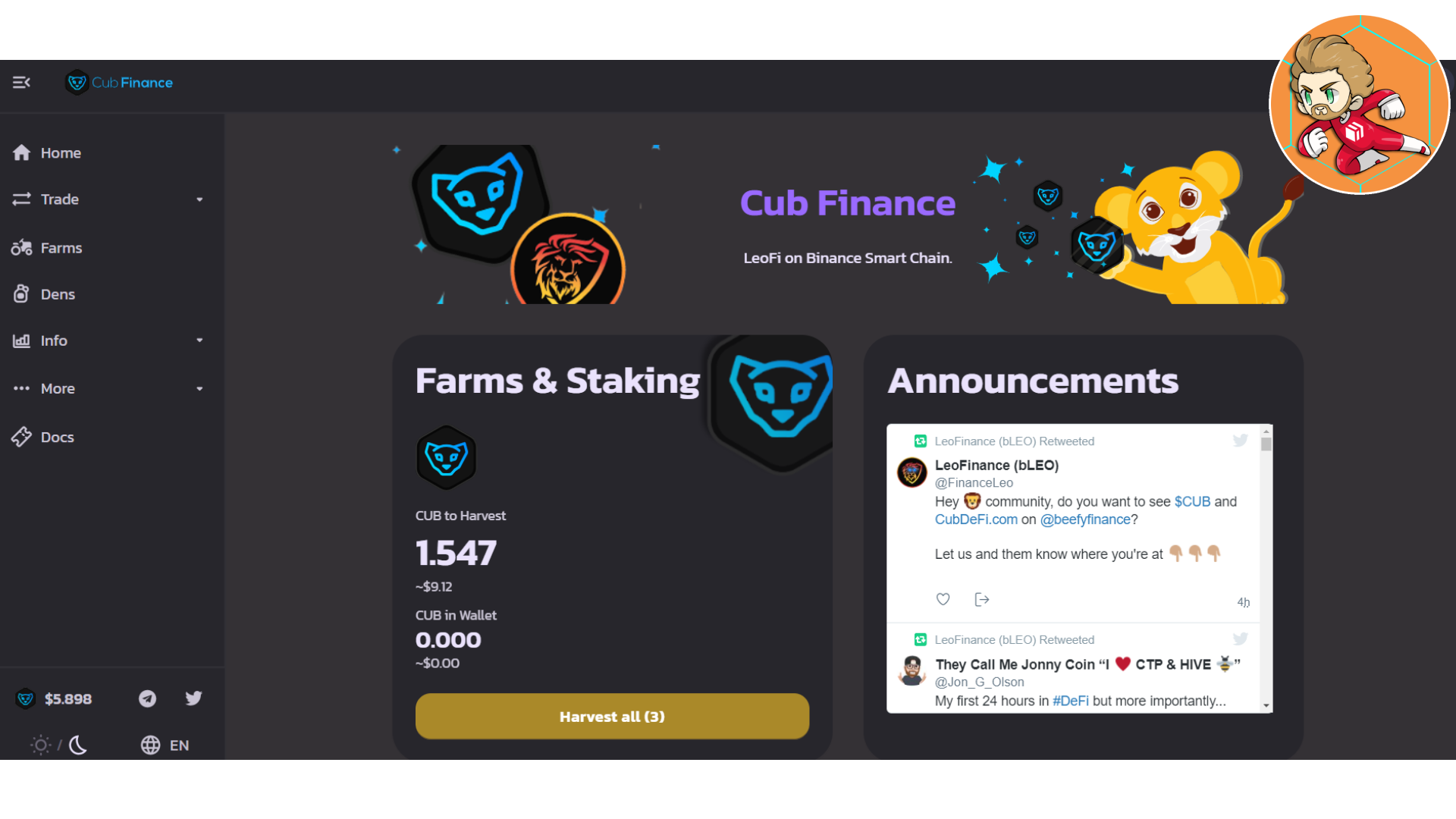 You can read my experience here.
---
I saw it as an opportunity and moved the BNB and CAKE that I had in PancakeSwap, I also sold some Hive for BNB and BUSD, and I started providing liquidity. With the crazy high APR that we had at the beginning, I was able to generate a lot of CUBS, and each day instead of selling half the CUB, every time I had some Hive available or some extra cash, I was converting it to BNB or BUSD and add more LP tokens to the farms.
---
I took some screenshots for some of the days; I'm going to share some of them here: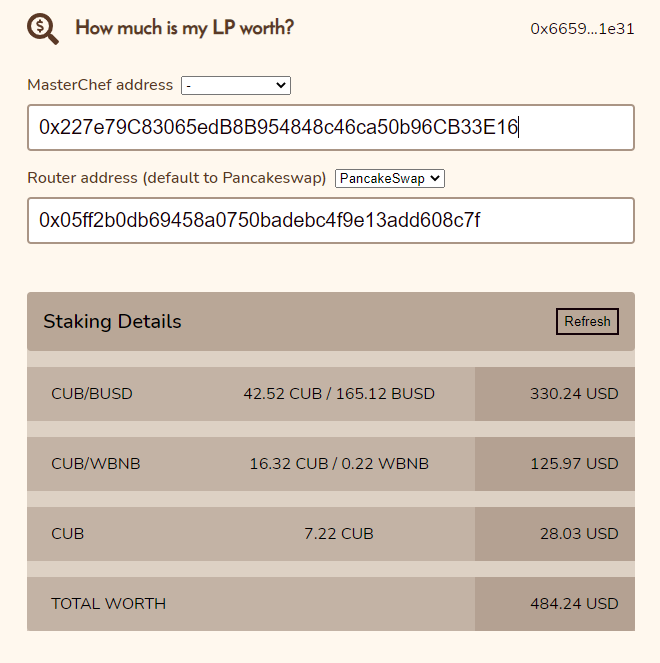 March 11 4:39 PM CST
---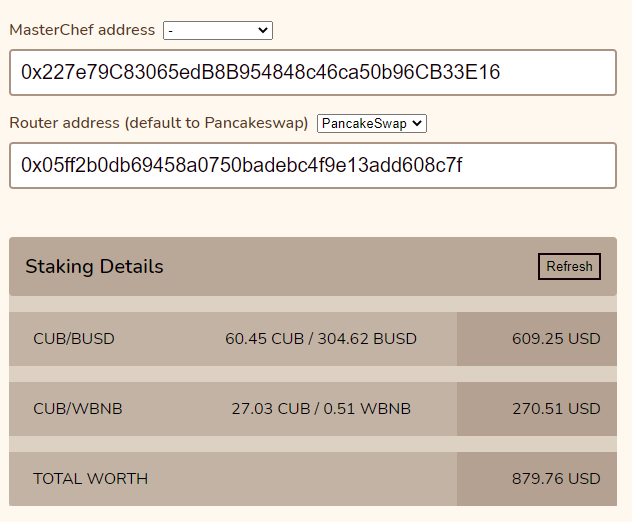 March 14 5:53 PM
---
Before Selling all my BUSD nad some CUB: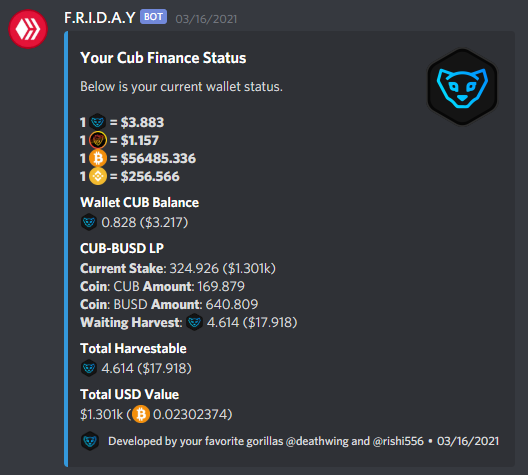 March 16 7:21 PM
---
Current stats: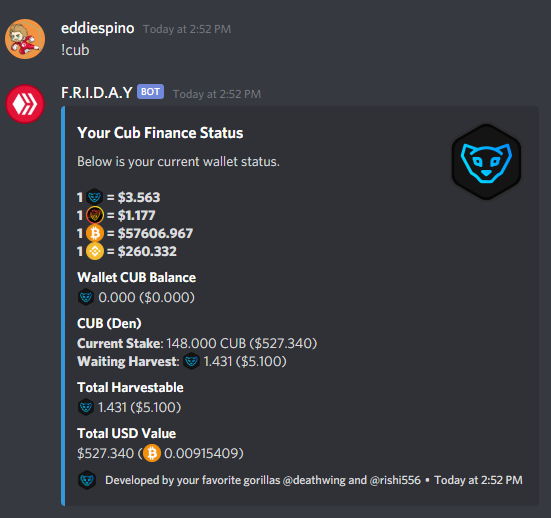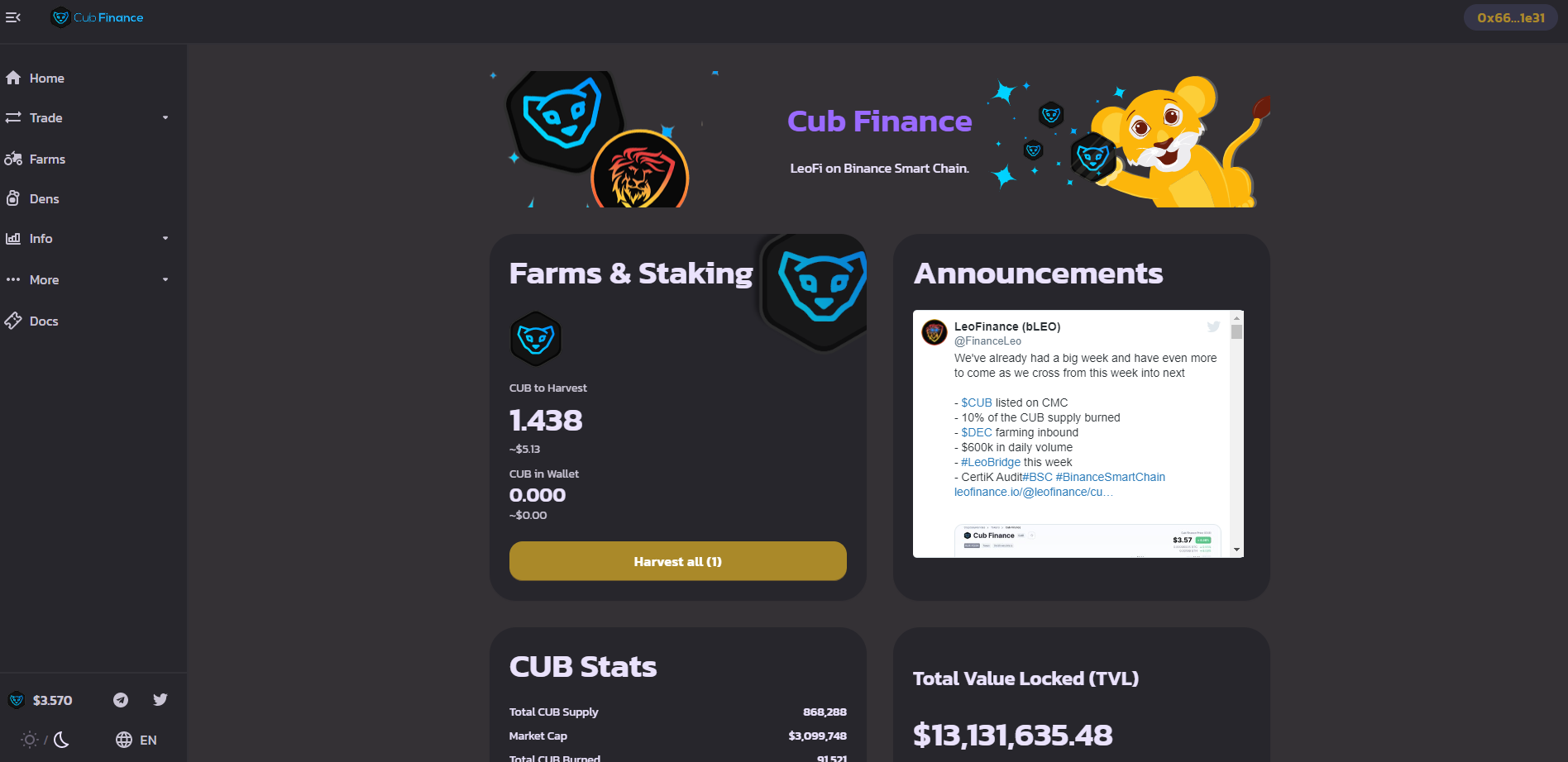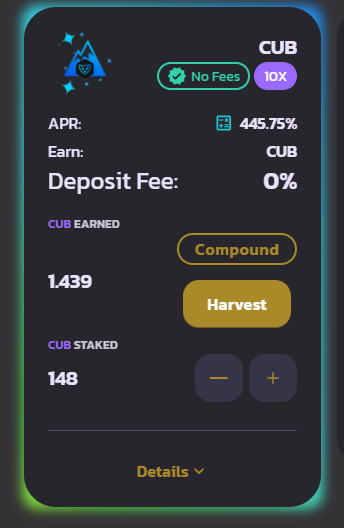 ---
As you can see, it took me only some days to have enough to cover my debt. My goal was to have 800 USD to cover the debt entirely and not just the 9800 MXN (around 480 USD). So I did that. I know I should have waited until early next week, but I also wanted to sleep well, so I decided to sell all my BUSD. I had like 600 at the moment, sell just 25 CUB to make it 730 USD, and then I completed the rest with HIVE.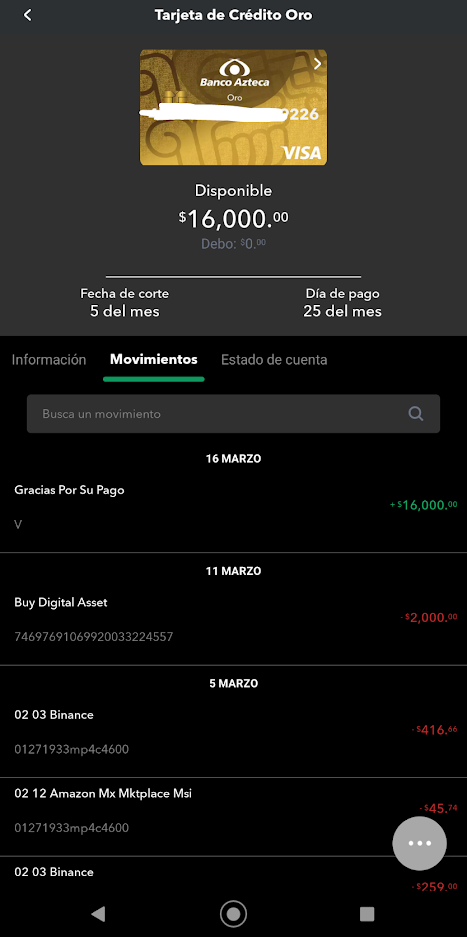 On the screenshot above, you can see that I have 16,000 MXN available ("disponible"), and I owe (debo) 0.
So by using Cub Finance, I was able to pay off this debt ultimately, and now I can choose what to do with that card, to use it or not use it at all. I'm still not sure. And I still have almost 150 CUB, so I can continue participating, and if they go up in value, I will buy more BNB or BUSB, or I will invest more once I recover a bit.
Thank you for reading!

Posted Using LeoFinance Beta
---
---