An average day with the bank
         Every now and then, I do a check in with my bank. The convenience of the internet makes it so much easier these days. I had to request a replacement card because it had worn out. Yeah, I've definitely used my credit card a lot more since the whole pandemic ordeal. The wear and tear had finally gotten to it.
         While I was at it, I thought it made sense to see what my bank is offering these days. For the record, I am a customer of US Bank.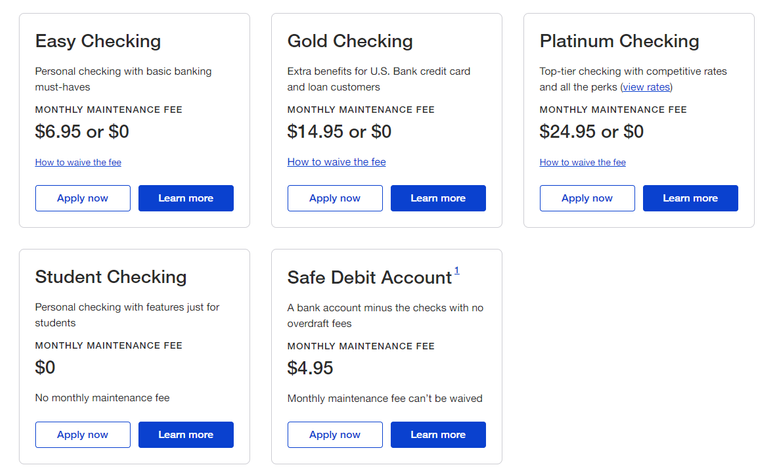 The different checking accounts aren't anything too spectacular. In fact, they want you to take out loans from them if you want "higher tier" services.

         Well, that's not 100% accurate as you can gain access to their higher tier services if you invest through them. It's the thought that someone with credit balances could count towards that criteria. I guess I'm doing myself no favors by paying off everything every time.

         It's sort of funny how a 0.01% interest is "competitive" these days. Even Coinbase pays better, especially with their upcoming 4% APY for USDC. With the way inflation is going, your bank account might as well be on negative interest.

         Not to mention, US Bank is forcing everyone to use Zelle in August. For those of you who don't know what that is, it's the banks' version of Paypal/Venmo. US Bancorp, my bank's parent company, happens to be one of the owners along with Wells Fargo, etc.
         In short, the people I send money to right now would have to either sign up for Zelle, or use alternatives. It makes me wonder if that will push more people to use Paypal and Venmo instead.

         Despite my discontent with the banking system, my bank has been kinder than most. In fact, US Bank seems to be eager to get into the crypto space. I've never had any issues transferring money to or from crypto exchanges and whatnot. We often read about the horror stories of how people's bank accounts got rekt when their banks found out. I guess I've been fortunate since 2012 when I started using Coinbase with the same bank.
         They even published an entire post about their outlook about digital assets a few months ago:
https://www.usbank.com/about-us-bank/company-blog/article-library/us-bank-details-new-cryptocurrency-offerings.html
         Of course, all that means is that they want to jump on the ship of providing custodial services. Believe what you want about crypto, but I'm pretty sure there always be "banks". It's only a matter of what form they take going forward. If history is any indicator, drivers didn't disappear because cars replaced carriages. They used cars instead of horse-drawn carriages.

         Given who own the biggest shares of US Bancorp, I'm sure the main driving force is still profit. Control might be another, but that's not something I want to think about today. You'll see the same groups each owning 8-10% of every publicly traded companies.
         While I was still on the phone with a representative, I asked them about limits on my existing accounts. That's important because I don't want to get stonewalled when I try to move money from exchanges. Last time I checked, it's still easier to purchase land and real estates via fiat.
         Some food for thought.
Posted Using LeoFinance Beta
---
---