Rabona - Season 12, Two Matches Left
---
Season 12, League 2 / ID 631
I was playing this season halfway. Some matches I set the formations, some matches I didn't. It doesn't seem to help in any case :)
I can't find any logic in the scores. Perhaps it's better not to search for it.
Anyway, no player transactions, no red cards, one injury. A quiet season indeed.
The situation: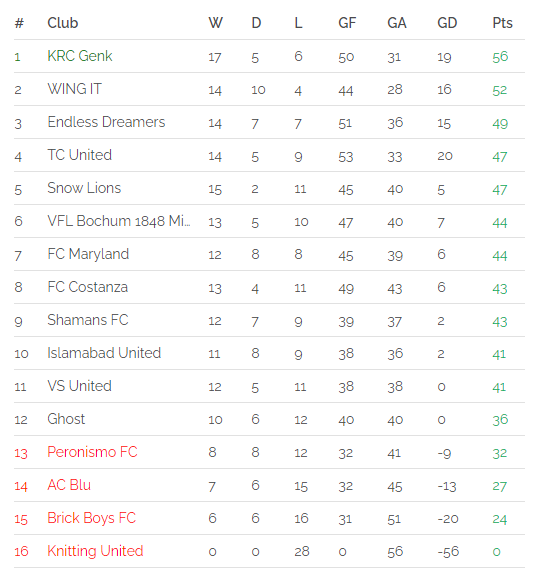 My two soccer friends, @costanza and @fullcoverbetting are in the league too.
@costanza is 8th and @fullcoverbetting is leading the table with a good chance to win the league. Especially since the last match, his team is playing at home against my team.

How will it end? We'll find out tomorrow morning.
---
Financially, this season is a loss. No transactions at all and salaries bigger than the income. I wasn't active at all. I am just trucking along until after the New Year.
---
18.12.2020 - Rabona - Kicking Some Ball In Second League
05.12.2020 - Rabona - Setting Line-Up For First Match
04.12.2020 - Rabona - Before My First Season
29.11.2020 - Rabona, I am in
---
Must read introductions and instructions for the beginners, masterfully prepared by @jelly13:
---
---
Disclaimer
This article shows my actions and ideas. It is not to be taken as financial advice. Do your own research and make your own decisions. Of course, we can help each other.
Links marked with * are affiliate links. If you use one of them to join an offering we can both gain. Again, the decision is yours. Yet, you can trust me that I only promote what I use.
---
Better and better
Posted Using LeoFinance Beta
---
---