RE: UI Refresh, LeoBridge, Kingdoms Release and Major Farms/Dens Update
You are viewing a single comment's thread:
It is good to reduce the options since it's clear how the usage is distributed right now.
I see that the revised farm and den list is in line with my primary choices - CUB, CUB-BUSD LP, DEC-BUSD LP. Good!
The dillema reimains - LepPower or Leo in #defi :) It will be a dynamic equilibrium game, I guess.
Great work so far!
Ps: since you already refreshed links on the CubFInance side, please, add all important links on the LeoFinace side too. This needs upgrading: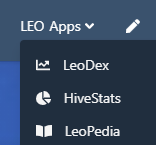 And include the link to the wLeo / bLeo wrap page, please.
Posted Using LeoFinance Beta
---
---