Investing into USA Dividend Stocks As An Asian Investor
I don't live in USA. So let's get that part out of the way. I don't even have visa or say residency of that nation. However here in asia the power of the USA dollar is pretty much high. You would live like a king if you hold USD in any part of the asia.
I recently learned about the dividend stocks in USA. In past I had some experience with my native singapore stocks and also learned about dividend based system. However I was always curious about investing in US directly from the asia here.
So What's My Plan on Dividend Stock Investing
So this month I decided to take the plunge into the system. I want to invest into minimum 5 stocks to start with. I may add in more as time goes on with things. I am extremely micro investor be it crypto or the stock. So I take longer than most people out there for this to work.
There are few things to watch out though like you have broker fees per transaction incoming and outgoing. And you have to buy or spend on some decent portfolio and not like buying those penny stocks.
As you can see the below broker has some strong prices. But I will shop around before finalizing any.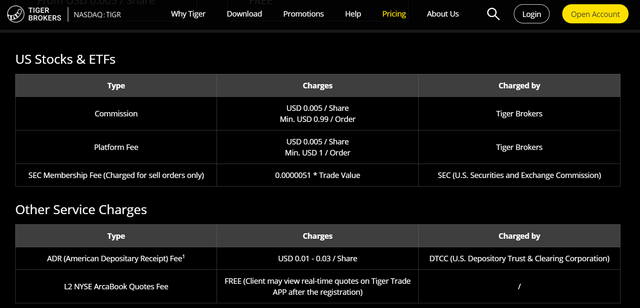 Image Credit:Tiger Broker
Micro Investing What is that?
So basically you start with small amount and build from that point onwards. Say like a dividend stock priced at 200$ you buy only 5 of them to start with and add as you get the money. So that's small or say micro investment approach for you.
A lot of people make fun of me for playing low. I ma not rich. I can't afford spending 1000 USD off the pocket to buy the stocks. And so I am like one stock at a time sort of buyer. Also I am going to liquidate some of my crypto for this strategy to work in my favor.
Micro investing is handy when you are not rich and also don't have much money in the pocket to begin with. And in that case making sure to do the micro investing always works out.
How would you do it if you were to be in my position?
My current approach is making a spreadsheet of the dividend stocks in US which are good performing and then finalize minimum 10 good stocks and then invest into them. Like diversification out of crypto through them.
If you were to be in my position how would you do it?
Posted Using LeoFinance Beta
---
---