Noise.Case Earnings- 4 months in
Hi All, as you may have seen in one of my older posts besides using HIVE i also like to micro blog on noise.cash.
The great thing about noise.cash is that it pays out in BCH so you get to diversify a little bit. The bad things about noise.cash is it is not decentralised and earnings come from tips from other users, how much a tip is worth is decided by noise.cash supreme masters, who love to change the rules for ... well no one really knows.
So to earn you need to a) post content b) get people to heart it c) hope those hearts deliver a tip in BCH. Also, the rules have changed the whole time, at one stage you got to set how much you tipped and how much you got back, now the tip is chosen for you and you might get a sliver back.
A small thing to note, tips are delivered in $$ and converted to BCH when paid out. So the price of BCC can have a big impact on the BCH given.
Ok first of lets look at the total BCH earned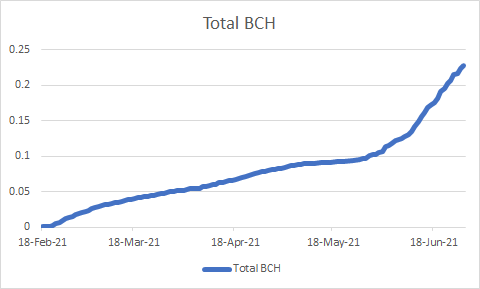 Basically in the last month I earned as much BCH as the first three months, but lets see how this looks in BCH per day, maybe i just had a single huge payout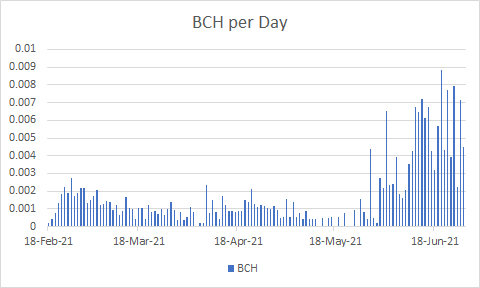 Nope it seems my payouts have shot up, now this could be because the price has tanked (but it has not dropped to a third so most likely not) or the payout system changes have favoured me.
Luckily I can track the USD value at the time of the tip. Unfortunately, I am actually worse off than this total due to the crash!
We can see below that while USD price correcting has lowered the angle of the last month, the overall effect is still there.
My only conclusion at this stage? The shift to content focus rewards on noise.cash plus a growing number of followers has pushed up my earnings dramatically.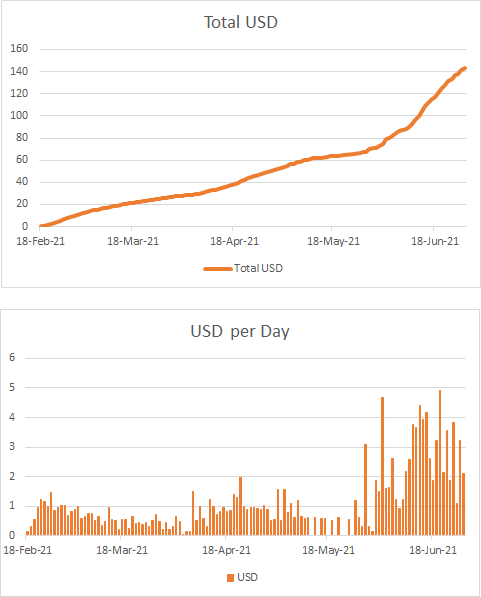 Posted Using LeoFinance Beta
---
LEOFINANCE
Posted Using LeoFinance Beta
---
---