Avoid Crypto Advice from Celebrities and Influencers and here is Why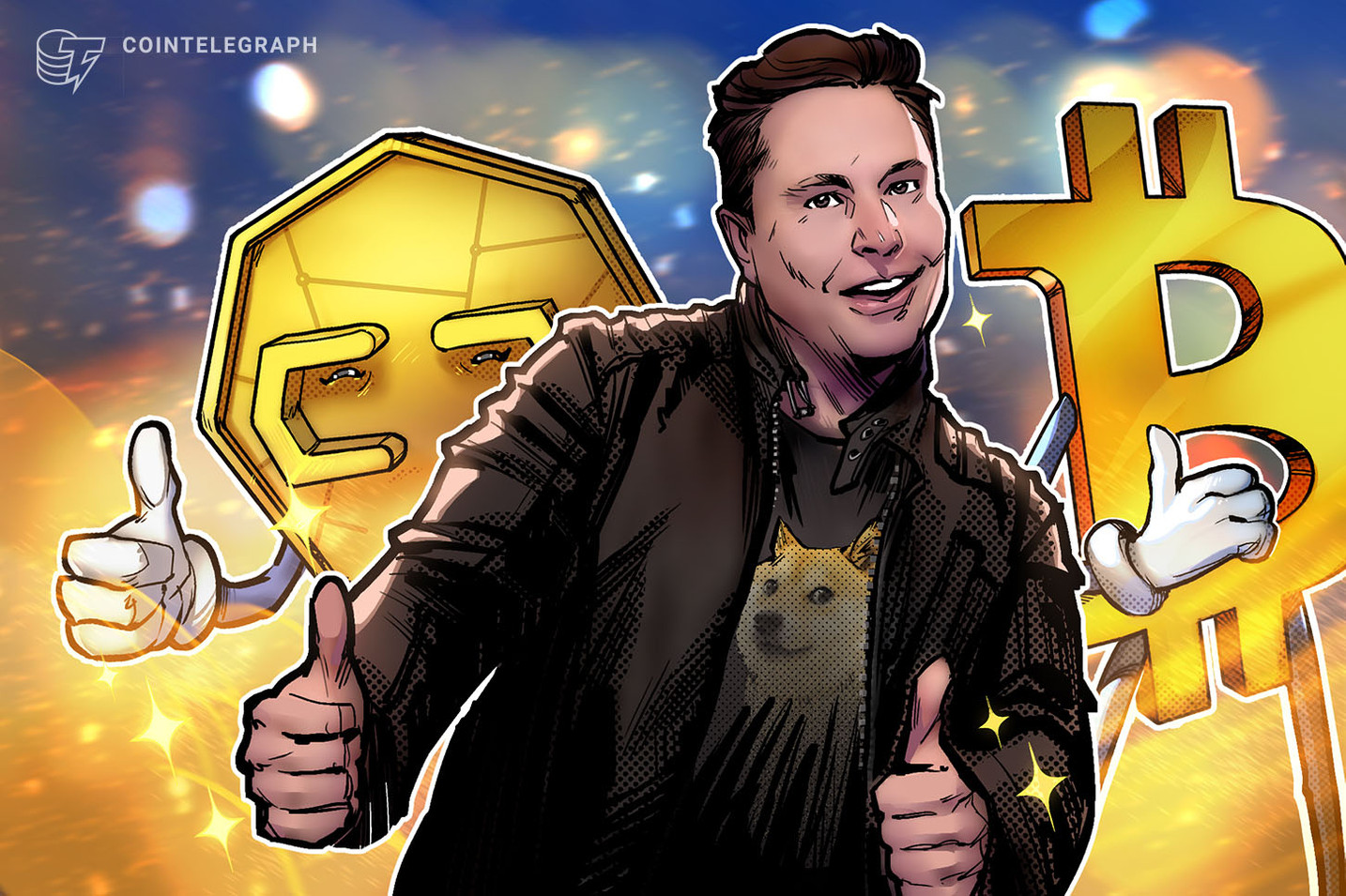 I had no intention to make a post like this one but i feel like i have to. To begin with, if you read my posts i had mentioned 2 months ago about those celebrities and crypto influencers and why you should be careful of them.
Before i begin though, let me tell you what exactly made me write this post. It was actually 2 posts i read beforehand, one from @taskmaster4450le and one from @hitmeasap which you can find below.
Ignore The Bullcrap Excuses As To Why Something Won't Succeed
Just An Idiot Pays For Hype & Buzz And Fails.

Especially, the post by @hitmeasap made me furious because this is exactly what i was warning you about months ago and i also haven't noticed what exactly was happening. Read the post, it deserves your time!
So anyway as i was saying months ago when the price of Hive was around 10-20 cents and leo was 20, many people started feeling frustrated about hive and that it has no potential. Also, we had many talks about other cryptos.
During that time i on kept repeating that when the great pump days will arrive, like back on Steemit days per se, many wannabe influencers, experts and celebrities will pop up out of nowhere.
These people only care about money and you can easily understand that if you just listen to what they are saying, what they are promoting and shilling. Coins that nobody knows, that have no real cases but have one thing in common. Someone behind these coins pays for promotion.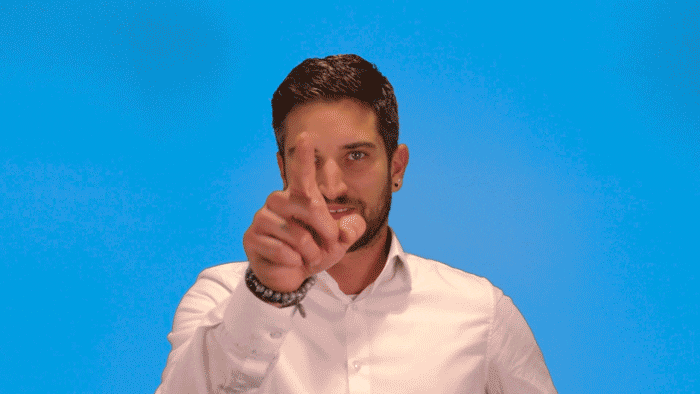 Because of that back in the 2018 pumping days, many people lost a fortune, as they trusted these guys but at the same time, these guys made a fortune. During that time, i said that we need to be ready because in the case of another pump we gonna see exactly this scenario all over again.
Turns out it came sooner than i expected, way sooner and with many "big" names talking about it. Below is a picture that @hitmeasap posted, in the post above. i hope i have his permission, or else i will delete it.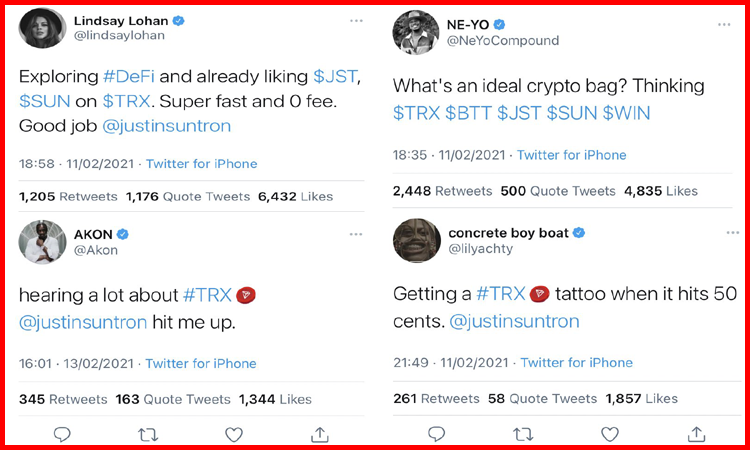 What you need to see is that all these big names posted about Tron. The guy behind it Justin is a thief and con artist and that's something i am saying, the whole community saying it and has proven it. So there are 2 scenarios.
The first one is which sound more accurate to me is that he paid them to promote it and the second one is that they actually found it somehow and got hooked by it, without even searching. So what do you think a celebrity did?
Searched it or got paid to promote it?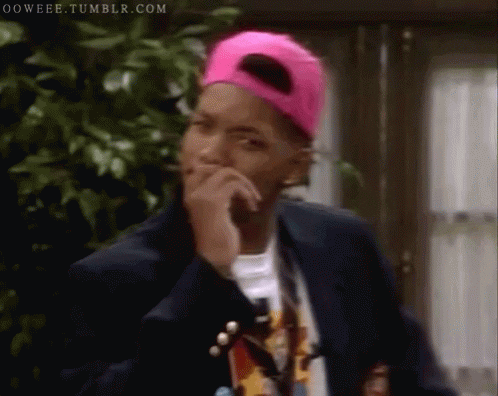 The sad part is that all the celebrities and influencers have a big impact on people's trust and hearts. People are following them blindly which isn't good either but those influencers have a bigger responsibility if you ask me than the average joe has.
Thus, when people are or can listen to you, you hold the responsibility to be as real as you can to them and don't play with their money and lives.
We will keep on seeing tweets like this and i bet that if Hive/Leo continues increasing on price then we gonna also see some of them here, trying to get a piece of the pie only with their name!
I hope that at least all of you that are reading this, to not fall victim of theirs and do your own research before you hear any of them. Just think of the following question before anything.
Why he is promoting the coin? What he may earn out of this?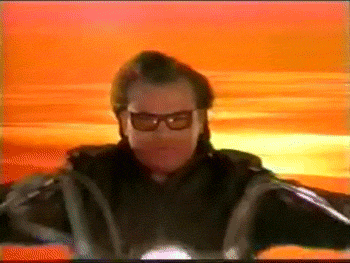 My Latest Posts
How Much you can win by Holding Your Coins
---
Buy something Different this Valentine's Day
---
Celebrating 4 Years on Hive & my Earnings
---
Europol Arrested 10 hackers that stole 100 million in cryptos from Celebrities
---
CTP: One of the Most Promising Communities
---
---
Economical consequences of Covid19: Heineken
---
Crypto ATMs in Athens, Greece are more Popular than Ever
---
Banning Cryptos and Leo Projects Release Dates Announced
---
or simply click on one of my profiles!
Filotasriza3 (LeoProfile)
Filotasriza3 (HiveProfile)
Filotasriza3 (SteemitProfile)
Posted Using LeoFinance Beta
---
---