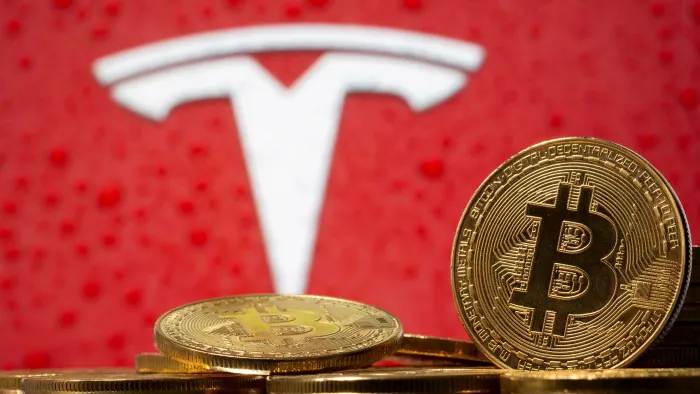 I have talked about Elon many times and although most people don't share the same opinion as i do about him, history itself shows i may be right. In case you are from a European country and now you are waking up and checking up on markets you only see red, here is why
Elon and Tesla announced that they suspended the car purchases with bitcoin because basically, he wants to protect the environment. To be more exact, they state that they are concerned about the increase in fossil fuels for btc mining.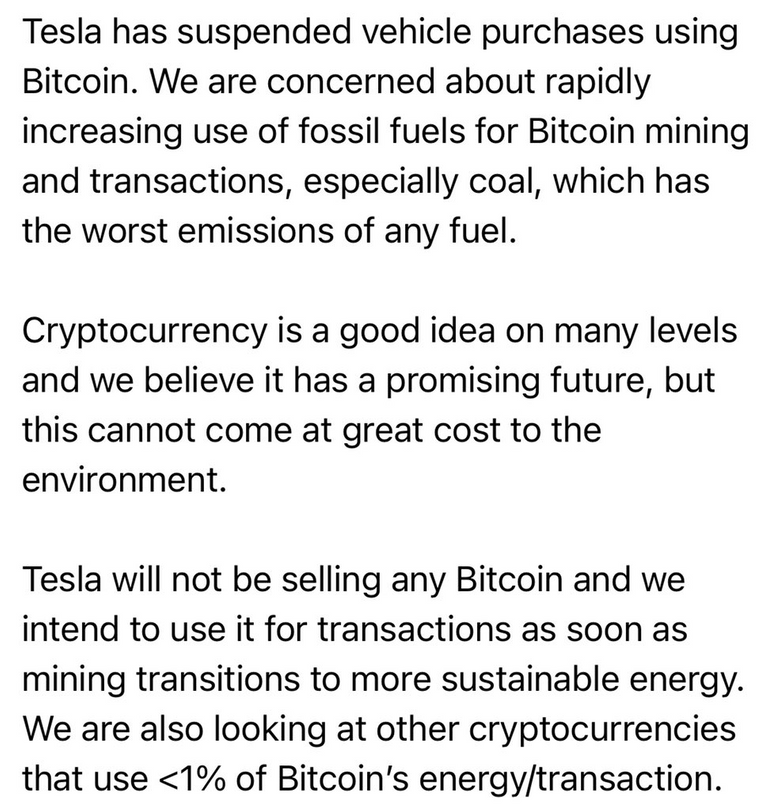 At the same time as you can read above, they don't dish on btc and cryptos and they are also looking for new cryptos with more sustainable energy-wise mining transitions.
After Tesla's announcements regarding btc around $365.85 billion dollars were wiped out of markets so i think it's about time you understand the power that Elon has to manipulates markets.
We have seen him doing the exact opposite when he bought btc and said that they will be accepted btc for their cars and we have also seen him pumping dogecoin to the moon. This should be a lesson to you all that basically says don't bother with this kind of people and don't let them manipulate you as well.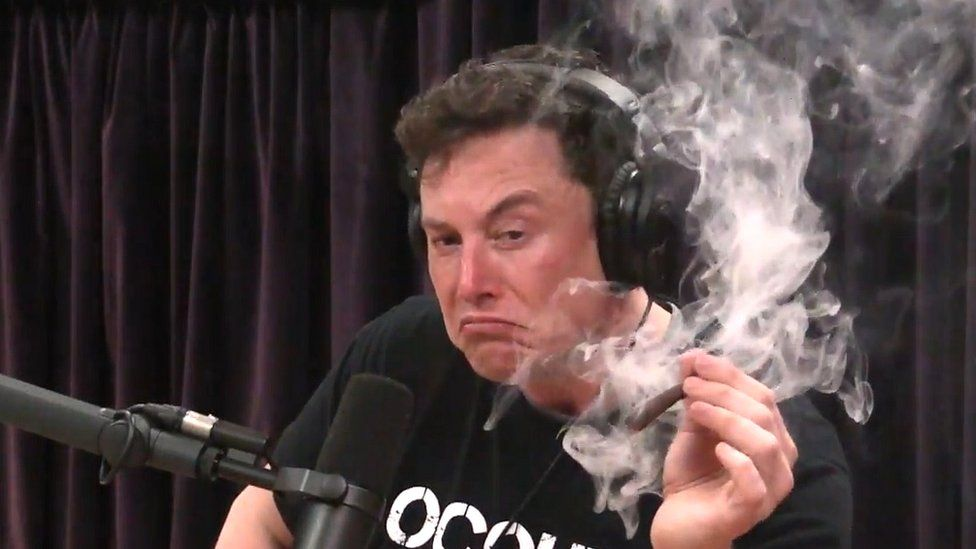 Now i have stated this multiple times already but i consider Elon very smart and a really really good businessman. Aside from that, i don't really think of him as a "good" person or "ethical" to say at least and I'll explain right away what i mean.
Elon says that basically our environment is more important and i definitely agree with that but many people say that isn't exactly the same regarding energy consumption and check below what i mean. I don't know though whether these comments speak the truth or not.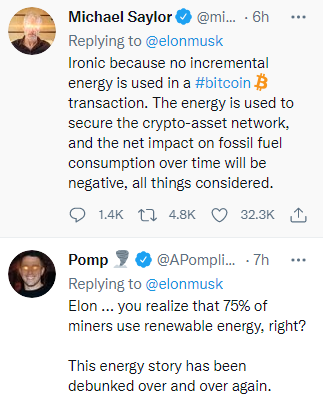 Now let me tell you my own argument. If he believes what he says why he doesn't sell all of the bitcoin that Tesla bought? Keeping them means that he does harm the environment or he maybe doesn't actually care about it?
Hypocrisy at its fullest. Two other things that crossed my mind after seeing that move are the following. He either tries to manipulate once again the market to drive down btc's price and then he intends to buy more publicly or in incognito mode or maybe he knows something that we don't regarding upcoming regulations so he makes sure not to get "hurt".
All in all i think he has now shown his true colors to all of you that had him as a god. He is nothing but a very good businessman that he cares about making more money and achieving his goal without caring about all of you who blindly follow him and buy whatever he tells you.
---
What Do You Think?
---
My Latest Post
Shiba Inu: What is it & what's all the fuzz about?
---
ADA had an All Time High Today & Crypto Crazy Market
---
We need to bring more awareness to Hive
---
or simply click on one of my profiles!
Filotasriza3 (LeoProfile)
Filotasriza3 (HiveProfile)
Filotasriza3 (SteemitProfile)
Posted Using LeoFinance Beta