8 Use Cases of Stable HBD!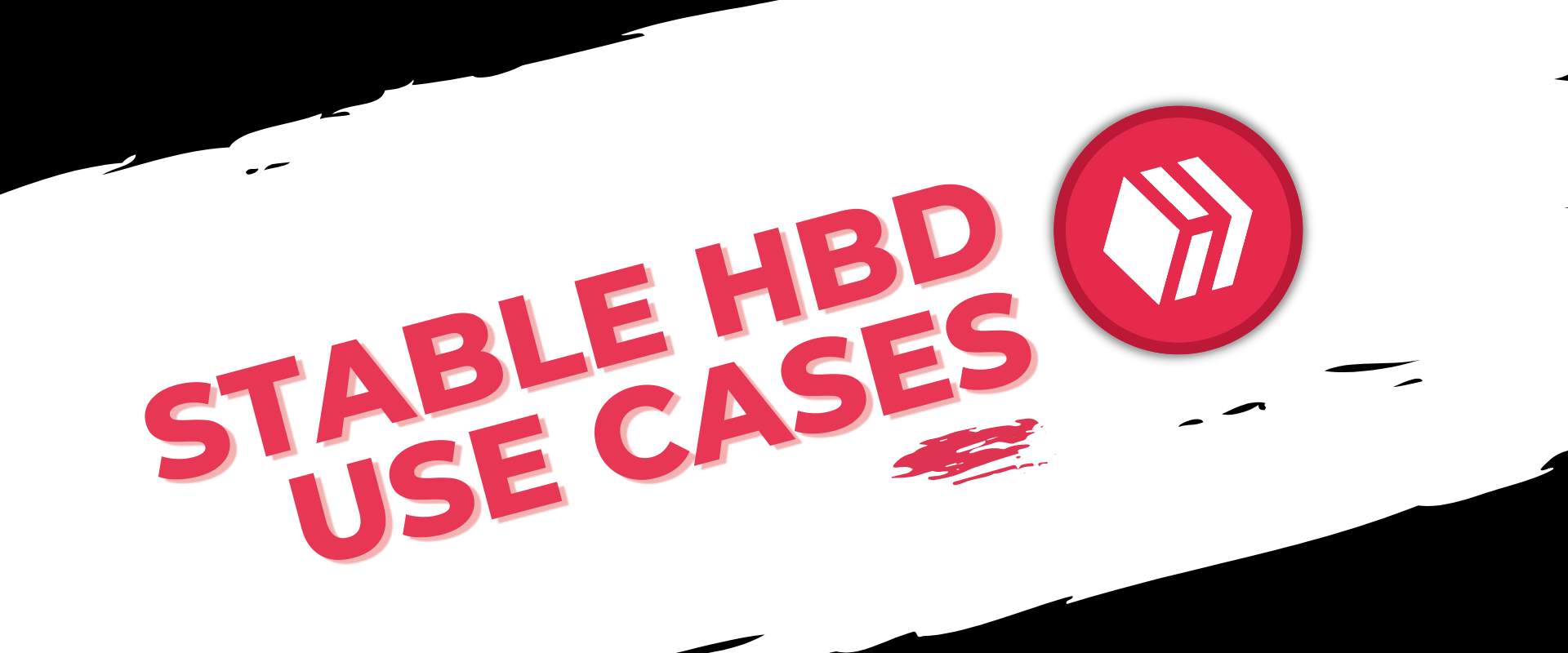 HBD is Hive Backed Dollar, a coin that was intended to be pegged to 1 USD. This means that 1 HBD = 1 USD. Sadly the peg is broken and recently we have seen it getting pumped to $2 - that's crazy. Value of 1 HBD or any Stablecoin is supposed to be the same as the asset they're pegged to i.e. USD but it's not, always.
A few weeks ago, @acidyo asked a question to Hive Community - "What kind of services/projects/businesses would you like to see more of with a stable HBD?" I decided to write a post about it but I was in a hurry, so I only left a small comment at that time.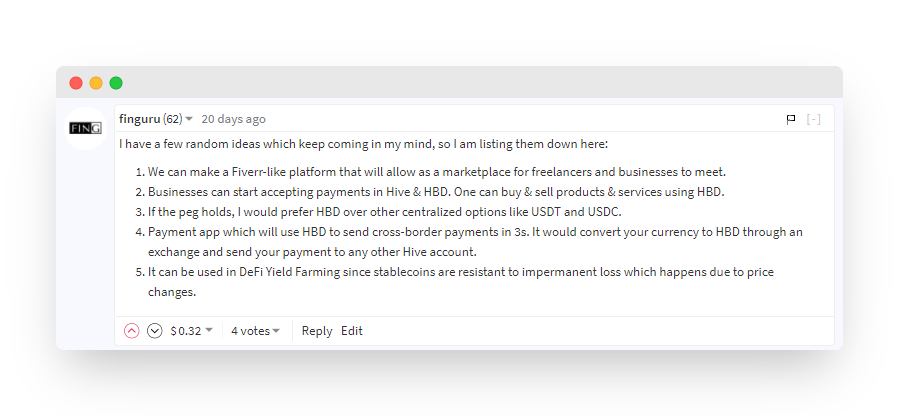 Source: https://hive.blog/hive-173737/@finguru/qtosgr#@finguru/qtosgr
There were some amazing comments on @acidyo's post, so, I would suggest everyone to have a good look there if you are interested in the subject. In this blog, I am going to list down and expand the ideas I listed above. But before that, let's have a look at the advantages of HBD.
Advantages of HBD
Fast
Feeless
Decentralized
Transparency & Security
Combat Volatility (if Peg is fixed)
---
Gig Economy
Freelancers are everywhere! Anyone can be one with enough skill. The only problem is that you need to rely on centralized platforms which take a huge cut from the income you generate. Moreover, if you are like me living in India, you have to use PayPal or other payment service providers that would charge conversion fees and transaction fees. A stable HBD could solve serve the gig economy like a pro! We have a project (Hivehustlers) on Hive that has plans to create a gig platform on the blockchain and a stable HBD would help freelancers and clients to transact easily.
Alternative to CBDCs
CBDCs are centralized and they have an entry barrier while HBD doesn't. They are controlled by the banks and the governments. It will be just like USD which gets printed at their will. With HBD, people can become their own banks. You don't need to have a bank account to transact with HBD, just a Hive account would suffice which you can create for free.
E-Commerce
E-Commerce is another huge industry that we should tap into for a substantial level of adoption. It gives you the freedom to buy anything from the comfort of your home. HBD can be used to transact easily to purchase products and services online. Since both blockchain and e-commerce involve transactions, it's one of the best use cases of HBD. Since it's built on Hive Blockchain which has DPoS mining, it's fast and scalable.
Cross Border Payments
Want to transfer $10 Million from USA to JAPAN in 3 seconds without paying hefty fees at all? Welcome to Hive & use HBD. Just imagine how easy & affordable it would be if people start transacting through HBD or any other stablecoins for that matter. In simple terms, it saves time, money, and energy!
Forex
Stablecoins pegged to different currencies can easily be used to do foreign exchange. Just imagine if you can use your HBD and quickly convert it to another stablecoin pegged to EURO. No forex fees, no showing of passport while doing it. You can also do Forex trading as well in a decentralized manner through DEXs.
Trading
Oftentimes, while trading I keep some of the capital in stablecoins like USDT. Since it is such a common stablecoin used, you can easily find crypto-USDT pairs. Also, its price doesn't fluctuate so I don't lose any money due to the market volatility. HBD can be used by daily traders to take the profit out of their investments.
DeFi
Impermanent Loss is a big reality of DeFi. It occurs when the pooled assets fluctuate in dollar value. In DeFi Yield Farming, stable HBD could help folks pool in assets with other stablecoins because they limit price variations. It is quite popular among investors since they do not need to worry about their assets getting lost over time. On hive, we are already getting 5% of APR for holding HBD in the wallet monthly. A stable HBD would make room for other DeFi opportunities.
Salaries
I am sure many Hive users are getting paid in crypto for contributing to various projects running the ecosystem. USD is one of the most common currencies worldwide. On Hive blockchain, one can easily code the salary disbursement process which ensures the credit of salaries to all the employees at the first of every month or whatever timeline you decide. Sooner or later employees all over the world will have an option to get their full or a part of salary in crypto. People getting HBD payroll.
Apart from all these, I'd really like to buy Coffee from HBDs. That'd be really cool!
Do you think is there any other interesting use case for a stable HBD? Comment below!
---

https://leofinance.io/@finguru

https://twitter.com/finguru6

finguru#4062
---

Not financial advice. For infotainment purposes only.
Posted Using LeoFinance Beta
---
---