Dogecoin Pros & Cons - Read This Before You Invest!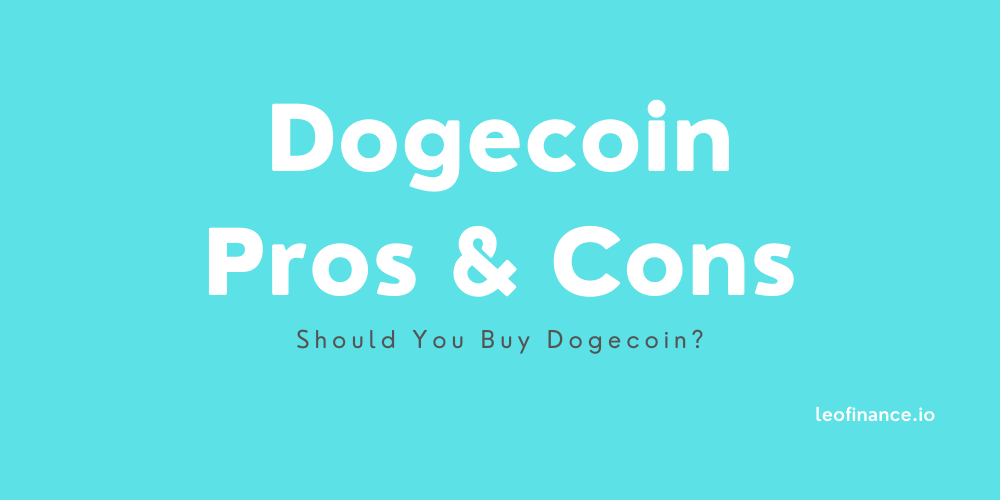 DogeCoin (DOGE) is one of the most famous meme cryptocurrencies available in the market. A peer-to-peer, open-source digital currency featured with fast & secure transactions. It was started in 2013 by Jackson Palmer and Billy Markus as a joke based on a popular meme featuring a Shiba Inu dog (a Japanese breed). Now it has real value and a strong community that is using it as an alternative to Fiat currency. It got so much popular in 2021 and reached the top 5 coins on Coinmarketcap creating several DOGE millionaires.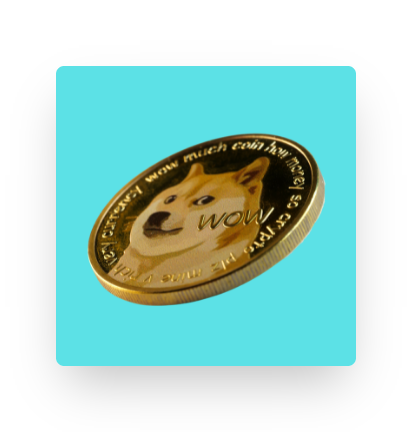 To know more about Dogecoin, how it works, and why it has real value, please check out this amazing beginner friendly guide: What is Dogecoin (DOGE)? - Dogecoin Guide by @crypto-guides.
In this blog, we are going to look at some of the major PROs and CONs of Dogecoin. At the end, I will try to answer whether one should invest in Dogecoin in 2021 or not.
---
PROs
Transaction Time & Fees: Dogecoin is a fork of Luckycoin which is a fork of Litecoin (a bitcoin fork). It is 10 times faster than Bitcoin and also the fees in case of DOGE is lesser when you compare the two cryptocurrencies.
Community Support: Dogecoin is famous because of its community. Real people who use the crypto and trade on it. They are quite active on social media constantly sharing updates and news related to developments within the DOGE realm. The reason for it to be so famous is that it's based on a meme which a language that social media enthusiasts speak.
Celebrity Support: Elon Musk is probably one of the biggest supporters of Dogecoin. He constantly tweets about it which has pushed its price upwards quite a lot in 2021, more than 14000% in one year. Apart from Elon, Mark Cuban has shown its support towards it. Dallas Mavericks (NBA team) owned by Mark also acceptance Dogecoin payments.
Availability On Exchanges: Dogecoin being one of the most famous cryptos, is available in most of the exchanges for trading and investing purposes. One can easily purchase and start transacting with them. Due to price volatility, one can trade Doge by analyzing the charts and price trends and make serious profits as more people are showing their interest in crypto.
CONs
Weak Fundamentals: Dogecoin was created as a joke and got famous on social media since it's a meme coin. Its price is not determined by the fundamentals or innovation of its technology.

No Active Development: Dogecoin doesn't have any institutional support or active development team working on the changes to make the network better. In fact the founders of Dogecoin have sold their holding long back in 2015.

Unlimited Supply: Unlike Bitcoin, Dogecoin is not capped. Hence there will be an infinite amount of Doge which can be mined or purchased by anyone. In simple terms, there will be an unlimited supply of DOGEs. Due to its inflationary nature, it's not a great choice to store value.

Scalability Issues: Even though Dogecoin is better than bitcoin in terms of transaction speed & fees, it still poses scalability issues. Hence it cannot be used for practical purposes once the network is propagated among the masses.

Price Manipulation: Dogecoin price is easily manipulated by pump and dump schemes, bitcoin volatility, and tweets. At the end of the day, it's just a joke backed by no real use case as such which makes it a volatile and speculative asset.
---
Should You Invest In Dogecoin In 2021
Cryptocurrency in general has seen explosive growth in the past few years. From the start of the year to the beginning of May, Dogecoin's price went up by 10,000% and it is expected to hit $1 by EOY as per some experts. This year we have seen the launch of many other meme coins inspired by the success of Doge as a community coin. It's all speculation due to the recent rise in its popularity. The community has expanded ten folds since then. Due to its high volatility and deflationary nature, Dogecoin is a very risky investment for now. There are no active developments going on in its ecosystem and nothing concrete is planned in the near future.
Coming back to the main question - should you buy Dogecoin? I would suggest don't do it if you can't afford to lose your money. If you are an experienced trader who can read and analyze charts to see patterns in its price, then you can try your luck. Celebrity support & community is growing even though the long-term viability of DOGE is questionable.
---
How long should I keep My Dogecoin?
As long as the Doge community continues using the coin, its value is going to hold. Celebrities like Elon Musk and Mark Cuban having millions of followers on social media have supported Dogecoin and there is a good chance that they will do it again. As a good rule of investment, if you are in profit then take out your initial investment and keep the rest of it intact. You can use some of it later to grab better investment opportunities or in case of an emergency. Just be aware that Dogecoin's price can go anywhere from this point onwards.
---
It's an initiative by @forexbrokr to drive organic traffic to the leofinance.io domain through long-form, SEO-optimized posts featuring high-volume keywords. The goal for this project is to eventually have a leofinance.io based crypto guide for every single coin or decentralized project in existence through user-generated content. Go and check out both the Hive guide and Bitcoin guide that they already published with contributions from the community members.
Participate & Earn Leo Tokens
You can earn crypto (LEO) by contributing to the latest guides about crypto. Learn more: https://leofinance.io/@forexbrokr/introducing-leofinance-crypto-guides
---

https://leofinance.io/@finguru

https://twitter.com/finguru6

finguru#4062
---

Not financial advice. For infotainment purposes only.
Posted Using LeoFinance Beta
---
---