---
Yes, it's happening!
Several Indian banks have been accused by major Crypto Exchanges in India, that they have stopped providing banking services which in turn is affecting Indian Crypto Community.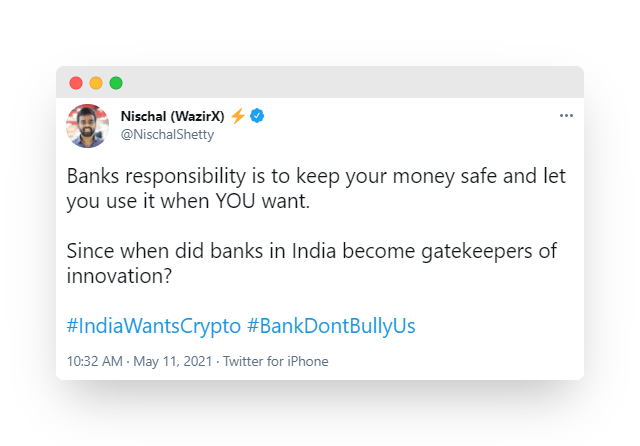 In the past week, many cryptocurrency traders and users have been facing issues in depositing and withdrawing their funds from Crypto Exchanges. This has stopped them from buying or selling cryptocurrencies of their choice. Some of the most famous Indian payment gateways informed exchanges that they are stopping the services as per instructions coming from the major Indian banks.
On March 4, 2020, the Supreme court of India squashed the RBI circular (2018) which banned the trading and usage of cryptocurrency in the country. Judges called it "Unconstitutional" and asked the RBI (Reserve Bank of India) to let the banks provide services to the crypto businesses running in the country. Banks are referring to the same circular while sighting the reason for the company account closure.
Sathvik Vishwanath, co-founder, and CEO of Unocoin, one of India's oldest crypto exchanges, was informed last week by ICICI Bank that his company's account with the bank was being suspended.
Source: Inc42
"Banks refusing to work with crypto are like bookstores refusing to work with the Internet," - Changpeng Zhao, CEOBinance
Source: Economic Times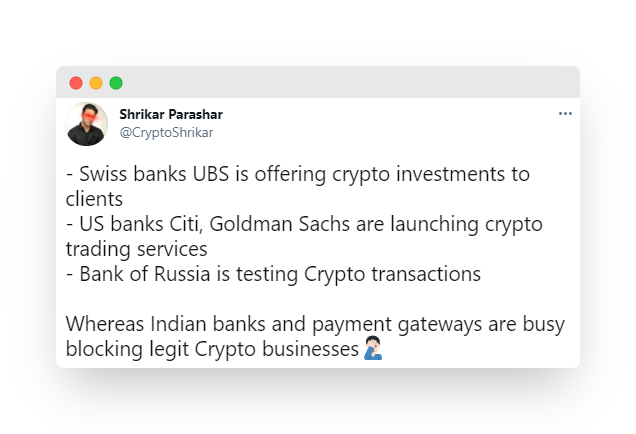 Recently, the National Payments Corporation of Indian (NPCI), an RBI Body, has refused to ban crypto through UPI. It has asked the banks to take their own decision regarding this matter.
NCPI runs the Unified Payments Interface (UPI), an instant real-time payment system that facilitates inter-bank transactions. It is regulated by the central bank, the Reserve Bank of India (RBI).
Source: https://news.bitcoin.com/national-payments-corporation-of-india-not-ban-cryptocurrencies-upi/
On one hand, NPCI is not banning cryptocurrencies, banks are saying that they don't want to face RBI's wrath. That is why they are cutting ties with businesses that deal in Digital Currencies. This has created several road blockers in front of investors. They are not able to take advantage of the current bull run happening in the Crypto Markets.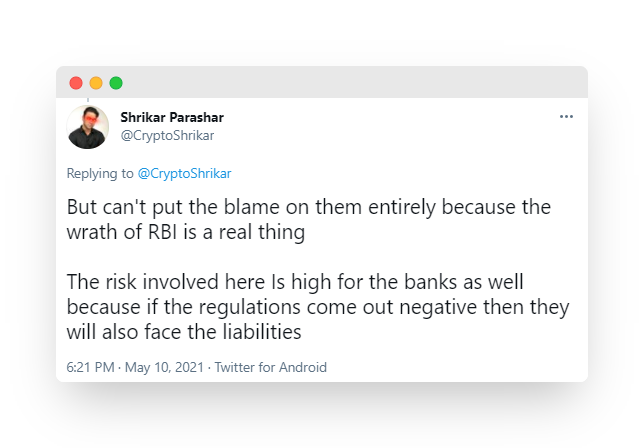 RBI has never been supportive of Crypto! The oldies heading the central bank do not understand the space and its worth or they are evil. It was evident when the Supreme Court asked them the basis on which they put a ban earlier. The country is facing a lack of regulations around the usage of cryptocurrencies. There have been reports that the Government of India is planning to introduce a bill to "Ban Cryptocurrency" and take it up for discussion in the current parliament session. But it has been postponed due to the Covid situation in the country.
At the same time, both the Finance Minister of India & The Minister of State Finance, have time and again ensured that the interests of crypto investors will be protected in the Bill and clarified that the government is in favor of technology. More confusion!!!
---
Indian Crypto Scene Is Hot
While the future of cryptocurrency remains uncertain in India, associated businesses are growing. We are witnessing a new type of economy and we can become a tech powerhouse of the world if we manage to introduce a pro-crypto policy.
Check out the growth pattern of the biggest cryptocurrency exchange in India - WazirX. It was acquired by Binance in 2019.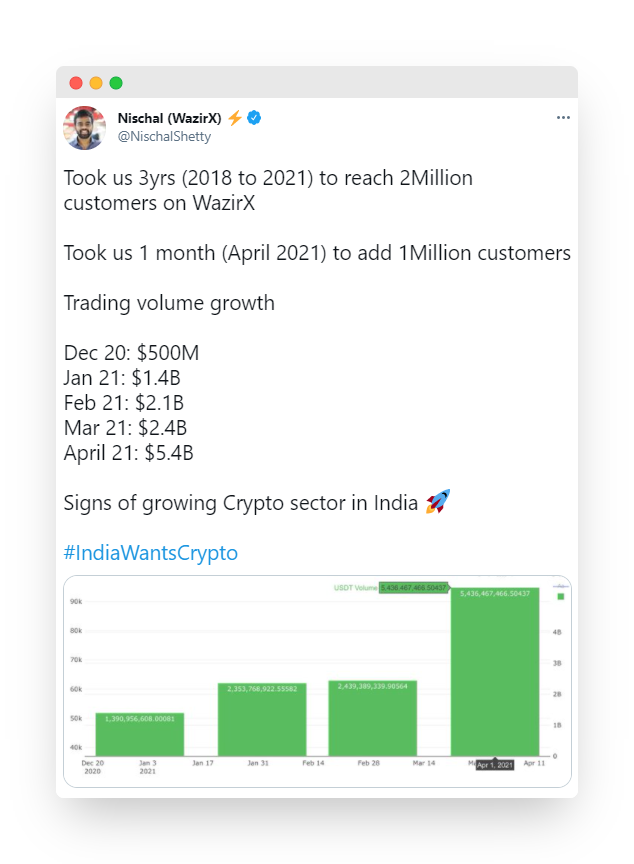 "Confusion in India's banking industry is hurting 1.5 CRORE Indians in Crypto. The Honourable Supreme Court of India has set aside the RBI crypto circular of 2018. Banks in India still cite that circular to deny banking," Nischal Shetty, CEO Wazirx
Source: https://inc42.com/buzz/one-year-after-sc-order-indian-banks-again-wary-of-crypto-trades/
Over 15 Million Indians are estimated to own crypto and the number has been growing exponentially in the past couple of months. Pandemic has made many people unemployed as several businesses were hurt. This could help provide an extra source of income for many Indians.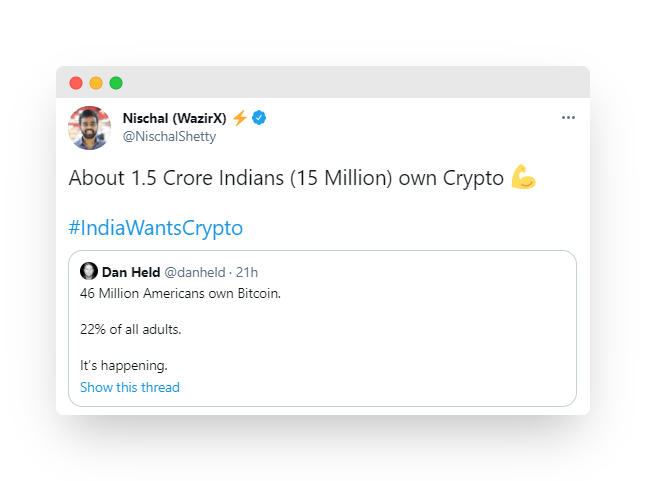 There is a huge potential that India can gain out of this space. Bureaucracy and political arrogance are withholding Indians from participating in this growing sector. Our dying economy can actually be saved if we allow this to further develop in the county instead of crushing it.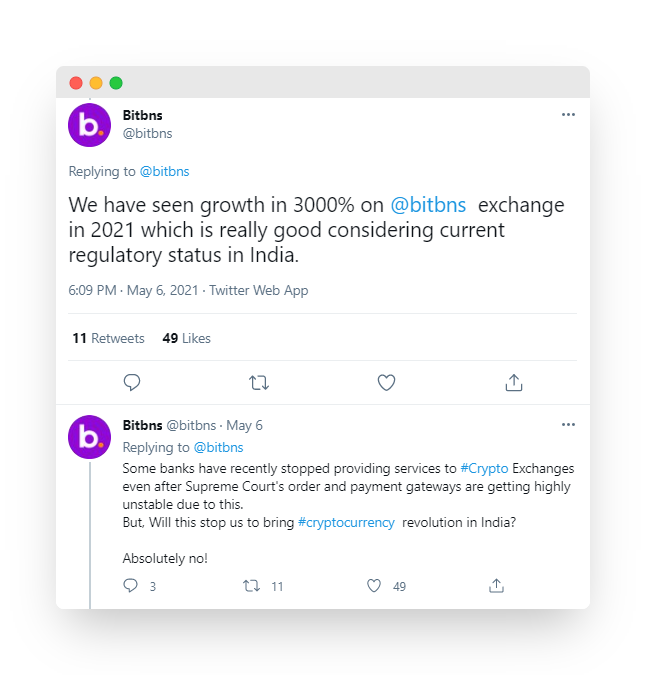 I don't see the growth and development stopping. Crypto community has grown bigger over the last year and many Indians are enjoying its benefits. It is getting difficult to ignore us. Blockchain technology has the potential to completely transform traditional systems which are inefficient and slow. It can help us to create innovative solutions that will drive the nation into becoming a global powerhouse.
Do you think India will stop fighting? Will we regulate cryptocurrencies instead of banning them? Is there anything we can do to persuade banks in supporting the thriving crypto community? Please let me know your thoughts on this situation. Comment below!
---

https://leofinance.io/@finguru

https://twitter.com/finguru6

finguru#4062
---

No financial advice. For infotainment purposes only.
Posted Using LeoFinance Beta