My Favorite SEO Keyword Research Tool
Search Engine Optimization (SEO) is one of the most powerful and useful practices to attract search traffic if done properly. Although it includes a variety of techniques clubbed together, there is one particular thing you can nail down to get the best results every time. Google and other search engines continue to change their search algorithms but if you optimize your pages with a variety of searchable keywords, you are good to go.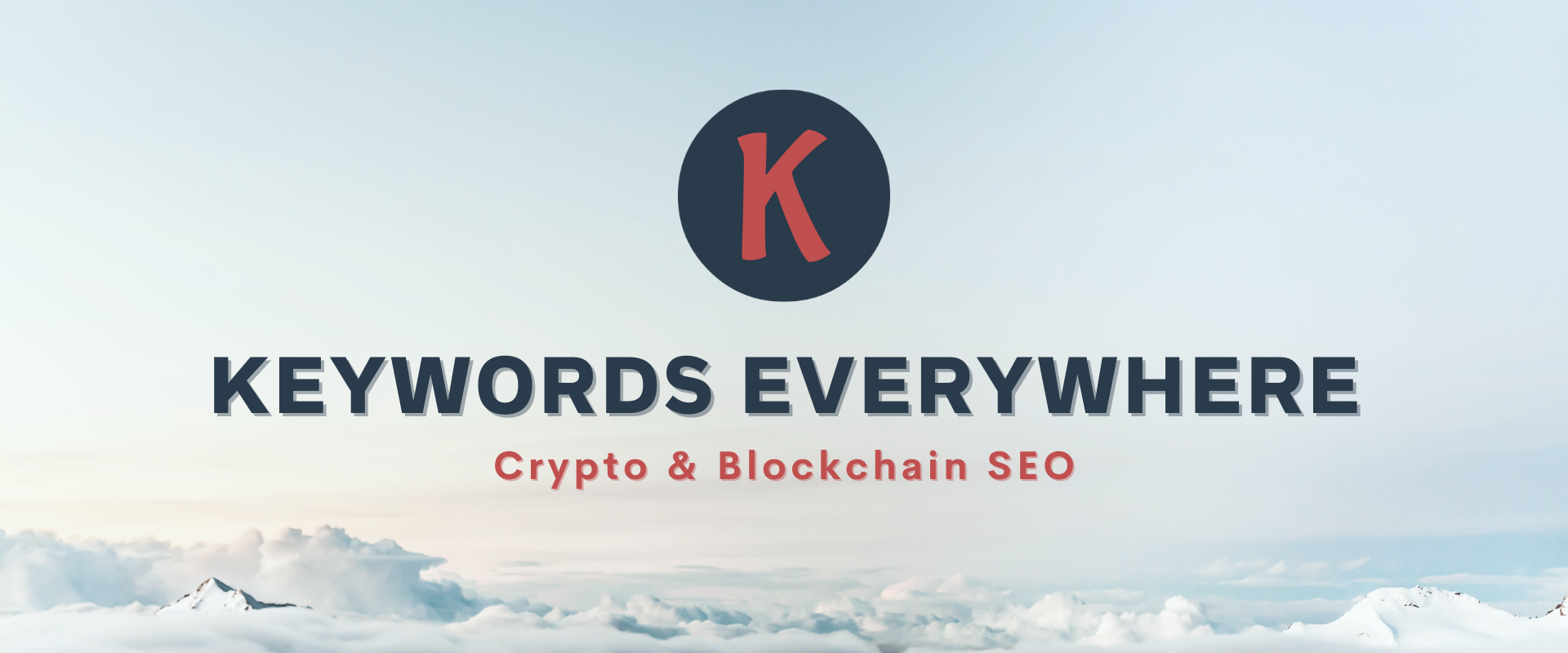 ---
Keyword Research Is Important
Keyword research is a fundamental SEO process of finding keywords that are suitable to your target audience. In case you are involved in a crypto business or you want to create content about related topics, you might require a keyword research tool. It will provide you keyword suggestions based on search volume and the current trends.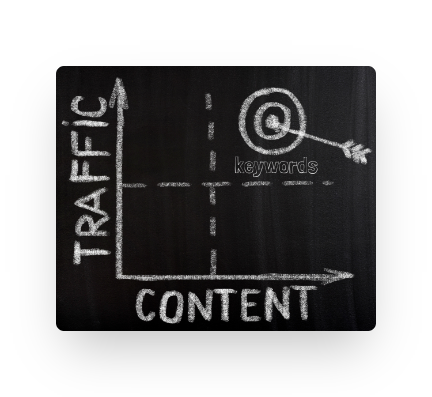 Organic traffic is sweet because it accumulates over time on auto. In this wonderful post by @hitmeasap, he has shown which keywords bring the most organic traffic to https://leofinance.io/. Even though these posts were made long back, they continue to send users who are searching for such keywords on google.
---
Introducing Keywords Everywhere
Keywords Everywhere is a freemium, keyword research broswer extension that provides keyword suggestions & search-related data. It's available for Chrome & Firefox but I am not sure about Brave.
Once you have installed the extension, access settings by clicking the extension button on your browser. Get a free API key and add it to the settings to validate it as shown below: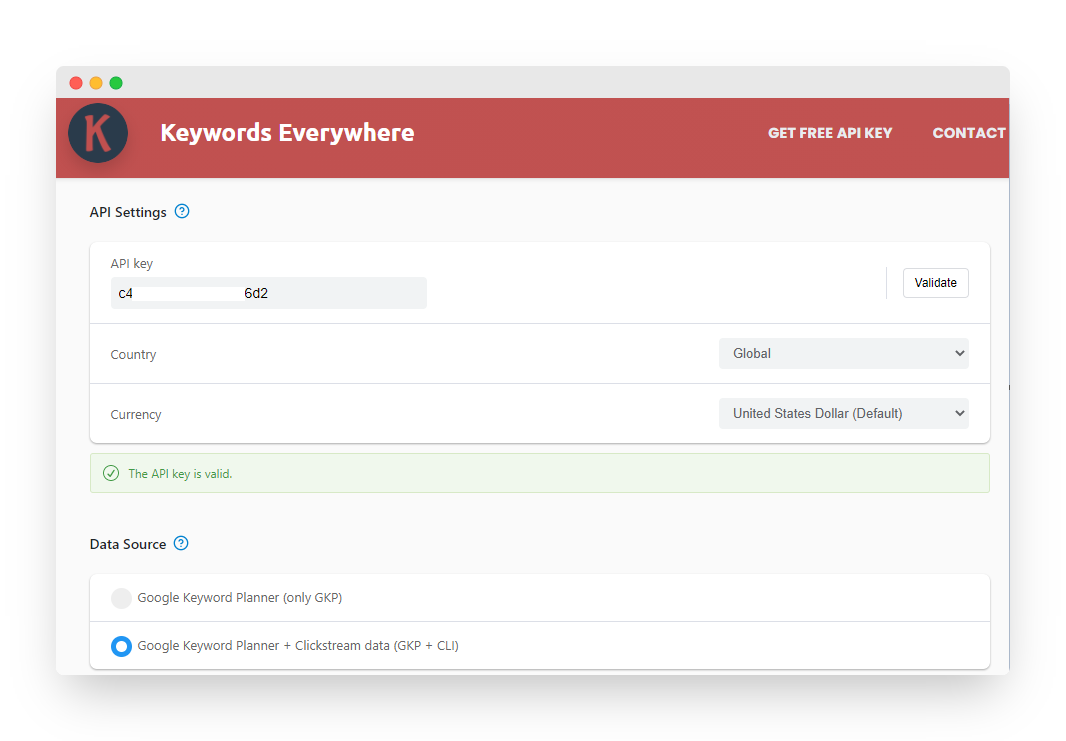 Rest of the settings should stay as it is or can be customized as per preference. Let's take an example and see what data is displayed when you search for a keyword on google. For example, I want to write an article about Cosmos Network.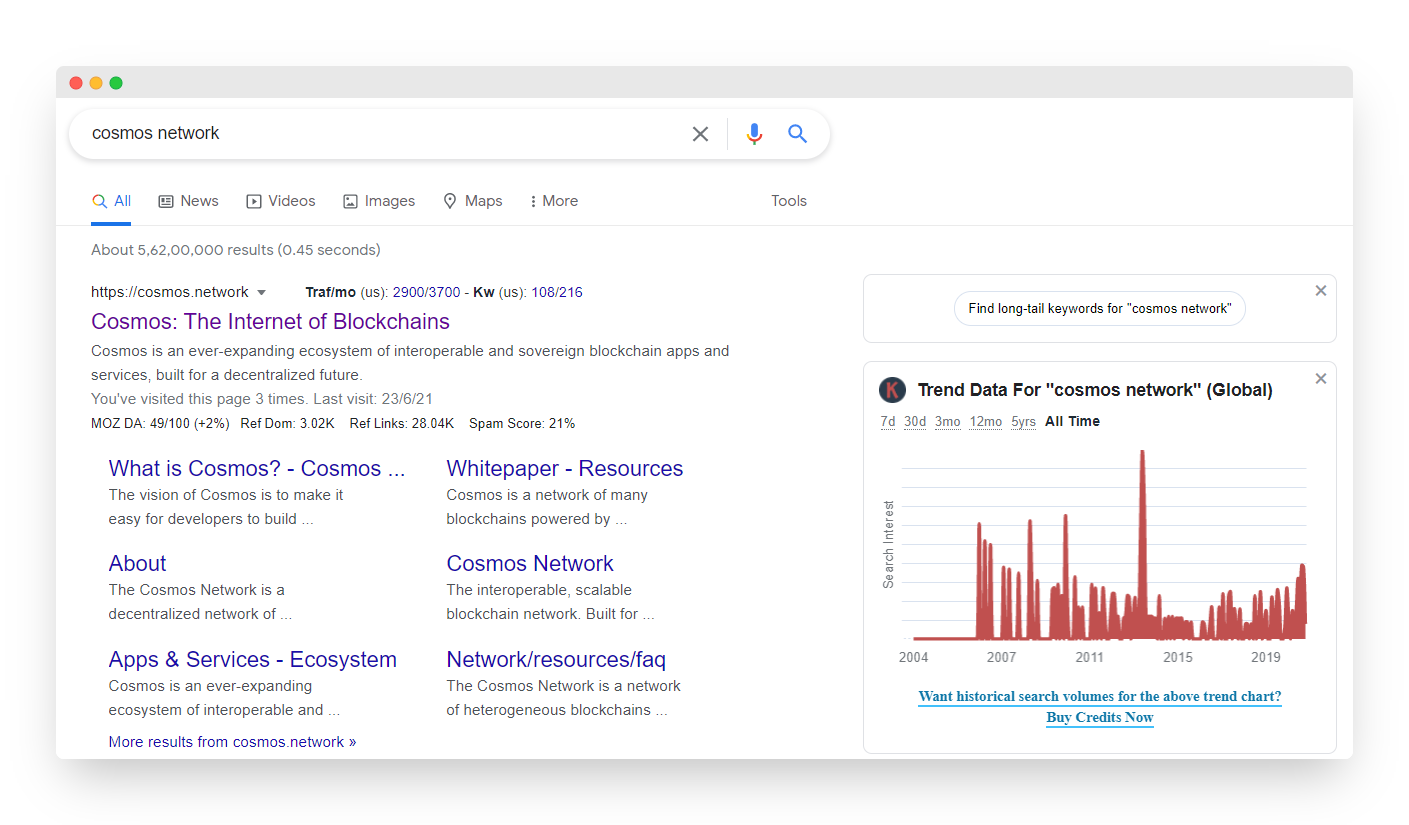 "Cosmos Network" as my main keyword will show up above search results on Google, as well as the data from Keywords Everywhere. Let me briefly explain to you what is the meaning of each section and how you can use it to create SEO-friendly content.
Past Trend
This little chart widget on the right hand side of the search screen gives you an idea about the past trends of a particular keyword. In this case, you can see that the search interest is growing for Cosmos Network. As the platform develops, it might stay relevant in the crypto world and the search interest will most probably grow. Hence, it's great to choose this keyword and the topic.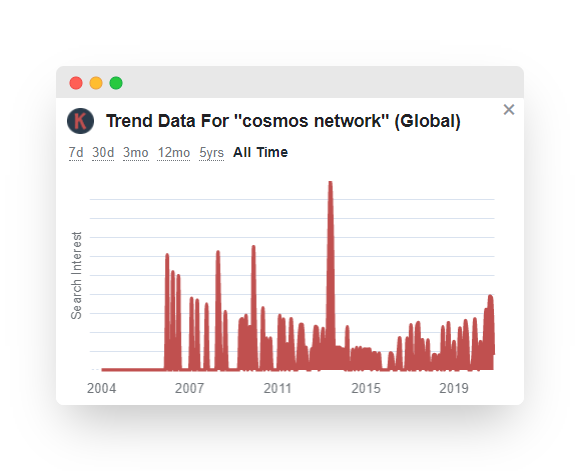 ---
Related Keywords
Related Keywords widget is one of my favorites. It gives you a list of keywords that are 'related' (Duh!) to your main keyword.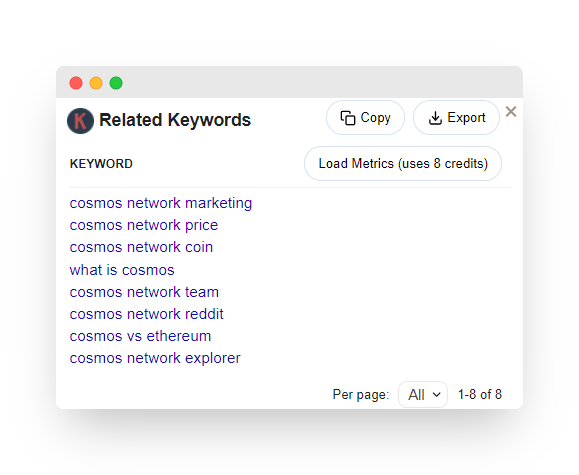 ---
People Also Search For
There are folks who do alternative searches related to Cosmos Network. This widget display such keywords. You might see some common keywords which appear again in this section. You must use such keywords in your content because they tend attract the most search volume in general.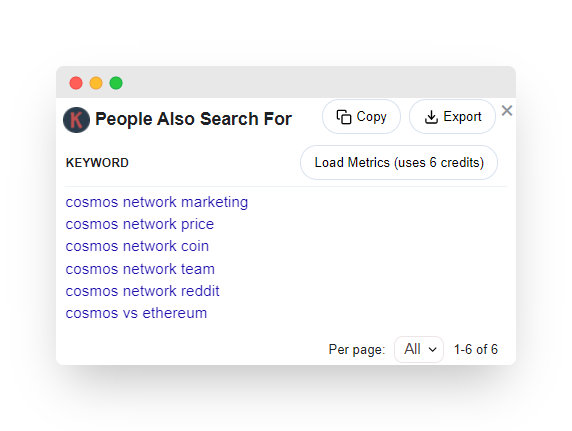 ---
Long-tail Keywords
Focusing on long tail keyowrds is one of the best SEO tactic. Although they get low search volume but the conversions are higher. Choose long phrases or sentences and be more specific. This particular section doesn't give better suggestions for every search but you can add your own words to them and create longer tails.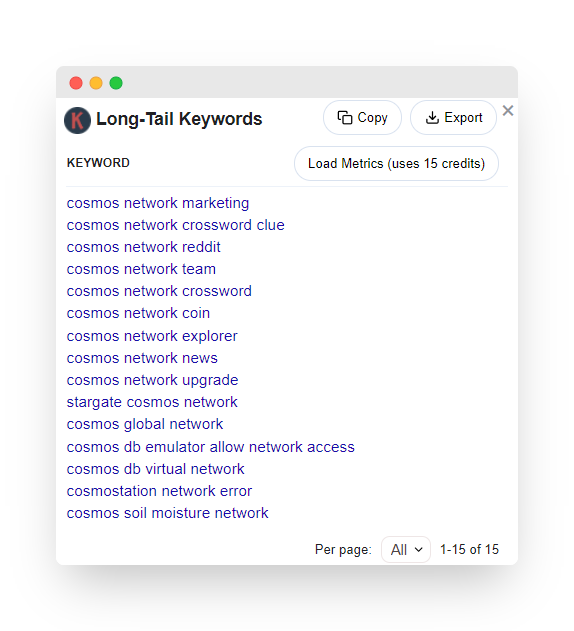 ---
If you see the below screenshot, you will notice that there is some more info that is displayed once you validate the API key. It's beneficial for those who are looking to find a little bit more than just keywords suggestions. This will be displayed for each link which comes up in the search results.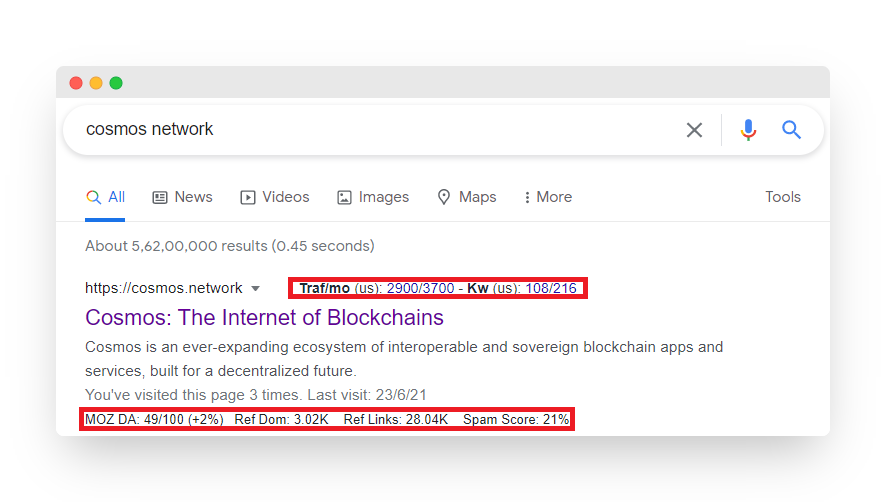 Organic Traffic Data
This widget provides the organic traffic data for the particular search result URL and the total traffic that website gets over a month. For example, the URL that came in the search result got 2900 hits per month while total hits on the main website is 3700 per month. Similary the number of keywords that help the URL or the main website rank in search results.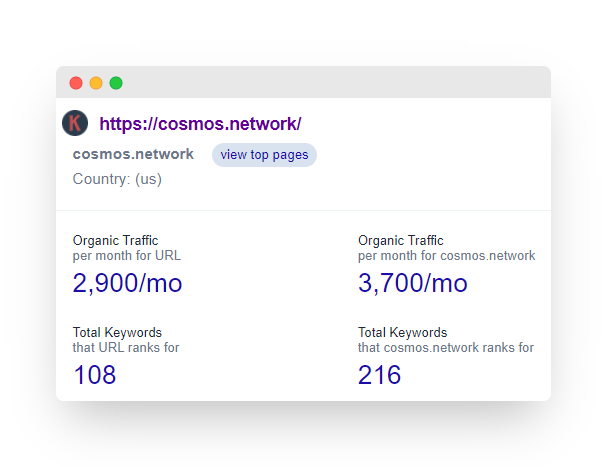 ---
Link Metrics
It provides you the SEO metrics for the main website from the URL that appread in the search. It gives you an idea about how much popular a website is in the eyes of Google or other search engines when you use them.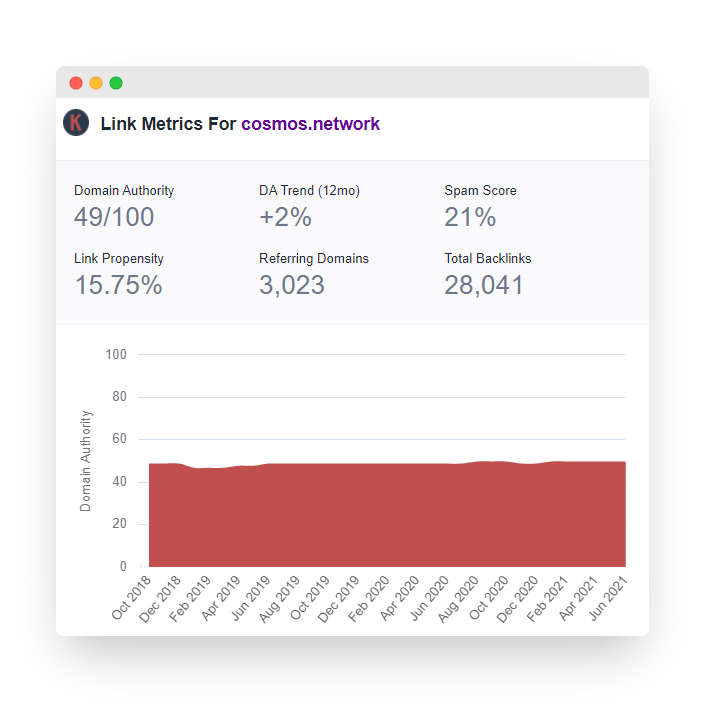 If you have noticed, you need to buy credits to display more metrics but I think there are better paid option out there than this. I just use the free features and get by with my keyword research. On @leomarkettalk, @forexbrokr had suggested two other tools called ahrefs and Ubersuggest. They have free trial or free versions too which you can try.
Solid keyword research would definitely pay back in the future. I hope this will help some of the long term Leo Finance bloggers out there. Please let me know your thoughts in the comment section below!

https://leofinance.io/@finguru

https://twitter.com/finguru6

finguru#4062
---

Not financial advice. For infotainment purposes only.
Posted Using LeoFinance Beta
---
---