New Partnership Between Hive & Staking Rewards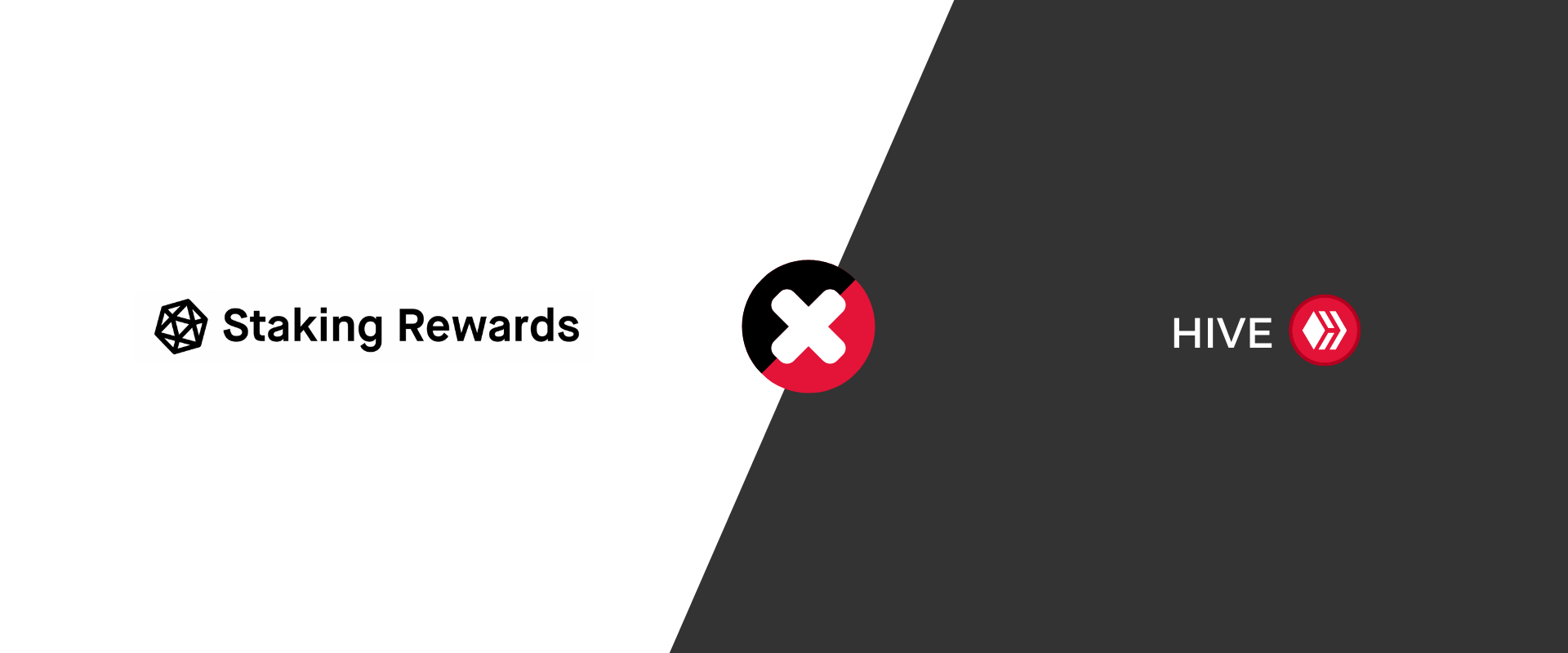 A month ago, Staking Rewards, a data provider platform for staking and crypto-growth tools, started community voting for your favorite asset to be fully integrated and featured on their website! Hive was doing great and at one point, we topped the voting charts ahead of Free Ton.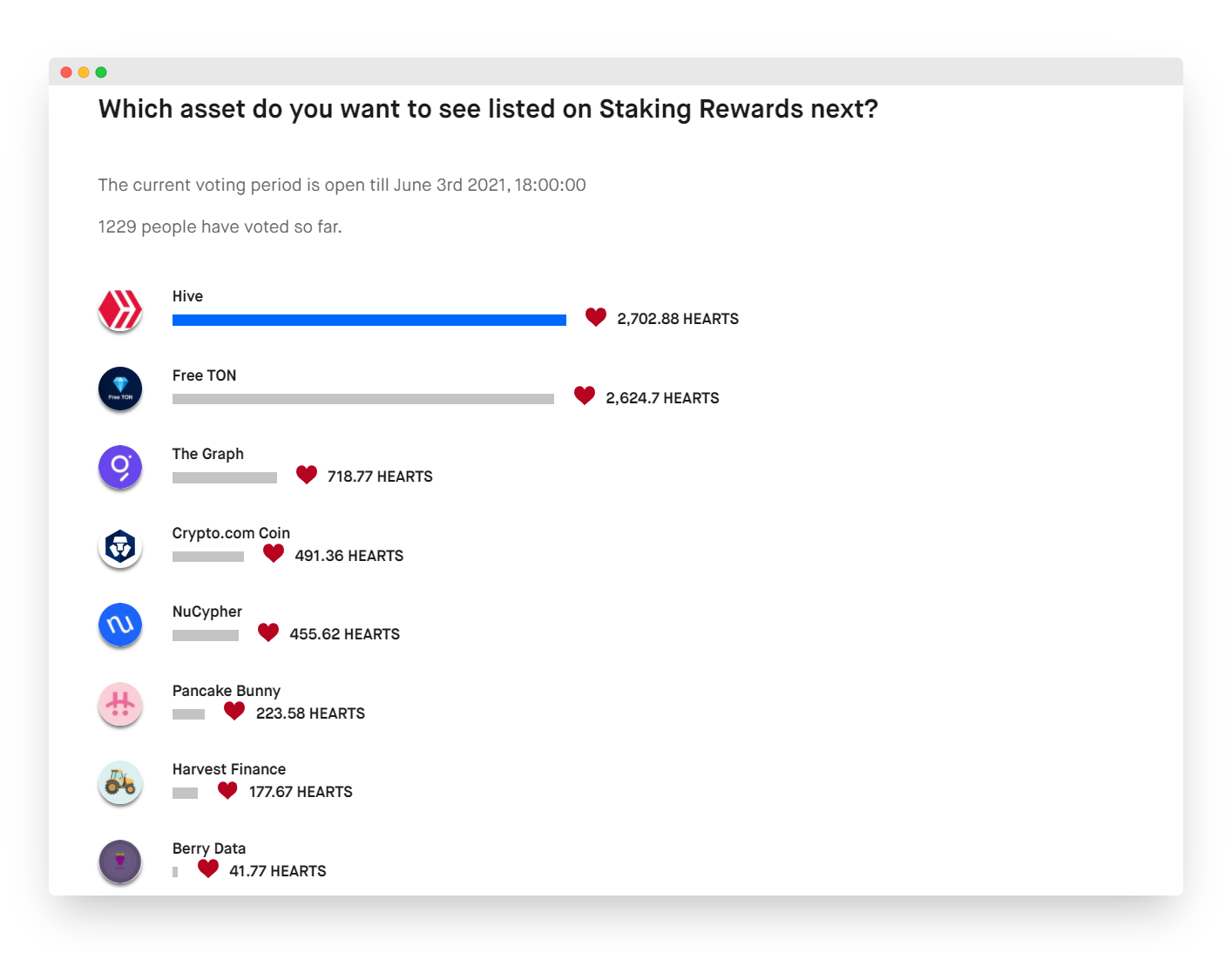 What Is Staking Rewards?
Staking rewards is a platform that provides tools & information about lucrative passive income opportunities via Crypto. It focuses on PoS crypto assets where returns can be made through staking! Apart from this, it delves deep into DeFi, Lending, Masternode & other passive investments.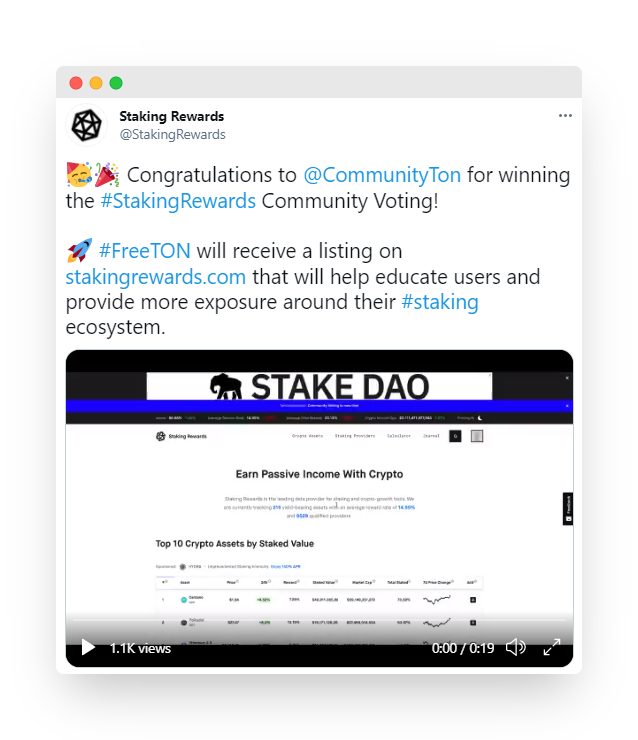 Towards the end of the contest, it was only a battle between the two communities. Free Ton won the contest and the listing on the Staking Reward's website. It's a well-deserved win but Hive has given a tough competition.
---
StakingRewards - Hive Partnership
Earlier today, Staking Rewards has announced a partnership with Hive. Now anyone can easily stake $HIVE & learn more ways to grow your stake within the Hive Ecosystem.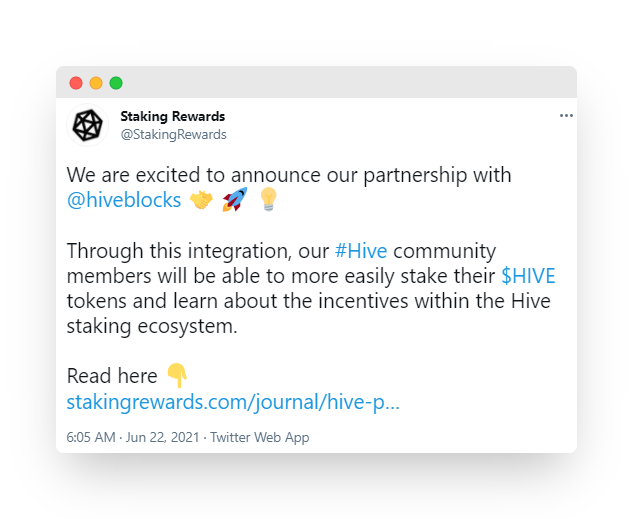 These are some of the partnership details mentioned in Staking Rewards' latest journal published on their website today:
Full Mainnet data integrations with all validator data, blockchain metrics, calculations, and more.
Portfolio Integration
Joint AMA hosted by the Hive Team
HIVE airdrop to the top HEARTS token holders on Staking Rewards
HIVE Giveaway through Twitter Campaigns
Points To Note
Staking rewards is one of the leading data providers for Staking opportunities. They are currently tracking 217 yield farming assets with an average APR of 14.95% & 10985 qualified providers. Getting Hive on their platform will provide us more eyeballs.
Through AMA, we can attract outside investors from the Staking Rewards community.
HEARTS Token is the native of Staking Rewards. It's not a crypto token but you can earn them by visiting Staking Rewards each day. You can use HEARTS to redeem for gifts and offers. Hive community members can stack HEARTS before the airdrop. ;)
Hive Twitter Giveaway will increase some social media activity for both Hive & Staking Rewards.
Hive Staking makes great videos & tutorials for their users whenever a new listing or partnership happens. We will have a high-quality resource to explain how Hive works.
I think this partnership will prove to be fruitful for both Hive & Staking Rewards. It's a great move for Hive adoption and hopefully we will have so many of these partnerships in the future.
---
What's Next?
StakingRewards - Cub Finance Partnership
This has to be the next thing happening after this, right? I think Cub Finance (@khaleelkazi) should reach out to the Staking Rewards team and get listed as a service provider: https://www.stakingrewards.com/get-listed-providers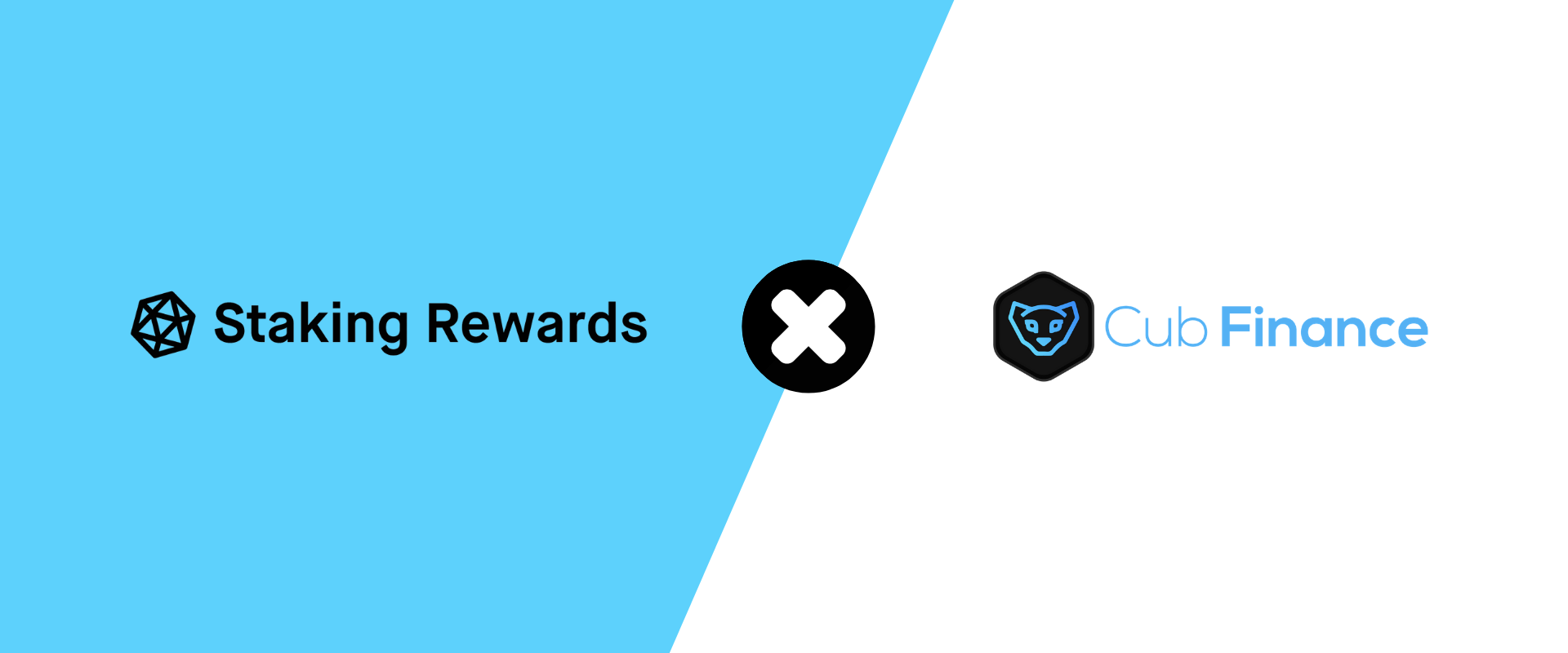 I am not sure if it's feasible right now but it's worth a try. Staking Rewards is a great platform to showcase DeFi opportunities and I think we must have a listing there.
What do you guys think? Comment below!
---

https://leofinance.io/@finguru

https://twitter.com/finguru6

finguru#4062
---

Not financial advice. For infotainment purposes only.
Posted Using LeoFinance Beta
---
---