Polygon (previously MATIC) vs Binance Smart Chain (BSC)
In this head-to-head comparison, we will discover how Polygon is different from Binance Smart Chain. To know more about Polygon & how it works, please check out this basic guide by @crypto-guides. As I have mentioned in my previous post about Polygon Pros & Cons, Polygon (previously Matic) is the solution to Ethereum's Scalability and User Experience issues. It's an ecosystem of Ethereum based Blockchains with full customizations.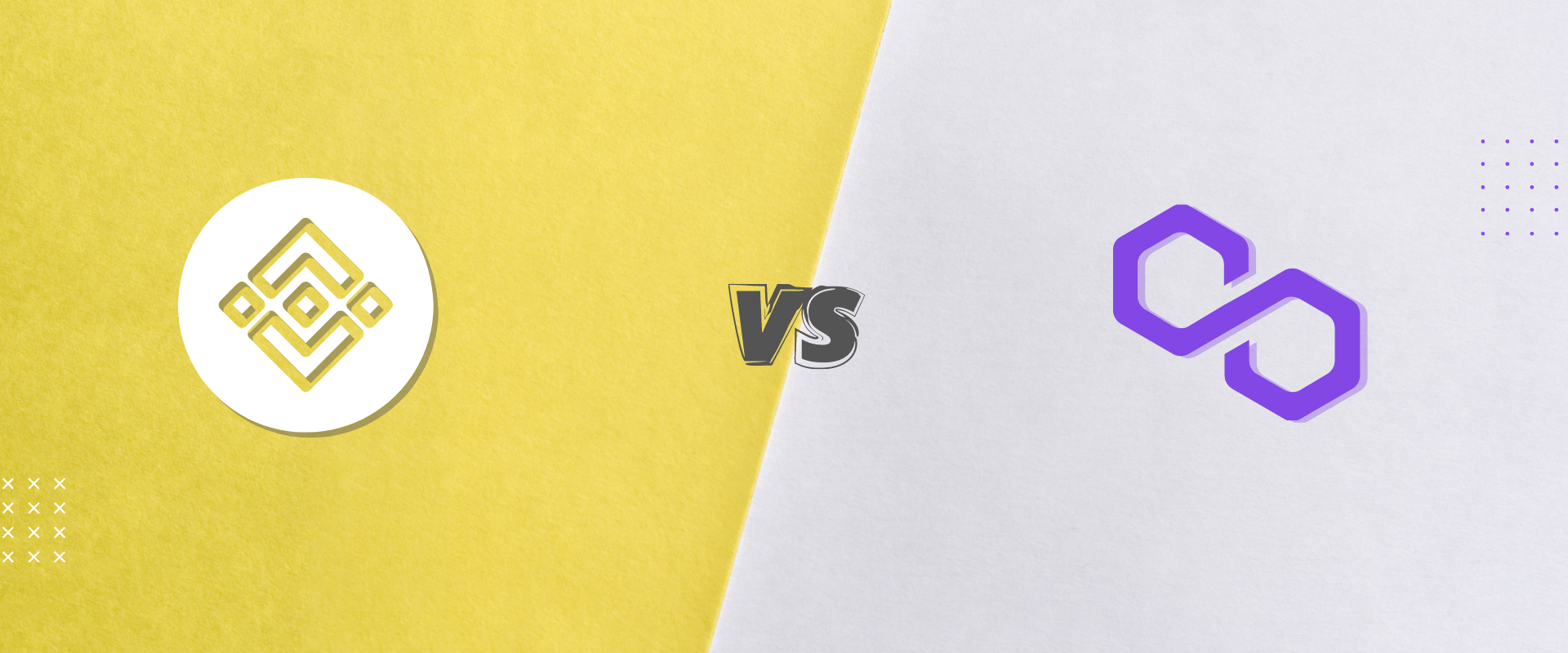 Another scalability solution available in the market is Binance Smart Chain, which was launched in Sept 2021. It got famous quickly since it is backed by Binance, the biggest crypto exchange in the world. Now, let's explore what are the key differences between BSC & Polygon.
Key Differences Between Polygon & BSC
Innovation: BSC is the modified copy of Ethereum. It uses the Proof of Staked Authority(PoSA) consensus algorithm which is a hybrid between Proof of Authority (PoA) and Delegated Proof of Stake (DPoS). On the other hand, Polygon (Matic Network) is a Layer 2 sidechain to Ethereum which utilizes Plasma framework & POS Chains to ensure asset security. As mentioned above, Polygon is an interoperable, scaling framework for building Ethereum-compatible blockchains. In the future, they will release ZkRollups, Optimistic Rollups, Optimistic Rollups, Standalone Sidechains & Enterprise Sidechains as other scaling solutions.
Fees: BSC has much lower gas fees than ETH but it is still a few cents (10-20¢). The gas fee on Polygon Network is almost negligible. For 1 Matic, you can do up to 100 basic transactions.
Speed: BSC is faster than ETH but transactions take good 3-5 seconds to complete, sometimes even more. On Polygon POS Chain, transactions are faster approximately 1 second or less. On Plasma Chain, they can take up to 7 days.
Transactions: BSC is averaging out 3.3 million transactions per day in July 2021. On the other hand, for polygon, it's 6.5 million for the same period.
Decentralization: BSC is centralized. It uses a minimum of 21 nodes to run the chain but most of them are owned by Binance, directly or indirectly. Hence, the DeFi platforms built of BSC are actually CeDeFi. Matic is not compromising on Decentralization while providing higher speed and low-cost transactions.
Network Effect: Binance is one of the biggest brands in the crypto market hence they have a strong network of users & investors. On the other hand, Polygon is powered by a strong Ethereum DEV community.
Which One Is Better?
Polygon (Matic) seems like a clear winner when you look at the above points. In theory, it performs better than BSC without compromising the security & decentralization of the network. When you look at the markets, BSC has taken the major share and doing more transactions than the Main Ethereum Network. Even though it is centralized, it hosts a variety of DeFi Applications that are user-friendly and easily accessible. They have comparable TVLs and Market caps. Also, Binance being the biggest crypto exchange in the world has all the resources like developers and funds to create amazing products and market them.
Ether congestion & scalability issues drive the adoption for other Blockchain projects like Polygon, Polkadot, ADA, Cosmos etc. The scalability of Blockchains is a never-ending project so we might see more innovation happening in this space.
---
It's an initiative by @forexbrokr to drive organic traffic to the leofinance.io domain through long-form, SEO-optimized posts featuring high-volume keywords. This project aims to eventually have a leofinance.io based crypto guide for every single coin or decentralized project in existence through user-generated content. Go and check out both the Hive guide and Bitcoin guide that they already published with contributions from the community members.
Participate & Earn Leo Tokens
You can earn crypto (LEO) by contributing to the latest guides about crypto. Learn more: https://leofinance.io/@forexbrokr/introducing-leofinance-crypto-guides
---

https://leofinance.io/@finguru

https://twitter.com/finguru6

finguru#4062
---

Not financial advice. For infotainment purposes only.
This blog is an updated version of previous Polygon vs BSC comparison
Posted Using LeoFinance Beta
---
---