Quit Buying Crap You Don't Need And Invest Your Money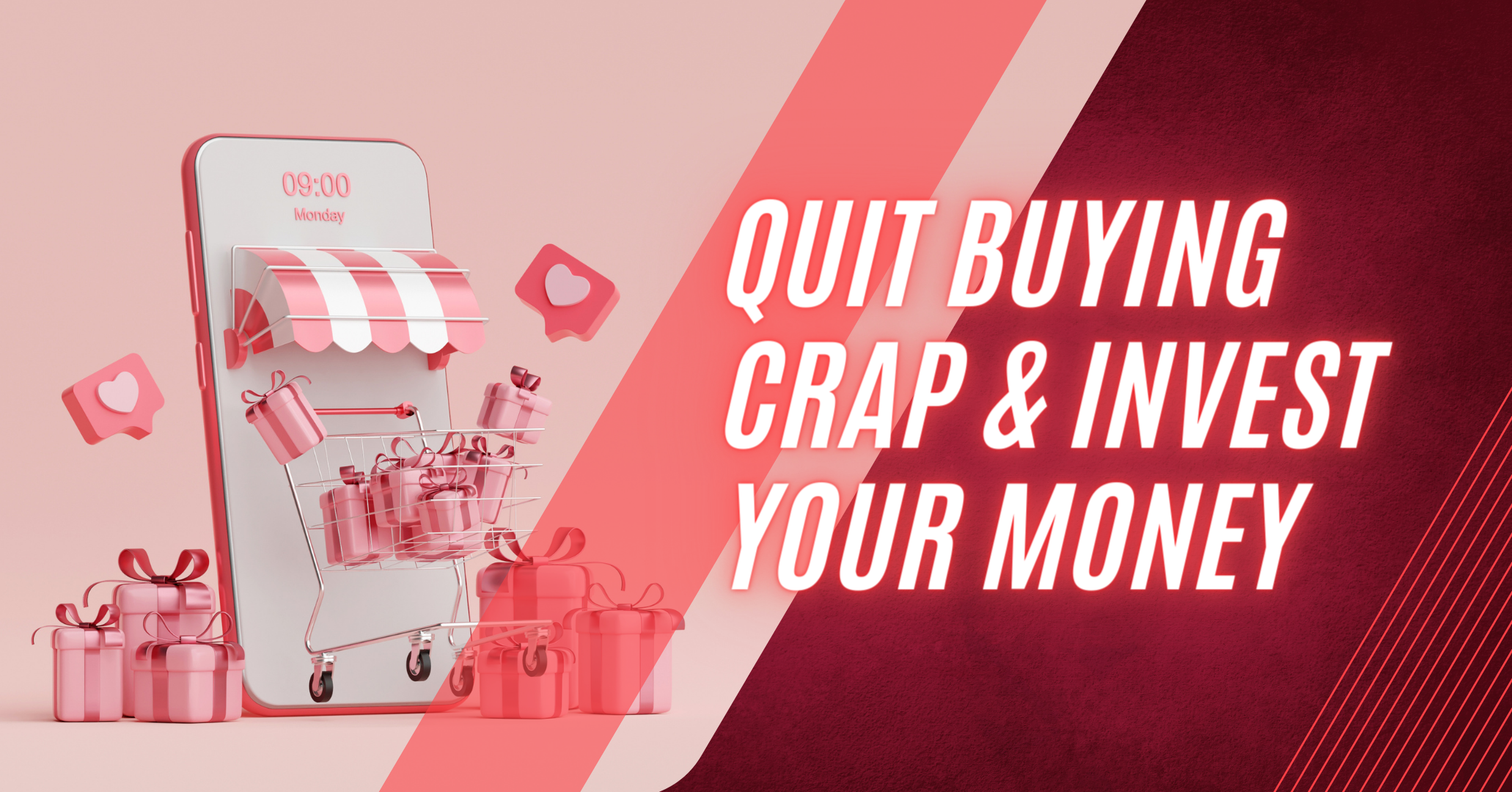 ---
Do you ever feel like you're just not making enough money to save for the future? Your travel & leisure fund or retirement accounts are growing slowly while debts are piling up. But don't worry - there is hope! You can still invest by cutting out all the unnecessary expenses in your life. Cutting back on frivolous spending will make it easier to invest your money wisely, which will help you achieve financial freedom faster than ever before.
Common Money Mistake
The worst rookie mistake we all do with money is to spend it without a thought. Money is important! A lot of people love it or hate it but there has to be a balance. If you can control money, then love it. But when it starts controlling you, it's a shitshow. I have made so many mistakes in my life regarding money and this was the biggest one. I used to spend it on costly stuff like clothes and gadgets to show off and satisfy my own ego. I didn't know how much time, money, and energy I would be wasting by owning such items that I don't need at all to get by.
Have you ever bought something on a whim, only to regret it later? It's human nature to be attracted to new and shiny things, especially when they're at a discount or clearance price. But if your budget is tight and you don't have an emergency fund, it's best not to buy things unless you really need them.
When the urge strikes to make an impulsive purchase—whether it seems like an amazing deal or because someone else wants one—ask yourself whether there isn't something else that could better meet your needs for less money than what you want now.
If you don't need it, don't buy it. Simple, right? It's not just about money, but also about your commitment (time& effort) to the things you own. If there's something that catches your eye but isn't a necessity in the moment (you've got enough towels for now), put it down and get on with your day. You'll thank yourself later for not wasting any more time or money on something that doesn't add value to your life.
Budgeting Is Important
And sticking to your weekly or monthly plan is even more important. The first step to building your budget is to figure out how much money you have coming into the household and how much goes out. This is important because, if you don't know what your spending habits are, it can be hard to control them.
First, list all of the expenses that come up each month: rent/mortgage payments; car insurance; cellphone bills; utility bills (gas & electricity); cable TV service; Internet access; groceries; eating out costs; entertainment expenses like going to movies or sporting events… anything else we spend money on. Next then add those up together so that when we're done creating our monthly budget we'll know exactly how much money we'll have left over at the end of each period next month! It's simple math, you will be left with salary minus all expenses.
This will keep you aware about your expenditure habits. You can cut down that brings no value to you. In my case, I started buying normal clothes which are as good as any brand's and cut down on my gadget purchases. If some purchase can fuck up with my plan, it's a big no for me.
Increase Your Income
The fact is that you cannot cut down your expenses to ZERO. There is a limit! As you move on with your life, get married, and have kids or not, these expenses are going to grow. Doesn't matter if you put on the tighest leash out there. Increasing your income is in your hands. When you are young or even in your 30s or 40s, you can do a lot of things at once by making full use of your time & energy.
Having one side hustle or two won't hurt anyone. If you expenses don't grow too much as compared to your income, you are good to go. You will have more money to invest or save for your emergency fund. You can help your family and friends with financial assistance. You can pursue things in life you always wanted like I want to keep travelling different places in and out of India. And the best part - no financial stress.
Why Invest?
Saving money and earning more money might not work for everyone since unexpected shit happens all the time. If you're not investing, you're missing out on a good opportunity to let your money grow in value. If you invest instead of saving, it's possible to reach retirement with a lot more money than if you had just saved.
If you invest instead of paying off debt, it will likely be repaid sooner and more quickly than if you'd chosen to pay down your installments first. If you are able to save enough money for an emergency fund and then start investing, the investment can help protect against market downturns while also growing into a substantial nest egg over time.
Conclusion
The more you spend on things that don't matter, the less you have to invest. But it doesn't have to be this way! You can save money, build wealth and invest in yourself at the same time. The key is to stop buying crap you don't need—and start investing instead!
---
Follow: https://leofinance.io/@finguru
Twitter: https://twitter.com/finguru6
Discord: finguru#4062
---
Not financial advice. For infotainment purposes only.
Posted Using LeoFinance Beta
---
---