Safemoon Pros & Cons - Read This Before You Invest In Safemoon In 2021!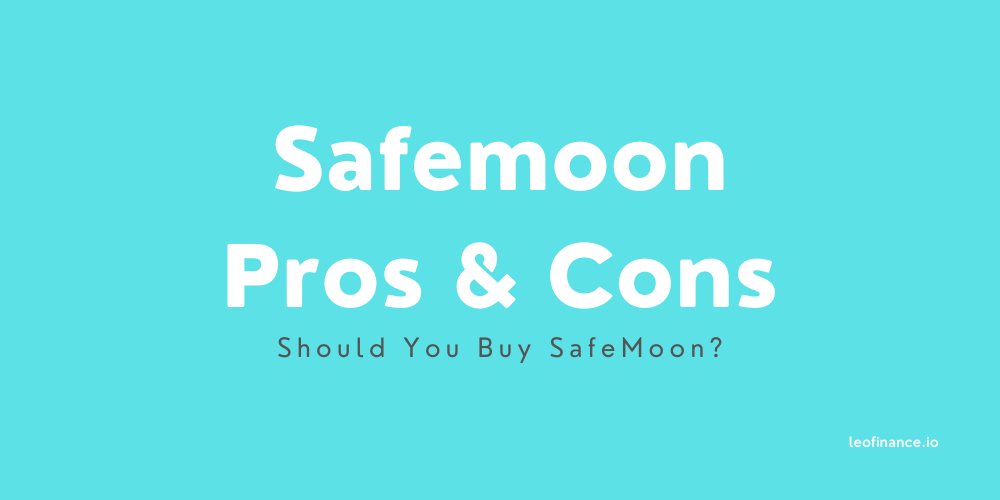 Safemoon has grabbed a lot of investor's attention since its inception in the crypto world. It was launched on 8th March 2021 as a DeFi Token on Binance Smart Chain. In just 4 months, the price has increased more than 13 times.
When Safemoon is sold, a 10% fee is charged. 50% of this fee is distributed to the token Hodlers which makes holding more beneficial. Rest 50% is used to make the liquidity pair in Pancakeswap. If you want to understand how it works in detail, please check out this detailed Safemoon Guide by @crypto-guides.
In this blog, we are going to look at some of the major PROs and CONs of Safemoon. In the end, I will try to answer whether one should invest in Safemoon in 2021 or not..
---
PROs
Passive Income: Safemoon tokenomics design rewards holders for simply holding the token in their wallets. Every time a token is sold, a 10% fee is charged. 50% of that fee is distributed among the holders depending upon their stake.
Fair Launch: Safemoon's developers burned all the Dev Wallet Tokens (223 Trillion) before the launch on DxSale. The Liquidity Pool is locked on DxLocker for four years and LP generated with every trade will be locked on Pancake Swap to solve the liquidity problem.
Exchange Listings: Safemoon is available to trade in total of 9 exchanges. You can easily buy it on PancakeSwap and enjoy getting tokens automatically in your wallets like Metamask or Trustwallet.
Development: Apart from its tokenomics, safemoon doesn't really have any utility as of now. But their roadmap seems quite exciting. Later this year, they have planned to create Safemoon's hardware & software wallets, Safemoon exchange, NFT Platform, Games, and other charity projects. Lots of exciting stuff!
Celebrity Endorsement: Safemoon hype was created by a bunch of celebrities like Jake Paul, DJ Afrojack, Ben Phillips who talked about the token on their social media profiles. It has helped the project gaining some popularity among their fans and pushed the price too.
CONs
Punishing Sellers: Everytime you sell your Safemoon Tokens, you are charged a 10% fee. This way, selling is discouraged by punishing them with fees. The early investors are relying on sellers and new investors to make money. It has been called a Ponzi Scheme by many social media Crypto Influencers.
Centralized: In Certik Audit, it was found that the overtime, the owner address will have a sufficient amount of LP tokens through constant selling. This poses a huge risk on the early investors if the owner runs with all the money. Until Safemoon introduces DAO like system to manage the funds, they are not safe.
Marketing Gimmick: Safemoon is more of a marketing gimmick. It used new-age social media age tactics to get popular. Celebrity endorsements and wild promises don't go far unless there is something special they do with their products.
---
Should You Buy Safemoon in 2021?
Safemoon is a highly speculative asset with so many red flags attached to it. There is a total of 13 issues that Certik found out in its Safemoon Audit report. Out of which one major risk being the centralized nature of Add Liquidity function in the smart contract.
So, should you invest in Safemoon in 2021? If you are an inexperienced trader who is just starting out in crypto, please do not put your money in Safemoon without understanding the risks completely. Safemoon is actually not so safe & there is a huge lack of ultilty apart from its wild tokenomics.
Keeping all the risks in mind, one can still speculate and make money out of it. Maybe invest like $5 or $10 or even $100 if your risk tolerance allows. Crypto has seen wild gains time and again so it wouldn't hurt to invest the money that you can afford to go ZERO.
---
It's an initiative by @forexbrokr to drive organic traffic to the leofinance.io domain through long-form, SEO-optimized posts featuring high-volume keywords. The goal for this project is to eventually have a leofinance.io based crypto guide for every single coin or decentralized project in existence through user-generated content. Go and check out both the Hive guide and Bitcoin guide that they already published with contributions from the community members.
Participate & Earn Leo Tokens
You can earn crypto (LEO) by contributing to the latest guides about crypto. Learn more: https://leofinance.io/@forexbrokr/introducing-leofinance-crypto-guides
---

https://leofinance.io/@finguru

https://twitter.com/finguru6

finguru#4062
---

Not financial advice. For infotainment purposes only.
Posted Using LeoFinance Beta
---
---