Twitter Hack For Leo Finance Users!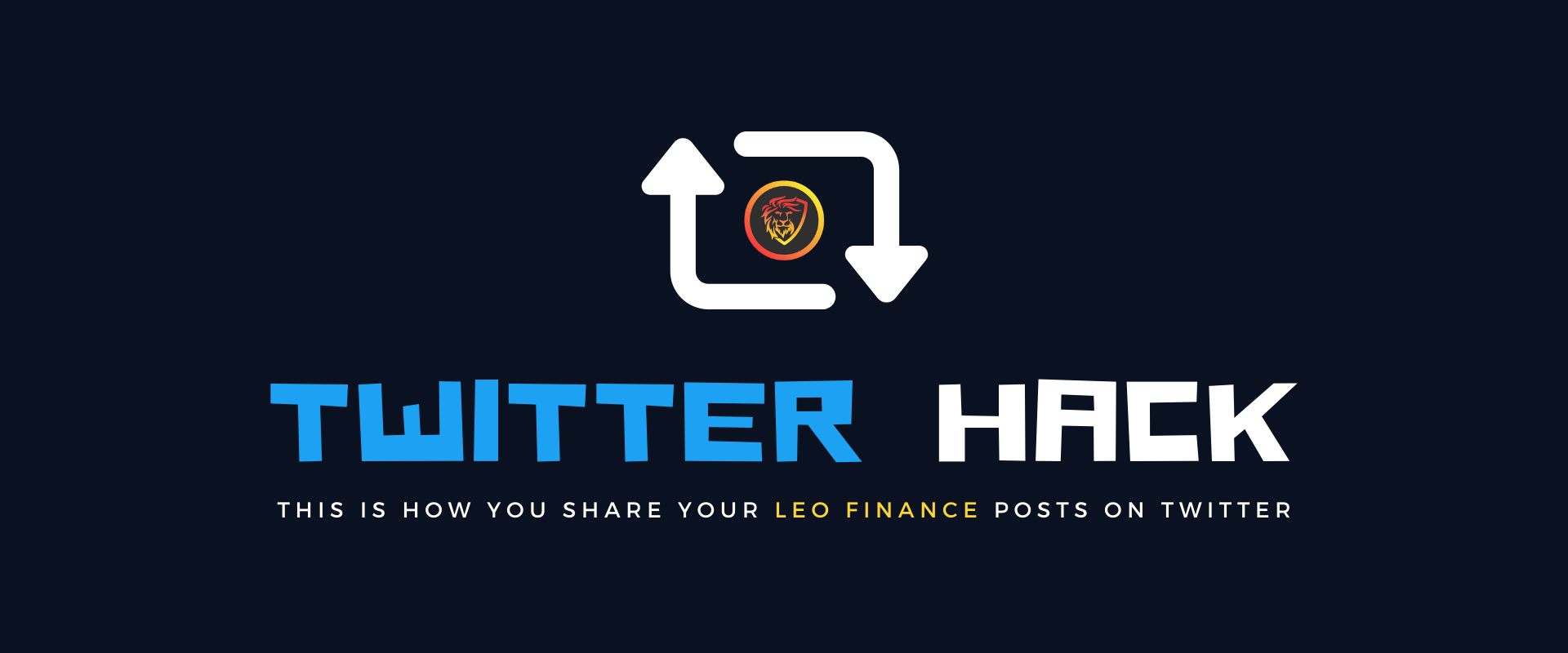 Twitter is averaging out 353 million active users a month. It's one of the top 10 social media websites in the world. Crypto Twitter is quite active and engaging which makes it a perfect place to promote your content. There are hundreds of crypto projects waiting to be reviewed or they are looking for feedback from the users. We have the opportunity to bring traffic to Leo Finance blog by simply creating content about our favorite Projects, DApps, Coins, DeFi or NFT platforms. You can create 'n' of articles, graphics & videos and get some outside activity to your profile by tagging the official accounts related to a particular project.
Owners of these crypto projects are constantly looking for content about their products and services. Sometimes you get a like or a retweet from their official accounts which is crazy. It brings an influx of users in batches which is great for google search ranking. Let me show you some of the Leo Finance articles I shared on my Twitter. I also tagged the official Twitter accounts of the relevant projects featured in my content. If you are someone like me who likes to explore new stuff coming out in crypto and write about it, you will find this hack very useful.
---
TWEET 1
Last week I wrote a post about Loyalty Programs of three Crypto Data Aggregators - Coingecko, CoinmarketCap, and Staking Rewards. I got a retweet from Kenneth M. Garofalo, Research Analyst & Listing Manager at Staking Rewards.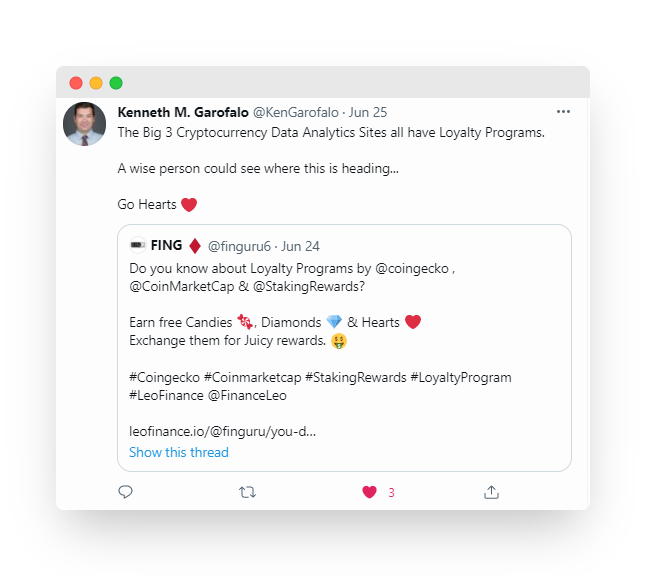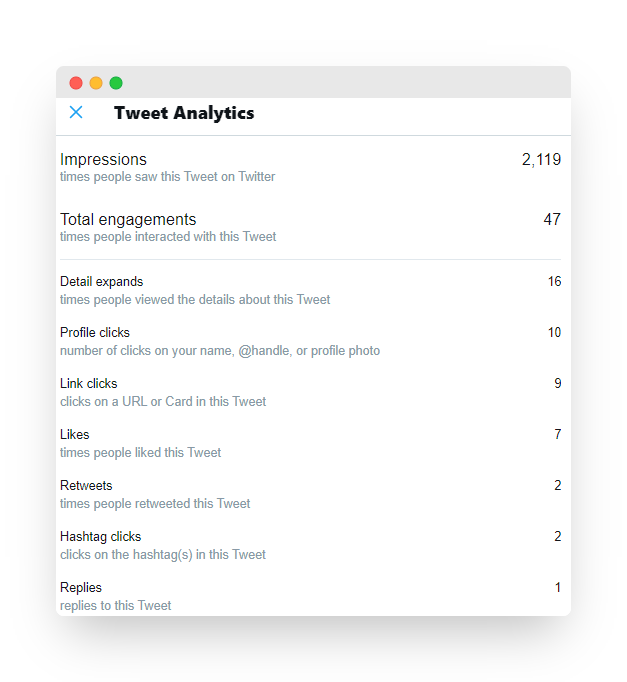 ---
TWEET 2
This was a tweet about the article I wrote on the latest launch of DTravel, a blockchain-powered AirBnB competitor created in association with Travala. I got a retweet from the official account of DTravel which has 18.8k followers. Isn't it cool?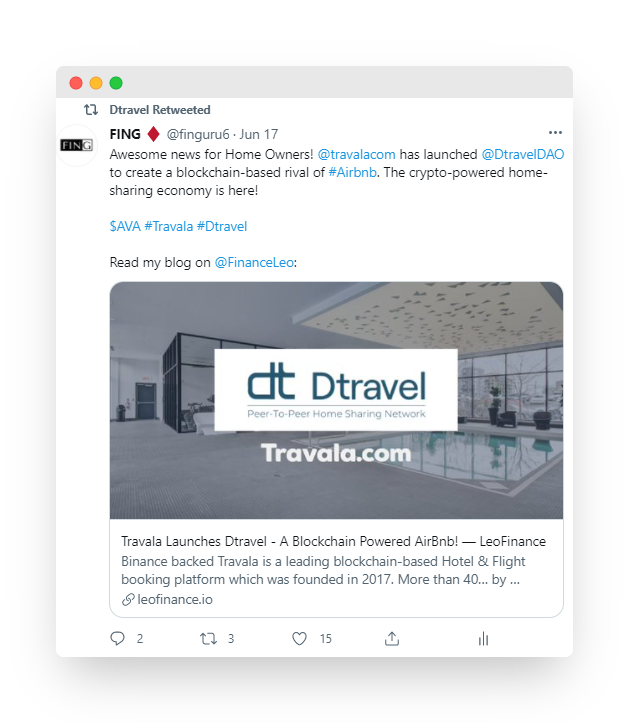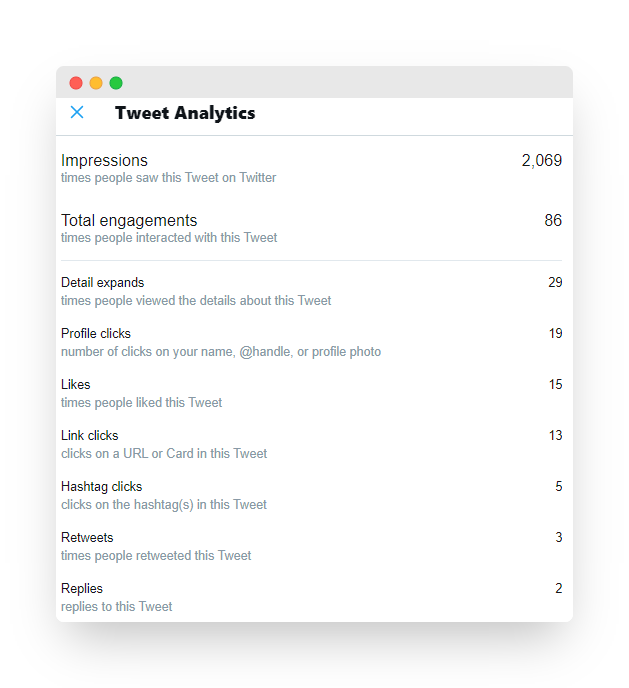 ---
TWEET 3
This one is pretty interesting because I compiled a list of DeFi Insurance protocols. It got 2 retweets from Soteria Finance's official accounts. Also got likes from the accounts of Autofarm Network and Insurance Protocol. It means if you create lists of DApps or projects, there is a good chance to get multiple shares! 😎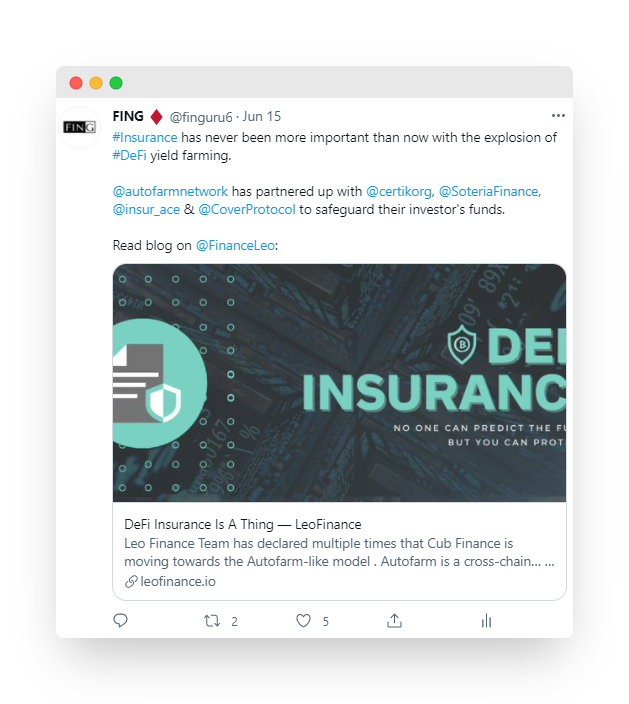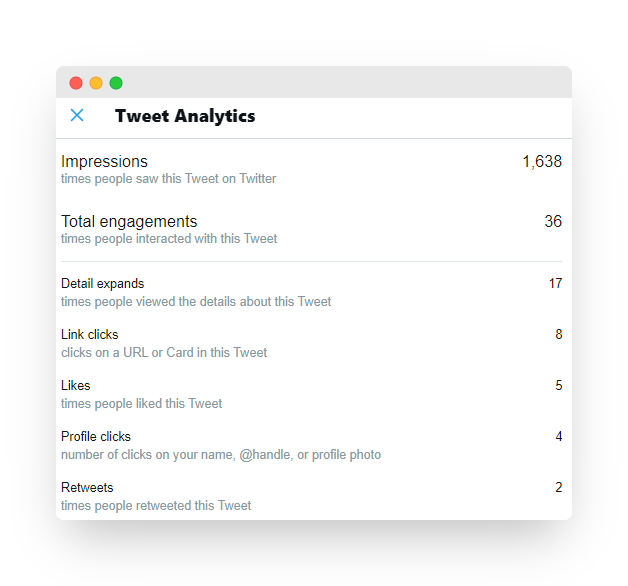 ---
I think this is a pretty clever way to attract more eyeballs to Leo Finance. By writing about trending topics and new crypto projects, we ensure a steady flow of outside traffic to our blog since people search about them regularly. By sharing them on social media websites like Twitter and Facebook and Instagram, you have the chance to get a shoutout or retweet or a share by these projects. So keep doing it because you just need one big account to share your article and it's hooray!
Please let me know your thoughts about this in the comment section below. Do you share your articles on Twitter?

https://leofinance.io/@finguru

https://twitter.com/finguru6

finguru#4062
---

Not financial advice. For infotainment purposes only.
Posted Using LeoFinance Beta
---
---