USDD is Justin Sun's exit scam for TRON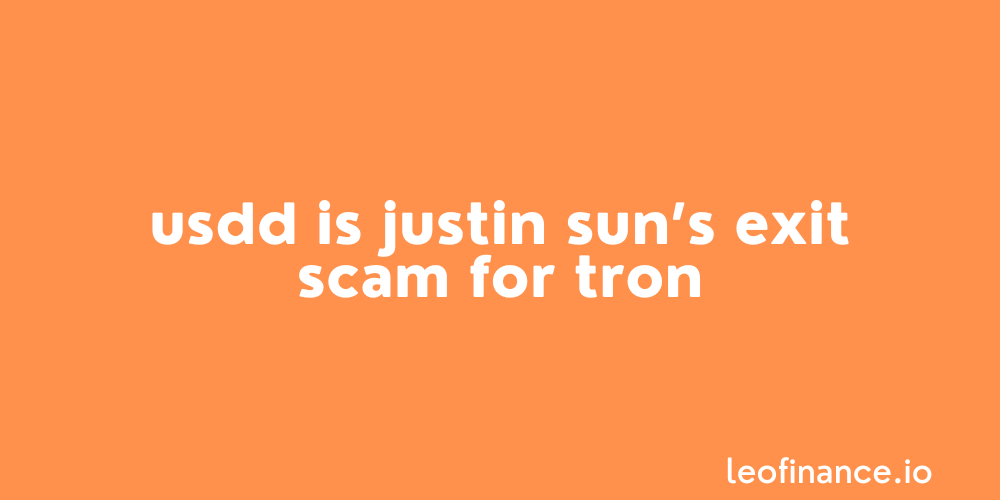 Direct from the desk of Dane Williams.
---
A look at how USDD offers a way for Justin Sun to dump his self confessed shitcoin TRON, without impacting price.
Justin Sun's TRON cryptocurrency is a shitcoin.
Everyone who experienced the way he went about taking over the Steem blockchain knows it..
Heck, even Justin Sun himself knows it…
Now, that's all fun and games as long as someone continues propping up price and the metaphorical music keeps playing.
"Hehehehe buy my shitcoin, hehehehe".
Oh that silly Justin, he's so funny!!
But as we saw following the catastrophic collapse of LUNA and UST, it's less fun when scammy billionaire founders use retail investors as exit liquidity.
And using his own USDD ponzi scheme in order to extract maximum value from TRON via retail investors, before the market catches onto the fact he's simply running an exit scam, is exactly what's playing out in front of our eyes.
USDD is entirely centralised
Justin Sun's exit scam for TRON is made possible by the fact that USDD is entirely centralised.
The screenshots in l337m45732's post that I linked to just there, shows that this is undeniably the case.
When you claim to be building a decentralised, algorithmic stablecoin, but actually go for explosive growth by minting 94% of the supply yourself, surely you've gotta be called out?
CoffeeZilla is all over it:
But I honestly can't believe that Justin Sun's USDD stablecoin project hasn't received more scrutiny from the mainstream crypto media.
CoinDesk instead choosing to essentially conduct interviews that act as ads for his scam and actually referring to him as his excellency is absurd.
USDD is so centralised that 683 million tokens out of the 723 million total tokens that have ever been minted, have come from Justin Sun's address.
Essentially with the end goal of attracting retail investors via offering a totally unsustainable 30% yield and dumping his TRON bags on them.
Yuck.
USDD's centralisation allows it to generate the liquidity required for Sun to exit scam
You see the best part about Justin Sun using USDD in this way is that he doesn't have to dump his core shitcoin TRON on the market.
He can dump it by minting USDD and using it as a shield.
Thus there's no doubt in my mind that it has simply been created as a way for Sun to dump his self confessed shitcoin TRON, without impacting the price of his core project.
Make no mistake, just like we saw with UST, USDD will collapse as soon as the mechanism to allow anyone to mint goes live.
Everyone who buys this freshly minted garbage will be left holding worthless bags, but his excellency will have already cashed out of TRON and continuing to live the high life under the straight up criminal diplomatic immunity he receives.
Just so fucking wrong.
Final thoughts on USDD being Justin Sun's exit scam for TRON
I'm both shocked and angry at the fact that USDD and Justin Sun himself is promoted as legitimate in the mainstream crypto media.
It's utterly disgusting by not only Sun himself, but all the complicit media continuing to pander to this scammer.
But those of us here on Hive won't.
At this stage, it's irresponsible for those of us in the community to not spread the message.
So please do the wider crypto community a favour and keep sharing.
USDD is Justin Sun's exit scam for TRON!
Best of probabilities to you.
Posted Using LeoFinance Beta
---
---