Using Monero to get clean Bitcoin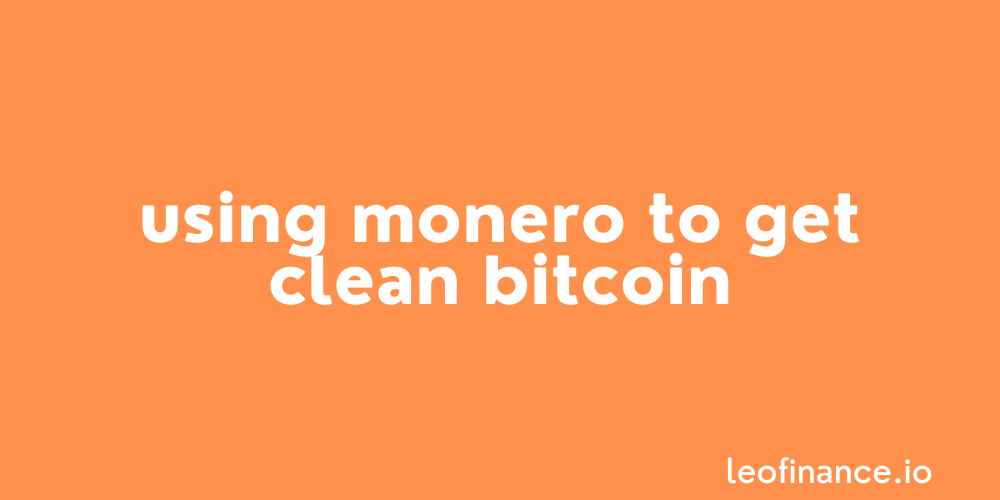 ---
It's possible to clean your Bitcoin using Monero (XMR), enhancing the untraceable transfer of funds from one person to another.
The need for privacy is not only important in cryptocurrency, but in all aspects of one's financial life.
When it comes to keeping transactions anonymous, Monero offers users a level of fungibility in their tokens that quite frankly, Bitcoin cannot.
The public nature of Bitcoin's ledger simply makes true fungibility of the token unattainable, with merchants within their right to not accept coins that have been used for whatever reason they don't like.
To solve this problem, the potential is there for using Monero (XMR) to clean Bitcoin, allowing it to regain fungibility in the process.
What is Monero (XMR)?
Monero is the most popular privacy coin on the market.
Monero is both a private and decentralized cryptocurrency, unlike Bitcoin, whose ledger is completely public - It was designed to keep your finances private.
Privacy and security are Monero's primary goals, followed by ease of use and efficiency.
It's this focus that makes Monero (XMR) the right choice for those who value the fungibility of their tokens and therefore privacy, above all else.
Simply put, Monero is digital cash like Bitcoin, but one that is almost impossible to trace once it has been sent.
That's one of the primary advantages of actual cash - Anonymity in a barter system.
Well, you could say that Monero plays the same role, but in the digital sphere.
What makes Monero different from other cryptocurrencies?
Monero is a cryptocurrency.
However, it can facilitate anonymity with speed in trustworthy decentralized transactions.
Monero is private - So private in fact that some crypto enthusiasts believe it is too private.
Unlike Bitcoin which is transparent on the blockchain protocol, Monero cannot be traced.
This means that unlike Bitcoin (BTC), all Monero (XMR) tokens are the same, offering true fungibility.
It is currently the 11th largest cryptocurrency in the world, with a market capitalisation of almost $1 billion.
Monero transaction fees are currently about $0.01 after the reduction that was made during their recent hard fork.
This makes microtransactions feasible, giving them more similarity to the cash barter system than Bitcoin itself.
How to clean your Bitcoin using Monero (XMR)?
Monero can be used to disassociate Bitcoin addresses with their source.
This adds fungibility to your Bitocin, allowing them to be used as anonymous cash to spend once more.
The untraceable nature of Monero is used to clear the transaction history associated with one address, starting fresh on a new address with no way of proving a link.
The process is somewhat straightforward:
First, you need to install a VPN on a fresh computer and then use the Tor browser for extra security.
This way, your location is anonymous and protected from tracking as the browser and VPN bounce your activities through different global servers.
The next step is to use websites that enable anonymous Monero transfers like Bisq, Paxful, XMR.TO or Local Monero.
These different exchanges have different functionalities and different levels of security.
XMR.TO is currently the most secure because it does not have fiat options or means of connecting your credit card for transactions, while the risk of person-to-person physical transactions is not necessary such as with Local Monero.
After running your Bitcoin through Monero and back, then you will have a new address with a clean History.
An alternative process is to deposit Bitcoin into non-KYC exchange HitBTC, exchange for Monero, send Monero to Poloniex and then convert back to Bitcoin.
However, using centralised exchanges in this manner is much riskier and you're likely to encounter problems somewhere down the line.
Privacy is your right
Requiring extra security and anonymity for your funds is your right and should be your decision to make.
Using Monero (XMR) to clean your Bitcoin is one strategy available that you can use to remain anonymous.
Best of probabilities to you.
---
Direct from the desk of Dane Williams.
Why not leave a comment on what you think about using Monero (XMR) to get clean Bitcoin. All comments that add something to the discussion will be upvoted.
This Monero (XMR) blog is exclusive to leofinance.io.
Posted Using LeoFinance Beta
---
---