CubFinance in the Spotlight Again

Surprisingly, I meant CubFinance, not PolyCub, which has captured the spotlight from its BSC brother since its launch.
But today, CubFinance got back into the spotlight. It wasn't even vindictive on the young brother, so it didn't come in hard. :)
If you have no idea what those metaphors are about, here's a hint from Twitter: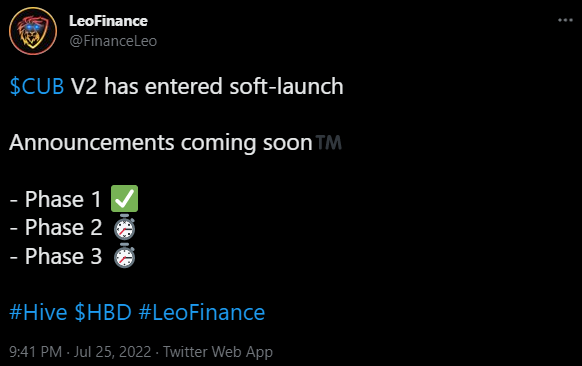 Still not clear? I agree... Neither am I! :) What is phase 1 and what are the other 2 phases?
But... if you go to the CubFinance interface you can notice that on the Farms page:

Yep, they are working. I added some liquidity to bHBD-CUB from CUB-BUSD. When I first saw it, the APR was above 1000%, but liquidity in the bHBD-BUSD pool was too thin and the price impact would have been too high. Even when I swapped some BUSD to bHBD, I did it in several transactions to avoid a higher price impact.
If you still have liquid HIVE/HBD on Hive after the recent pump and dump, the best option from the fees perspective would be to wrap it to bHIVE/bHBD on the wLeo.io interface, if any of these farms interest you.
Khal has been saying in the AMAs that pretty much everything built on PolyCub will be integrated back into CubFinance at some point.
From what has already been launched on PolyCub, I suppose we should expect a Protocol-Owned-Liquidity on CubFinance (or an improved one if it already exists) and governance voting (based on all the owned CUB in the kingdom and farms?). The counterparts of xPOLYCUB and vexPOLYCUB don't seem feasible on CubFinance, with an inflationary tokenomics, unless I'm missing something.
The timing for launching bHBD (and bHIVE) pools on BSC couldn't be better, coinciding with this pump and dump. What people need during such moments is liquidity, and liquidity pools are made for that purpose, primarily. Although the argument can be made that malicious actors can use deep liquidity as an attack vector.
I enjoy seeing CubFinance back in action.
To be honest, I don't think it is back in the spotlight yet. Either that or people have difficulties moving funds without a high price impact or fees.
Posted Using LeoFinance Beta
---
---