I'm not sure about you, but I believe I am an early... enough adopter. Rarely in the first wave and life taught me to either take less risks than when I was younger, or to at least spread it and calculate it more than before.
Does that mean I lose some investment opportunities? Yes, for sure! It also hopefully prevents me from taking irrational decisions that will cost me a lot of my money. It has happened to me in the past, so I talk from my own experience.
That of course is my own experience and everyone should do their due diligence when they make investments of any kind.
I've been reading many times over the last few months about Crypto.com or one of its components, the MCO Visa Debit Card, Crypto Earn, etc., or its own token CRO.
But only recently I decided to join it.
Ever since I came into the crypto world, I searched for easy ways to potentially link my crypto holdings with the real economy or everyday spendings. For mass adoption, crypto needs to be able to do that and I'm glad it slowly does.
The MCO Visa Card from Crypto App (free to order+deliver and no maintenance fees) offers just that: the possibility to make purchases with your crypto holdings of choice at no fees or at inter-bank exchange fees, PLUS you receive a cashback on every purchase.
Here's a list of the types of cards available and their benefits: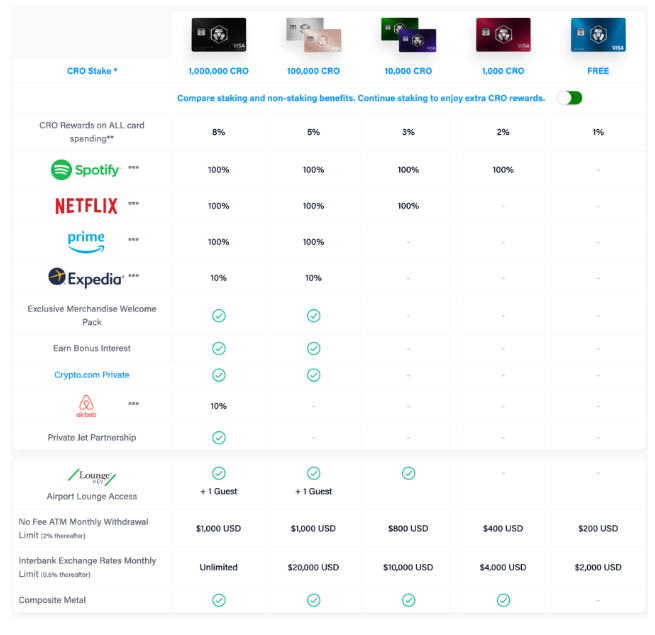 As you can see, you can get a card absolutely FREE (Midnight Blue), but if you can, the recommended start up MCO Visa Card is Ruby Steel (2nd tier). It requirs 1,000 CRO staked, which at the current prices mean about 163 USD.
Here's why this is the recommended card, besides the extra bonuses (2% cashback instead of 1%, and 100% rebate for your Spotify subscription received as CRO).
it's metallic instead of plastic
more importantly, it unlocks the 50$ sign up bonus*
*) After you sign up (with a referral id, it doesn't work without it!) and you go through the simple KYC process, you and your referrer both receive a $50 sign up bonus. Which is locked in your case, the new user. To unlock it, you need to stake 1,000 CRO on the app for a new card. And the card that only needs 1,000 CRO staked to have access to is Ruby Steel.
Pay attention, staking on Crypto.com makes CRO unliquid for 180 days (you can't unstake!).
Remember:
No referral code, no sign up bonus
No KYC, no sign up bonus
No 1,000 CRO staked (163$ at the time of writing), the $50 worth of CRO sign up bonus is locked and you can't access it
But that's not all!
You can actually earn another $50 worth of CRO bonus!
This second bonus is available on Crypto.com Exchange, on which you sign up separately, but you can tell them when they ask in the sign up process that you already use the Crypto App and use the same email to sign up. You need to enter the referral code there too. Here's mine: 5avr3k7mhy
Pay very close attention here and do exactly what I tell you to if you don't want to miss out the full bonus! I missed it because I didn't know better at the time and only got $10 worth of CRO.
On Crypto exchange, you'll be offered a few options to earn more. For example, earning 2% FREE CRO by depositing crypto from an outside source to the exchange. DON'T TAKE THIS OFFER, YET, EVEN THOUGH IT HAS A 30 DAYS LIMIT ON IT!
If you want to maximize the bonus and can afford it, you'll need to do this:
First stake 5,000 CRO or more in one go (do not stake multiple smaller amounts!). If you stake 5,000 or more the first time on the exchange, you'll qualify for the $50 worth of CRO bonus. If your initial staked CRO is less than 5,000 CRO on the exchange, you'll qualify to the $10 worth of CRO bonus which you'll be able to redeem from the dashboard.
Plus, with 5,000 CRO staked, you'll unlock:
6% p.a.* paid daily on CRO (* updated to 10% p.a.)
10% rebates on fees
access to the Syndicate up to $500 (you can apply to receive coins at 50% off their price before they get listed on Crypto Exchange)
Only after you redeem your $50 worth of CRO bonus, you should use the option to deposit crypto from the outside to their exchange for the 2% free CRO, if you want to. If you do that before, you'll do it like I did it and unless you deposit a ton of crypto in one transaction (in which case I doubt this discussion is for you, lol), you'll lose the $50 bonus and only receive $10.
Something to be aware of: Starting on November 1st the sign up bonus will be halved, for both the new referral and the referrer. So 25$ each instead of $50.
If you haven't joined Crypto.com yet and are considering it, you should do it before November 1st if you want $50 worth of CRO instead of 25$!
And keep in mind, the sign up bonus only works if you use a referral link. You might also be asked to enter the referral code separately. Here it is mine separately, I'll appreciate if you'll use it to join: 5avr3k7mhy
Posted Using LeoFinance Beta