HBD Interest Payouts For October 2021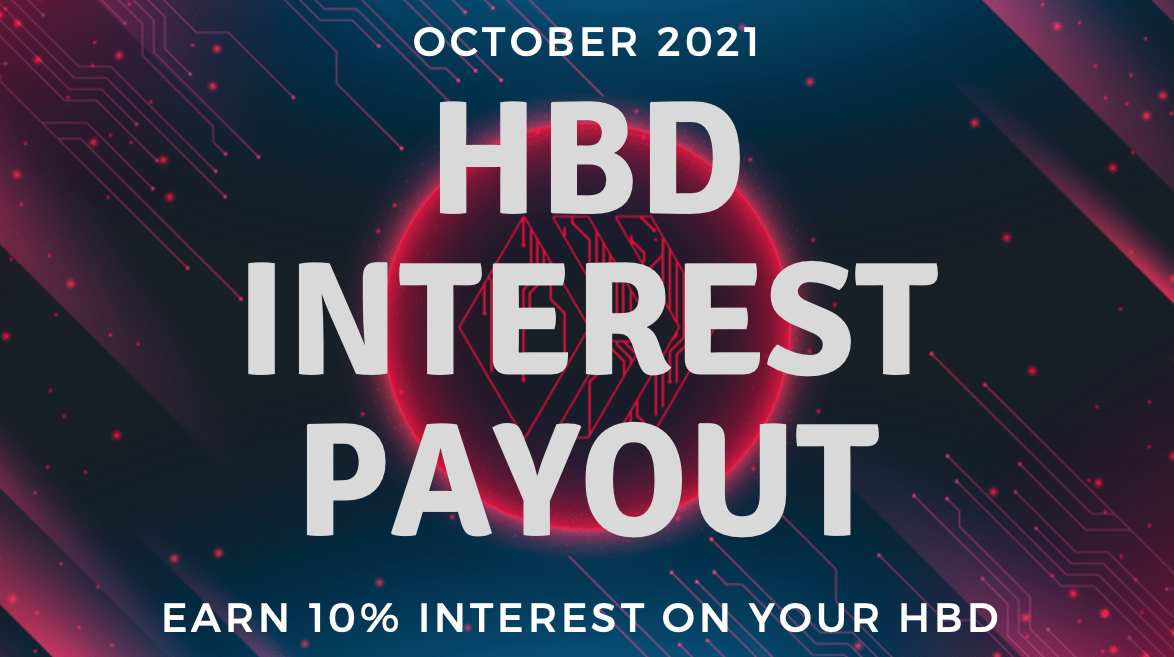 Another month has gone by, and November has arrived. October has been a fun month in crypto. Bitcoin made another all time high, weekly and monthly candles closed at the highest. Ethereum hit its all time high price. Even our Hive made another all time high of $1.50.
Hive blockchain is still paying out 10% APR for Hive Dollars (HBD) in the savings. It is time to see what has changed in regards to accounts using HBD savings to accrue some interest payouts.
In October total amount of interest payouts was 4,914 HBD to 1239 accounts. This is an increase both in the HBD paid out and the number accounts taking advantage of this feature. Below is the number for the previous months starting from March to September, 2021.
Here is the total payment numbers in the previous months.
In March total interest payout was 10,429 HBD to 6415 accounts.
In April total interest payout increased to 12,208 HBD to 7106 accounts.
In May total interest payout increased again to 16,574 HBD to 7250 accounts.
In June total interest payout almost doubled to 36,883 HBD to 7167 accounts.
In July total interest payout decreased to 1,696 HBD to 682 accounts.
In August total interest payout increased to 5,646 HBD to 1062.
In September total amount of interest payouts dropped down to 2,570 HBD to 1129 accounts.
The increase in the HBD interest payouts and the number accounts receiving payouts shows there is demand for HBD 10% APR. It also important to remind that in the first few months since APR payments started, main beneficiaries of these payments were exchanges since they hold large amounts of liquid HBD on behalf of their users. After the latest hardfork only HBD in savings can accrue interest.
Another change that is being discussed and worked on is to increase the HBD printing haircut ratio cap to 20%. Currently, this debt to Hive ratio is 10%, meaning whenever total worth of HBD in circulation reaches the 10% value of total Hive, blockchain stops printing HBD. Also, as this ratio approaches closer to 10% less HBD is printed. Blocktrades explained this in more details in the software work update post from two weeks ago. Feel free to visit the post for details and see the discussion on this topic.
Code to set new HBD haircut ratio and soft limit completed and tested
We completed the code and tests associated with changing the hard and soft limits for HBD supply, so I'll start collecting final feedback soon on where we should set the new limits for HF26.

We've tentatively set the new hard limit to when HBD supply reaches 30% of the virtual supply of Hive (in the current hardfork it is set at 10%).

And we've set the both the soft range limit (the starting and ending point where post rewards begin to change from HBD to liquid Hive) at 20%. In other words, post rewards would immediately switch from paying HBD to paying only liquid Hive at 20% instead of gradually shifting between the two currencies as the debt ratio increases.
source
What are you thoughts on HBD interest payouts. Is 10% good APR? Too high or too low? Let me know in the comments.
Top 100 HBD Interest Payouts For October 2021
| # | Name | Amount | Date |
| --- | --- | --- | --- |
| 1 | alpha | 1106.5480 | 2021-10-25 21:15:03 |
| 2 | grot | 340.0630 | 2021-10-06 01:57:06 |
| 3 | shikoku | 316.8930 | 2021-10-05 05:00:30 |
| 4 | punt | 295.7650 | 2021-10-03 23:02:42 |
| 5 | parkman | 226.3830 | 2021-10-07 07:04:39 |
| 6 | seed-treasury | 217.6920 | 2021-10-29 10:04:21 |
| 7 | paleking | 171.5730 | 2021-10-20 08:52:42 |
| 8 | mika | 155.4830 | 2021-10-13 14:37:21 |
| 9 | inertia | 111.6010 | 2021-10-16 15:19:51 |
| 10 | theycallmedan | 106.4890 | 2021-10-22 15:23:45 |
| 11 | vaultec | 101.1560 | 2021-10-06 01:49:00 |
| 12 | pharesim | 95.4040 | 2021-10-18 13:10:54 |
| 13 | eonwarped | 66.7440 | 2021-10-13 14:20:42 |
| 14 | artsyproxy | 62.1620 | 2021-10-13 01:16:12 |
| 15 | empoderat | 49.6440 | 2021-10-25 15:33:45 |
| 16 | buggedout | 49.5680 | 2021-10-31 03:38:42 |
| 17 | slobberchops | 44.0280 | 2021-10-07 17:51:51 |
| 18 | demotruk | 40.4350 | 2021-10-20 18:46:12 |
| 19 | yunnie | 39.2730 | 2021-10-08 08:03:24 |
| 20 | aurealone | 35.9900 | 2021-10-13 02:55:00 |
| 21 | steemvault | 25.9460 | 2021-10-06 10:18:42 |
| 22 | mistergreen | 25.9070 | 2021-10-28 09:54:42 |
| 23 | johnhtims.life | 24.5900 | 2021-10-28 08:55:03 |
| 24 | teammo | 23.1330 | 2021-10-17 11:51:36 |
| 25 | internutter | 21.3890 | 2021-10-30 18:26:09 |
| 26 | dondron | 20.9010 | 2021-10-21 04:02:03 |
| 27 | sm-silva | 19.8160 | 2021-10-04 16:50:45 |
| 28 | xmauron3 | 19.6450 | 2021-10-21 18:38:36 |
| 29 | investingpennies | 18.3420 | 2021-10-06 10:17:45 |
| 30 | achim03 | 18.3100 | 2021-10-22 08:35:12 |
| 31 | ecoinstant | 16.7720 | 2021-10-22 21:30:39 |
| 32 | nostalgic1212 | 15.7230 | 2021-10-10 04:20:39 |
| 33 | taskmaster4450 | 14.8770 | 2021-10-02 23:50:27 |
| 34 | neoxian | 14.7750 | 2021-10-08 05:24:39 |
| 35 | lpfaust | 12.8970 | 2021-10-22 23:31:51 |
| 36 | jychbetter | 12.8210 | 2021-10-04 02:02:06 |
| 37 | krishool | 12.8080 | 2021-10-01 23:00:18 |
| 38 | niallon11 | 12.4520 | 2021-10-11 19:12:09 |
| 39 | krishool | 12.3620 | 2021-10-31 23:21:00 |
| 40 | null2 | 12.0020 | 2021-10-06 03:15:51 |
| 41 | watchlist | 11.7700 | 2021-10-21 12:26:24 |
| 42 | holoferncro | 11.4810 | 2021-10-31 01:37:45 |
| 43 | primersion | 11.2800 | 2021-10-12 19:41:24 |
| 44 | alexaivytorres | 11.1160 | 2021-10-20 22:00:24 |
| 45 | kenny-crane | 10.9150 | 2021-10-29 18:48:18 |
| 46 | irenenavarroart | 10.8940 | 2021-10-12 11:10:48 |
| 47 | podping | 10.6290 | 2021-10-16 06:55:27 |
| 48 | somethingfunny | 10.3840 | 2021-10-27 08:13:12 |
| 49 | pusen | 9.5920 | 2021-10-23 07:58:00 |
| 50 | trasto | 9.4510 | 2021-10-13 12:23:57 |
| 51 | deanliu | 9.3360 | 2021-10-16 00:51:57 |
| 52 | cryptex24 | 9.2490 | 2021-10-23 12:49:09 |
| 53 | detlev | 8.5680 | 2021-10-30 14:49:27 |
| 54 | hermes.apocrypha | 8.5210 | 2021-10-30 00:05:15 |
| 55 | jznsamuel | 8.4420 | 2021-10-23 14:56:27 |
| 56 | bala41288 | 8.2970 | 2021-10-15 16:49:45 |
| 57 | chewsk1 | 8.2890 | 2021-10-19 10:47:36 |
| 58 | purepinay | 8.0680 | 2021-10-06 01:21:03 |
| 59 | monochromes | 7.9250 | 2021-10-18 19:42:12 |
| 60 | jywahaha | 7.6100 | 2021-10-27 02:24:45 |
| 61 | taskmaster4450le | 7.6000 | 2021-10-19 23:09:09 |
| 62 | magicmonk | 7.5080 | 2021-10-03 14:54:54 |
| 63 | ragnarokdel | 7.4590 | 2021-10-31 04:48:03 |
| 64 | dalz | 7.3080 | 2021-10-03 07:51:03 |
| 65 | ironshield | 7.1760 | 2021-10-25 22:59:42 |
| 66 | travelfeed | 7.1190 | 2021-10-05 10:01:42 |
| 67 | jongolson | 6.9370 | 2021-10-01 08:15:21 |
| 68 | deeanndmathews | 6.7630 | 2021-10-10 01:43:39 |
| 69 | hextech | 6.6930 | 2021-10-25 15:45:39 |
| 70 | livinguktaiwan | 6.6370 | 2021-10-08 20:38:57 |
| 71 | kendewitt | 6.5250 | 2021-10-25 17:36:48 |
| 72 | empress-eremmy | 6.3220 | 2021-10-25 21:39:36 |
| 73 | rezoanulvibes | 6.2770 | 2021-10-29 03:35:39 |
| 74 | lainiwakura | 6.1790 | 2021-10-25 18:43:03 |
| 75 | hivegc | 5.9600 | 2021-10-05 13:36:27 |
| 76 | claudio83 | 5.6540 | 2021-10-03 19:35:42 |
| 77 | june0620 | 5.5130 | 2021-10-06 11:34:54 |
| 78 | cst90 | 5.4080 | 2021-10-06 07:38:21 |
| 79 | cryptobrewmaster | 5.3820 | 2021-10-25 17:27:24 |
| 80 | senorcoconut | 5.3650 | 2021-10-10 17:29:48 |
| 81 | moleah | 5.3510 | 2021-10-13 02:24:39 |
| 82 | calimeatwagon | 5.2300 | 2021-10-01 21:03:57 |
| 83 | mawit07 | 5.1840 | 2021-10-29 06:12:06 |
| 84 | belemo | 5.1590 | 2021-10-28 22:19:03 |
| 85 | juecoree | 5.1480 | 2021-10-29 15:03:15 |
| 86 | newpioneer | 5.0860 | 2021-10-14 23:20:36 |
| 87 | dwarflordnoj | 4.8540 | 2021-10-19 04:38:18 |
| 88 | cryptog33k | 4.7890 | 2021-10-12 04:50:42 |
| 89 | neffers | 4.7310 | 2021-10-01 09:29:51 |
| 90 | sjarvie5 | 4.7260 | 2021-10-24 15:47:00 |
| 91 | leaky20 | 4.5600 | 2021-10-28 13:02:03 |
| 92 | matt-archy | 4.5560 | 2021-10-22 10:15:06 |
| 93 | mariannewest | 4.4110 | 2021-10-12 14:56:33 |
| 94 | orestistrips | 4.3740 | 2021-10-06 05:36:27 |
| 95 | fishmaster | 4.2440 | 2021-10-01 11:18:45 |
| 96 | christinepoulos | 4.2220 | 2021-10-21 17:50:09 |
| 97 | hivevault | 4.1910 | 2021-10-02 18:25:48 |
| 98 | distantsignal | 4.1900 | 2021-10-29 17:18:36 |
| 99 | hamsterpoweriii | 4.1650 | 2021-10-06 21:45:00 |
| 100 | meesterboom | 4.0880 | 2021-10-06 19:42:03 |
Posted Using LeoFinance Beta
---
---