Do we have a Competition HERE - TRODL the NextGen Crypto Information Platform

Hey All;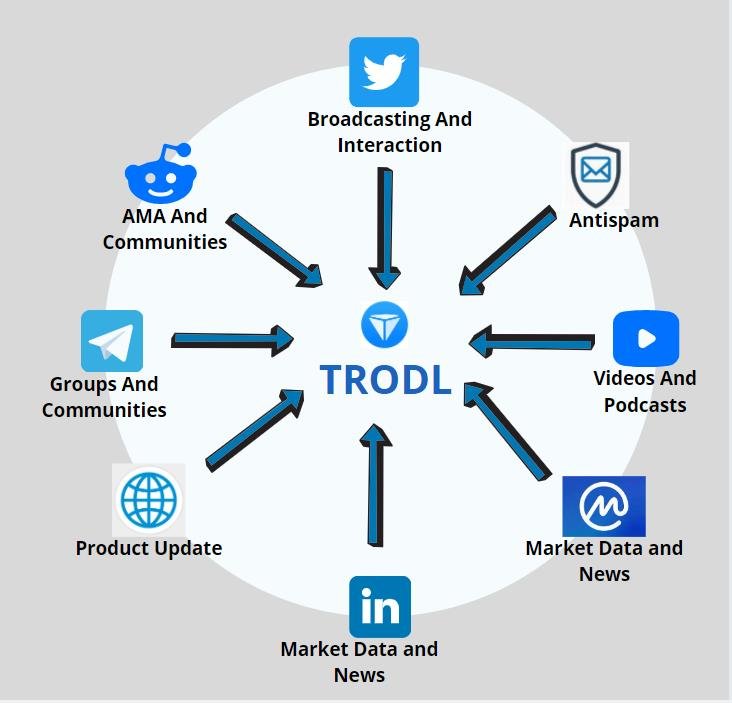 Recently, I stumbled upon a NextGen Crypto Information Platform named Trodl & its native cryptocurrency token TRO. The above image sums it all about the project Trodl. The project Trodl is trying to cater to all information tied to cryptocurrency in one place.
From new crypto coins their prices, news, charts, technical indicators, whale alerts, upcoming events, and the ability to chat with community members will all be provided on a single platform - Trodl.
In simple words, we can say that they are trying to provide All-In-ONE information associated with cryptocurrency on their platform. May it be technical analysis, indicators, users connecting to seasoned crypto-traders will also be a feature on the platform.
Sneak peek to Trodl
Happen to see this Video that the Trdol team had posted on Youtube. At first sight/glance, it's looking great. Ability to perform TA; various charts, news; alerts etc etc.. All-In-One place sounds interesting.
Here is the Trodl Roadmap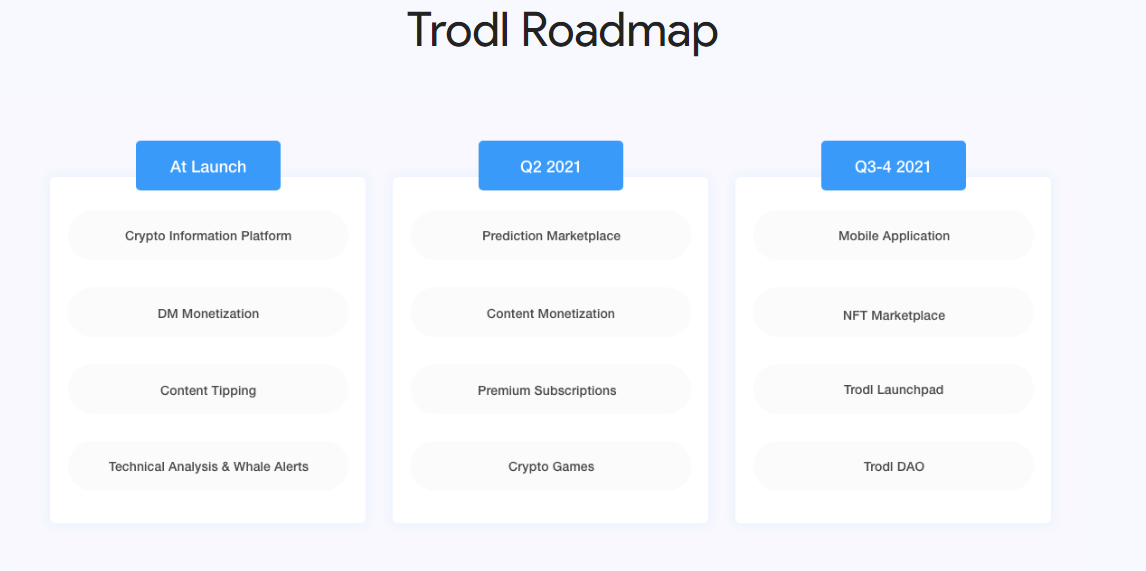 As per their twitter handle tweet on May 7th. The project Trodl public beta will be LIVE on May 15th, 2021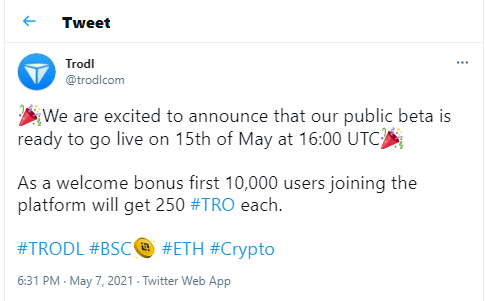 So; at the launch, we can expect to have all the functionalities listed in At Launch column; which are::-
Crypto Information Platform
DM Monetization
Content Tipping
TA & Whale Alerts
I tried to signup, but it looks like they have already got all their beta users as of now. Waiting to see how the product launch goes by and what other users have to say about Trodl overall users' experience.
Did I Invest In Trodl - TRO Coin?
The straightforward answer is Yes. I did buy some Trodl - TRO coins and looking forward to HODL them as a long-term investment. The TRO coin can be bought from Uniswap or Pancakeswap. I decided to leverage Pancakeswap and swapped some BNBs for TRO.
#trodl #tro #cryptoinformation

Best Regards
---
Find Me on the Other Social Media Platforms::

Join me on Odysee & Earn 8 LBCs for FREE... YES for FREE...
HealthDear Youtube; Information tied to Health
HealthDear LearnTogether; Learn English & Hindi
LearnTogether FaceBook Page
PS:- None of the above is a FINANCIAL Advice. Please DYOR; Do your own research. Disclaimer; I had bought some Trodl - TRO coins.
PS:: Image Credits:: altcoinbuzz, trodl, twitter
Posted Using LeoFinance Beta
---
---