TRODL - TRO token AirDrop to Uptrennd 1UP token HOLDers & How to Claim the AirDrop?
Hey All;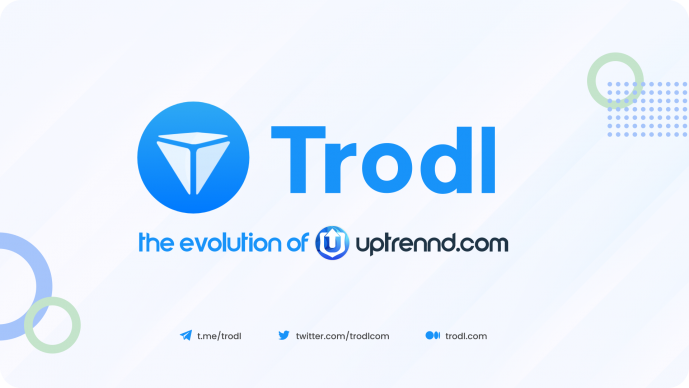 What I have heard about Trodl is that it's a NewGen crypto information platform that connects people of the same interest with the future of finance. I also did a post - Do we have a Competition HERE - TRODL the NextGen Crypto Information Platform explaining a bit about the Trodl project launch and their roadmap.
Uptrennd 1UP HOLDers Eliglibe for TRO token Airdrop
If you have been HOLDing Uptrennd platform 1UP tokens as of May 1st 2021; as this is the snapshot date where you needed to have 1UP tokens in your wallet to be eligible for the TRO tokens AirDrop.
The break-up of the TRO token AirDrop is as follows for 1UP tokens held on your Ethereum wallet
1UP tokens greater than or equal to 100,000 1UP: Received 1,000 TRO each on Ethereum ( ERC20 )

1UP tokens greater than 10,000 and less than 100,000 1UP: Received 500 TRO each on Ethereum ( ERC20 )
I had closed to 100K; 1UP tokens and this got me close to 1K TRO tokens for FREE. Which as of writing this post is worth $10+. CUrrently; TRO token is being traded for a cent.

Tweet from the Trodl Team on AirDrop Completion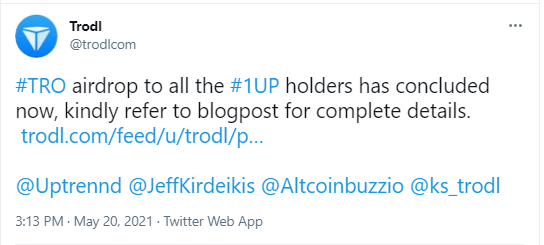 The Trodl team announced on their Twitter handle regarding the completion of the TRO tokens Arrdrop for all the 1UP token HOLDers.
We have successfully completed TRO airdrop to 1UP holders, if as of the time of partnership announcement ( 1st of May ) you were holding 1UP tokens you should have received TRO airdrop by now.
Process to Claim the TRO Token AirDrop
I normally use metamask to connect to my ETH wallet. Hence the process to claim your ERC20 TRO tokens was simple. What you need to do is Add a Custom TRO token address and you should have your TRO tokens in your wallet.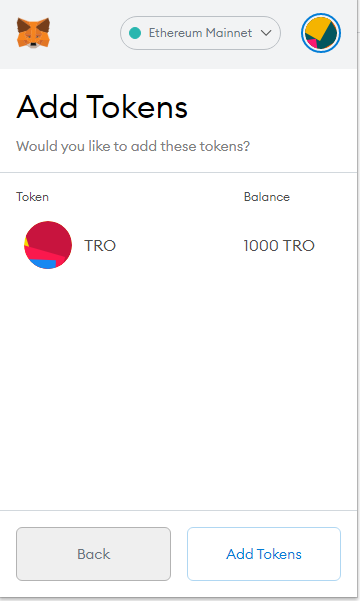 Simple & straightforward to claim your TRO tokens. Since the price of the TRO token is worth pennies at the moment, so I plan to just HOLD the TRO tokens. The gas fees that I'll need to pay here for the trade would be much higher than the token value. So there is no point selling the tokens - HOLD till we see some momentum in the price of the token.

Another interesting part of the story is that - 1UP token is currently trading Up 87+%. I didn't sell any of my 1UP tokens when the news broke out that they will be offsetting the UPtrennd platform. But at the same time, they said the 1UP tokens will continue to be there and traded. Many folks would have exited and panic sold all their 1UP tokens and see now the price is almost touching 100% UP. Long story short don't fall prey to a trap and never panic sell. Take your time to decide what you want to do; giving some thoughts and doing some research before panic selling. NOw, I'm sure folks who would have panic sold their 1UP coins would be regretting seeing the price of 1UP token rising.
#trodl #tro #cryptoinformation #airdrop
Have Your Say...
Did you HOLD 1UP tokens? And did you claim your TRO tokens AirDrop?

Best Regards
---
Find Me on the Other Social Media Platforms::

Join me on Odysee & Earn 8 LBCs for FREE... YES for FREE...
HealthDear Youtube; Information tied to Health
HealthDear LearnTogether; Learn English & Hindi
LearnTogether FaceBook Page
PS:- None of the above is a FINANCIAL Advice. Please DYOR; Do your own research. Disclaimer; I had bought some Trodl - TRO coins.
PS:: Image Credits:: uptrennd, trodl, twitter
Posted Using LeoFinance Beta
---
---