Why VIDYA token is my Favorite COIN? And is worth an Investment...
Hey All;
I've been investing in this COIN $VIDYA for a long time now. The team that is associated with this project is known by the name Team3d

My Top3 Reasons to Investing in $VIDYA token
No. 1 - DeFi Gaming will be 264+ Billion Market by 2023
According to Researchandmarkets they estimate digital gaming market to expand at a CAGR of 15.7% and is expected to be worth 264+ Billion Market by 2023
No. 2 - FPS [First Person Shooter] Game is about to be released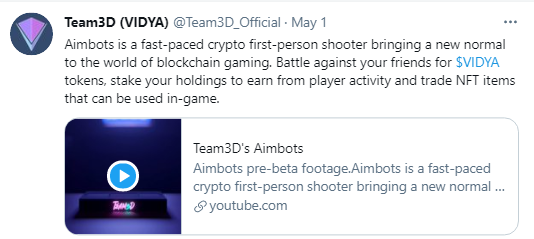 Based on the information gathered following the Team3d (VIDYA) Twitter handle. The team released their FPS game trailer and sometime in Q2 of 2021 the game released is planned.
No. 3 - DeFi Gaming with NFT Flavor Added
DeFi along with NFTs is the latest buzz that has been lifting the crypto tokens associated with iT. $VIDYA token has both of them integrated to it i.e. the DeFi gaming aspects and the NFTs as well. Check out some of the latest NFTs & they look really amazing::
NFT 3 of 3 ::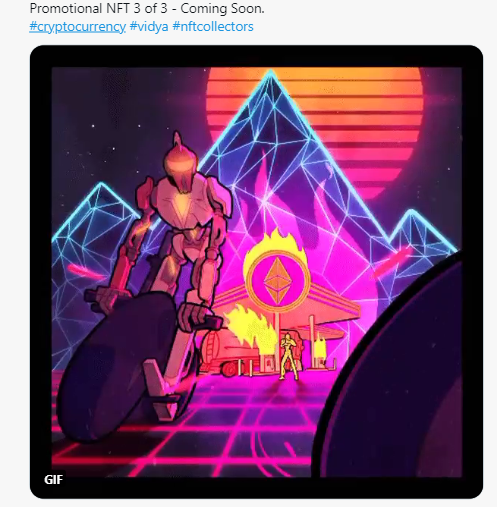 NFT 2 of 3 ::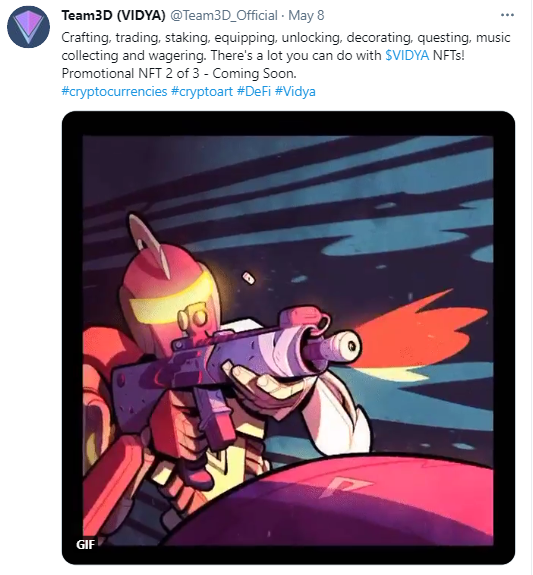 Apart from the Top3 reasons listed as to why $VIDYA token is my favorite. The other main factor is the $VIDYA token economics. It has a very thin supply i.e.
50 Mil $VIDYA tokens will be in circulation - Yes that's the Total supply of $VIDYA tokens.
Now to wrap it up as to with my investment. I did enter to the $VIDYA project when it was trading for around $0.04 to $0.08. This is the investment that I did like 7 months ago - Team3D - Invested In VIDYA token future DeFi to Gaming...

And had blogged about it here on the leofinance blog. I didn't stop there and continued to buy in $VIDYA as I had set my GOAL to have close to 100k $VIDYA tokens.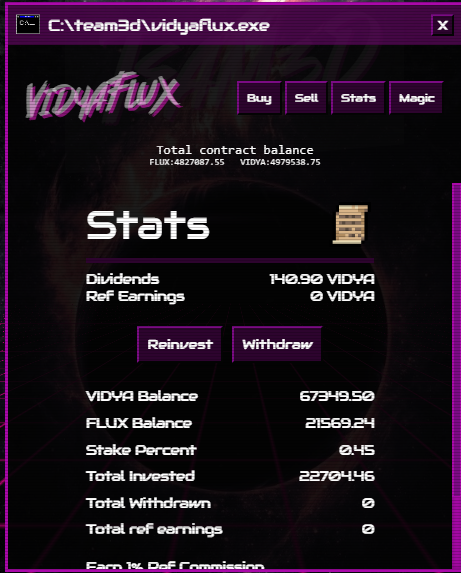 As of writing this article; I was able to accumulate/buy close to 75K+ $VIDYA tokens. Out of which; I did invest close to 25K+ $VIDYA tokens in their staking platform that they call $VIDYA flux. Staking your $VIDYA coin allows you to earn $VIDYA flux every time there is a new investment coming in & going out of the contract. For more details about the staking of $VIDYA can be found here - The Generator: NFT Staking — Art and Decentralized Finance Collide
Finally; I would like to wrap this blog post with a note on Investment
Investment has a Risk BUT for a Better Tomorrow...
Invest wisely and without taking risks you cannot expect to get high returns.. Higher the risk - higher is the profit. This is what I learned in my school economic class lessons. :-)
Have Your Say on VIDAY token
Have you heard about this project VIDYA? If Yes, what do you think about the project and its near future? Would love to hear your views/thoughts on #VIDYA DeFi to Gaming
Find Me on the Other Social Media Platforms::

Join me on Odysee & Earn 8 LBCs for FREE... YES for FREE...
HealthDear Youtube; Information tied to Health
HealthDear LearnTogether; Learn English & Hindi
LearnTogether FaceBook Page
PS:- None of the above is a FINANCIAL Advice. Please DYOR; Do your own research. I have an interest in the DeFi gaming projects and bought some #VIDYA tokens & have been following the project closely that's iT...
Image Credits:: team3d, twitter; cmc
Posted Using LeoFinance Beta
---
---