10th LPUD, 10k LEO Power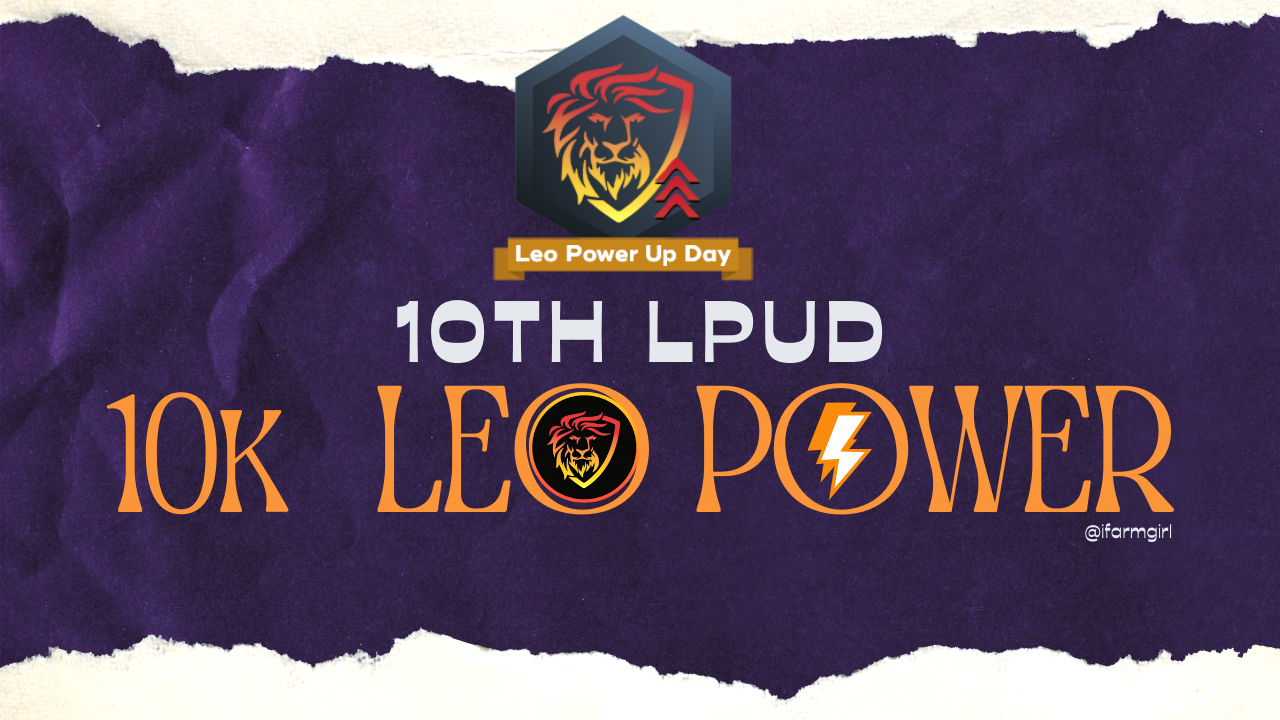 To start with, here's just a little background of LPUD for those who are hearing it for the first time or for those who are not aware about it.
LPUD or Leo Power Up Day was initiated by Eric (@anomadsoul) via @leogrowth and it started on June 15 last year and it had been going on every 15th of each month since then. And even before LPUD was introduced, the Lions are already powering up their LEOs, increasing their vote weight value consequently increasing their curation rewards. That motivated me to grow my stacks as well.
So from a very paltry amount of 41 LEO in my Hive Engine wallet in April 2022, my Leo Power has now grown into 10k+ (this and my alt's combined). That's due to the positive influence of the LEO orcas and whales in the LeoFinance community. And also because I made it my goal to keep stacking and powering up just like how I am growing my Hive Power.
I usually power up whatever LEO is available in my wallet and then pause 2 weeks prior to LPUD to accumulate. And today, I powered up a sum of 522LEO (157+365) which brought my LP to 10,674.
And here's how the Leo Power has been growing from since I started in LeoFinance on the 27th of March 2022.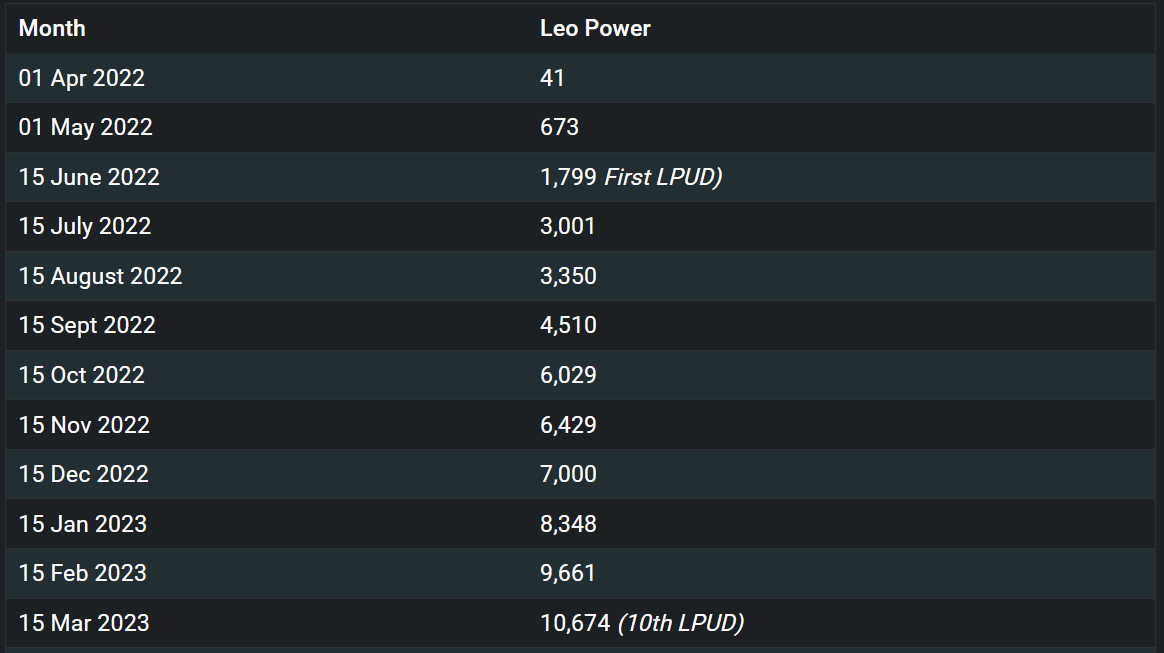 Crossed the 10k Leo Power mark which small as it may seem, is already a milestone for me and it's getting me closer to my year-end goal of becoming a "LION" in the den having 15k LEO staked.
How am I getting LEO to stake?
Delegated Hive Power to @leo.voter and I'm receiving LEO as my delegation rewards.

Buying them from LeoDex.

Being active on LeoThreads. Creating threads, engaging with others (commenting, replying)

Participating in the LEO&HODL prompts (wasn't consistent).

Curating threads and other LeoFinance contents.

Creating long form contents in LeoFinance (wasn't consistent).
There are various other ways but these are what I currently employ. Some people sell their other Layer 2 tokens to buy LEO, others pool their assets in DeFi and use the yields to acquire HIVE and in turn use it to buy LEO. I'm pretty sure there are a variety of ways and or opportunities available which I may not even be aware of.
And speaking of opportunities, if you are yet to join the LeoFinance Crew3, I invite you to hop in and familiarize yourself on how it works. There's an incoming sprint on April 5th and a $10k USD is in the prize pool. It is open to all Hivers with or without Leo Power.
Why I am so keen on sharing this Crew3 sprint? Because I believe we can learn something from the adventure, we may grow our network too and it would be fun for sure! Just ask away if you have questions :)
Happy LPUD and #rawr!

Lead image created on Canva. 15032023/09:30ph
Posted Using LeoFinance Beta
---
---