How to Build Your Crypto Portfolio Without Risk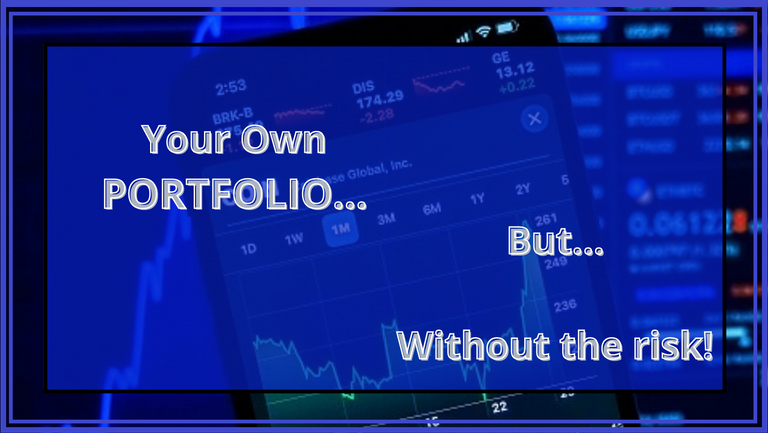 Photo by Jeremy Bezanger on Unsplash
You can watch any video tutorial about trading. Whether it's Forex or Cryptocurrencies, the first thing they read (or show) to you, is the disclaimer. Anyhow...that's if you are watching a legal video and not some scam...
They make it very clear that there is a risk involved in trading.
Some people will go as far as telling you that the risk in trading cryptocurrencies is even greater than trading Forex, due to the high volatility of cryptocurrencies.
And to large extent, I would like to disagree with that statement. Not because I think there is no risk involved, but because I think trading is risky...full stop. Whether you trade Forex or whether you trade cryptocurrencies...if you don't know what you're doing, you're going to get burned...
But, it is the same with any business...
Do you really think you are going to start a business without taking any risks?
If you want to start a business and you apply for financing to help you get it started...what is the first thing the creditor will be looking at? What is the risk involved!
Trading is no different. If you want to start any other business and you have no knowledge and zero experience in the field of business you want to enter into, which investor will be looking at you to invest their money in your business.
What makes trading different? Whether it is Forex trading or cryptocurrency trading... It is just another form of business.
Anybody will tell you how silly it is to start a business in an industry you know nothing about. So why is it that so many people try their hand at trading (without getting any education in trading) and fail?
It is human nature! They see someone (a trader) living a nice lifestyle and all this person does is "sit in front of a computer making trades all day".
And there they go...EASY MONEY!
With cryptocurrencies, it is even worse because of all the hype involved when a coin (especially Bitcoin) is having a bull run.
I don't think I need to tell you about FOMO and then how people start panicking and selling when the price comes down, losing all their money...and the next thing that everybody is talking about is how this "crypto thing" is nothing but a scam...
Oh my...I can only giggle at this...
But, even if you're not an expert in trading or in any cryptocurrency for that matter, there is a way that you can start building a nice little crypto portfolio without any risk.
Build Your Crypto Portfolio Without Any Risk.
Back to the warnings that we would hear from anybody who knows what they are talking about...do not invest any money (or trade with any money) that you cannot afford to lose.
Oh yes...and if you want me to say it...this is not financial advice...
It is a well-known fact though that it takes money to make money.
Well...let's just put a little twitch into that statement. Yes, I'm not going to tell you that you can make money from nothing...
But let's rather put it this way... It takes an investment to make money.
Yes, you will have to invest something. But you can either invest money, or you can invest your time.
If you are willing to be active and do some work here on the blockchain, you can start building your crypto portfolio without investing a penny.
By engaging with fellow community members and by creating content, you can start earning some cryptocurrency right here on the blockchain.
If you can resist the temptation to start withdrawing your earnings, you can re-invest it and start building.
Without talking about all the tokens that you can earn in your Hive-Engine wallet, let's just discuss four currencies I've been introduced to since I've started here on the blockchain to get an idea of the potential of doing this.
HIVE
Obviously, the first one that comes to mind is HIVE itself.
When I arrived here on the Hive blockchain during 2020, Hive was trading at an average of about $0.10 to $0.11.
Obviously, we all want to see an increase in value, but not knowing much about Hive at the time, I didn't really have any special expectations. I decided to just spend time and build my account by increasing the amount of Hive in my account.
But let me share this with you...
At the beginning of this year, the value of Hive started increasing and went up to about $0.85 in April.
The price showed a pullback from there and came down to about $0.20 again in June 2021. Since then it is in a nice steady uptrend and is currently trading at around $0.80 again as you can see in the graph below.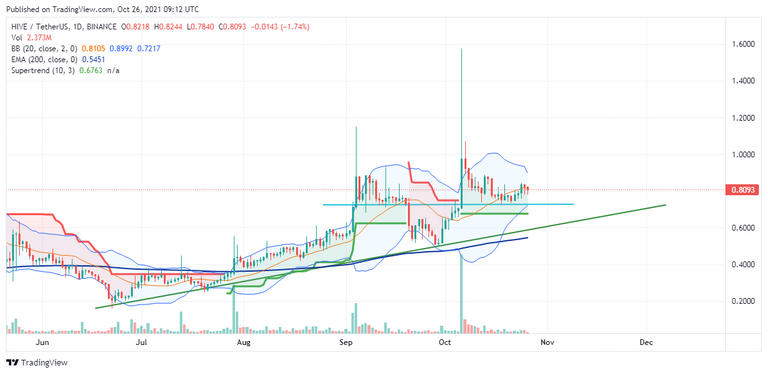 If you follow my goal updates every Friday, you'll know that I have become quite determined about building my Hive Power to add value to my account.
HBD
HBD (or Hive Backed Dollar) is supposed to be a stable coin which is also one of the currencies in which you can earn here on the blockchain.
Recently, a savings account has been introduced where you can deposit your HBD and earn 10% APR on what you hold in your savings account.
As I understand from several posts I've read, it's quite a process and a challenge to create a stable coin and actually keep it stable against the US Dollar.
In the graph below you will see that we've had some massive spikes in the past (where many people made some good profits), but they've managed to keep it nice and stable above the $0.80 level. It has been nice and stable over the last couple of months.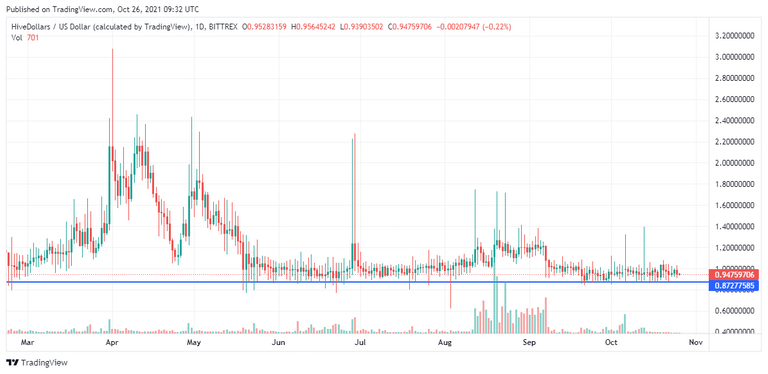 Basic Attention Token (BAT)
With my arrival on the Hive blockchain, I was also introduced to the Basic Attention Token (BAT).
It is not on the Hive blockchain and is associated with the Brave browser that you can use on your computer. The browser is similar to Chrome but is awesome in blocking unwanted advertisements while you are browsing the internet.
It gives you full control over the number of adverts which are shown to you. You are notified when there is an advert to watch, and if you decide to watch it, you actually get paid in BAT tokens.
Again, I don't stress about buying or even when to buy these tokens...they just keep arriving in my Uphold online wallet and I just leave them there to accumulate.
It had a bit of a dip earlier, but as you can see on the 4-hourly chart below, it came up nicely again and is steadily keeping its value at around $0.70 at the moment.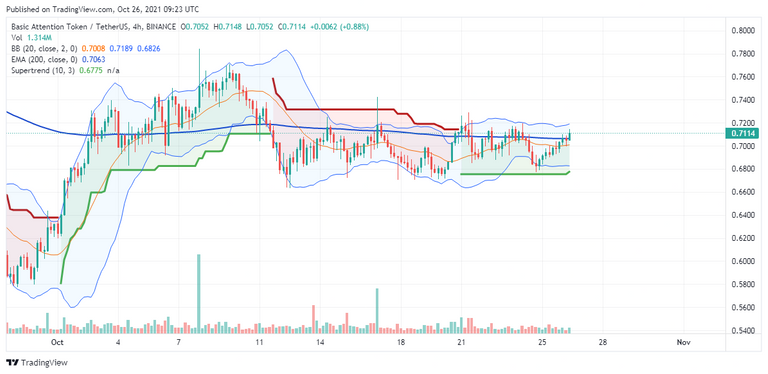 PRE
PRE is another token I got introduced to which is not here on the Hive blockchain but provides a great opportunity.
Instead of Google search, I use PRESEARCH and for every search I perform, I get paid 0.1 PRE token. Currently, you'll get paid for up to 30 searches per day.
Earlier this year the value of this token ranged between $0.01 to $0.10. But during September and October, we saw a massive spike to about $0.45. The price has pulled back again but is currently still trading around the $0.28 mark.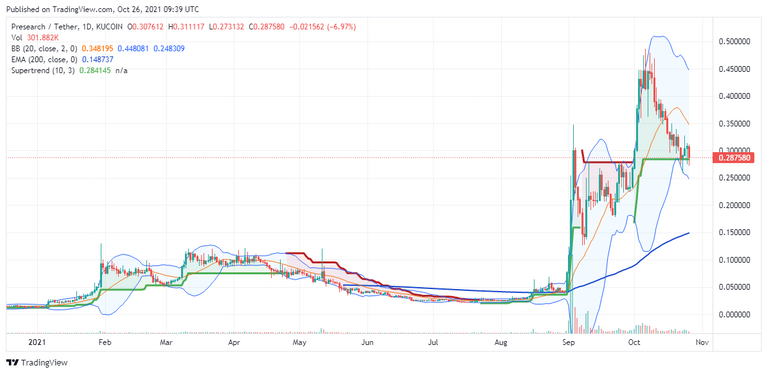 The Risk
What risk? Unless you spend money to buy/invest in any of these tokens, you cannot lose any money that you haven't spent.
So it's a typical "I have nothing to lose but I have a lot to win" scenario.
You never know which token is going to suddenly take off and increase in value. If you don't have it...well, you won't lose anything...but you won't gain anything either. Get what I mean?
Conclusion
Yes, you actually can start building a cryptocurrency portfolio without spending a penny...thus, without any risk.
You can actually enjoy it and have fun with it without stressing when the prices go up and down.
Thank you for reading my post, I do appreciate it!
---
---