CubFinance: Investing into more CUB
It's the start of the new month and I want to move some LEO over to some of the CUB-related platforms to make it up for my own goals. I am a bit late. With Khal giving out LEO for engagement, I plan on investing a little bit more on the Defi platforms this month. Of course, I still like Defi but I am treating it more as an experiment as the yields haven't really been that appealing to me. In the end, I had to choose and I ended up choosing what people were neglecting this month.
CUB
No new changes to the roadmap documentation page and there hasn't been anything new announced for Cub. However, Khal has stated that the future of CUB will have all the features of PolyCUB. The only issue is that we don't know when it will happen and the 2nd IDO is still on hold.
PolyCUB
PolyCUB recently came out with the pHive/PolyCUB pool and the first xPolyCUB vote about the yield mechanics are over is also complete. The governance vote ended with the claiming penalty reduced down to 30 days so it's more manageable for everyone involved and it is also the choice I picked.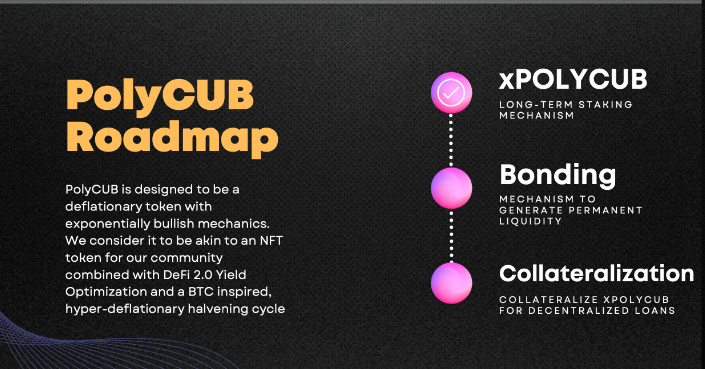 Nothing new changed in the
PolyCUB roadmap
, but I did see the following about anticipated dates for the new features there. None of it has really come to come out and I am stuck wondering when bonding or collateralization is coming out. The deadlines I mentioned last month are pretty much the same on the site but it's past the date already. It does look like they are more interested in putting out new pools right now though.
Where did I invest?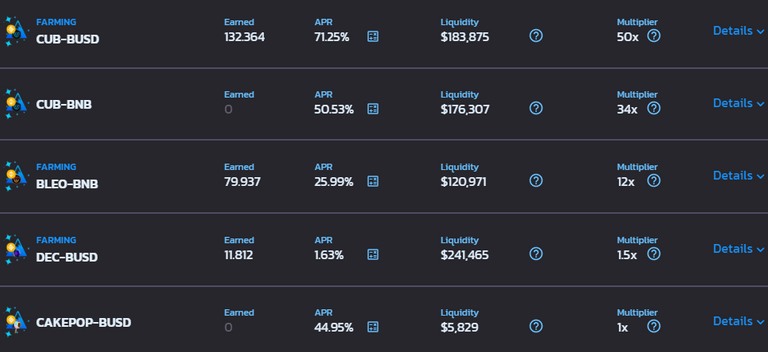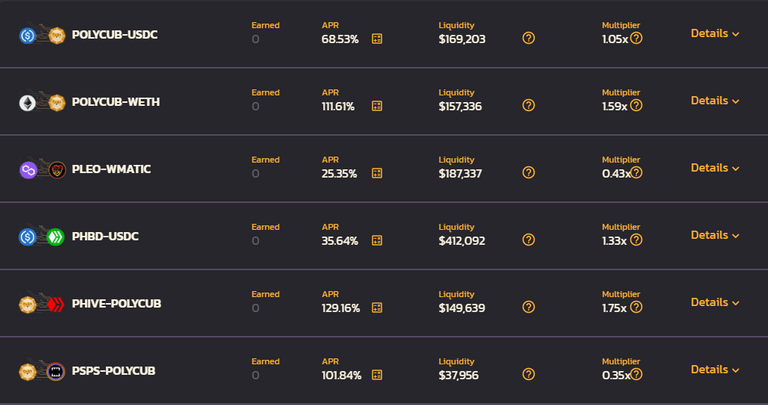 As usual, I checked the BSC and Polygon farms and none of them appealed to me that much. The APR of each pool is down compared to before and I am not really that interested in throwing liquidity into the new PolyCUB paired pools. Maybe it's because the returns have been slowing down over time and the price of farm tokens has not really held up. If anything, I tend to prefer to have a single asset staked so I know it's just that asset and nothing else when I compare the value and the IL would not be that huge.
![xPolyCUB returns.png]


I think there is a glitch in the xPolyCUB screen but that is what it currently shows. I don't really think the APR is that high. Either way, the ratio is going up slow but that is to be expected with the halving that PolyCUB gets each month. As for CUB, the APY hasn't changed too much and the TVL keeps dropping along with the price. I have faith that Khal hasn't abandoned CUB so I invested my monthl add over there.
Monthly Add
I sent 251 LEO tokens over to my metamask wallet using the the wLEO bridge. From this swap over, I got 250 bLEO tokens. I swapped my bLEO into 464 CUB.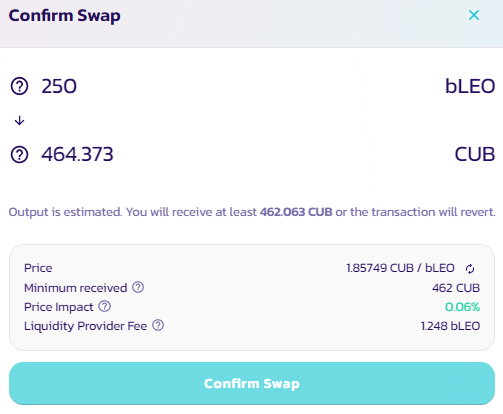 I have been staking my the remainder of my airdrop so my xPolyCUB is up slightly. So I don't really expect this to change much in the future.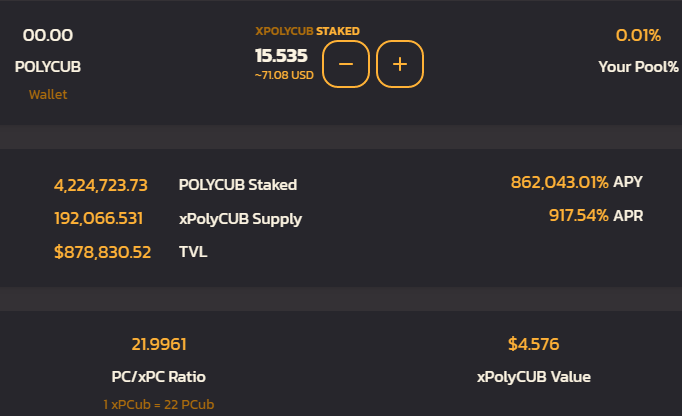 I harvested my CUB and I added over 600CUB into my kingdom you can see my current CUB kingdom below. This means that my own CUB stack has gone up 50% and I am looking forward to the other Defi systems when they do come out.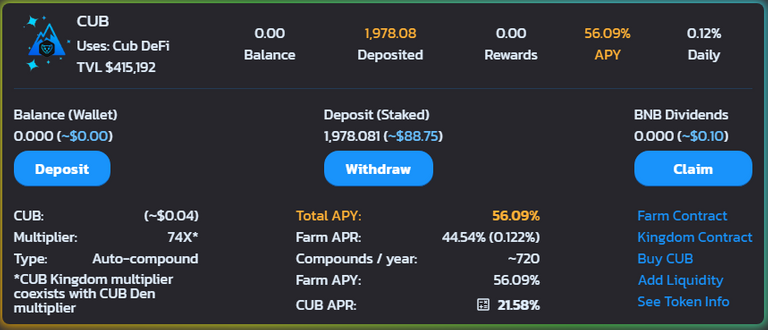 With some help from the community, I was able to track my liquidity pools in CubFinance again and there were quite a few options. For this post, I plan on using howmuchismylp because it's similar to my past reports but I plan on changing this going forward based on a post I am still writing up. If you plan on using this site, make sure to put down the MasterChef address of 0x10ED43C718714eb63d5aA57B78B54704E256024E.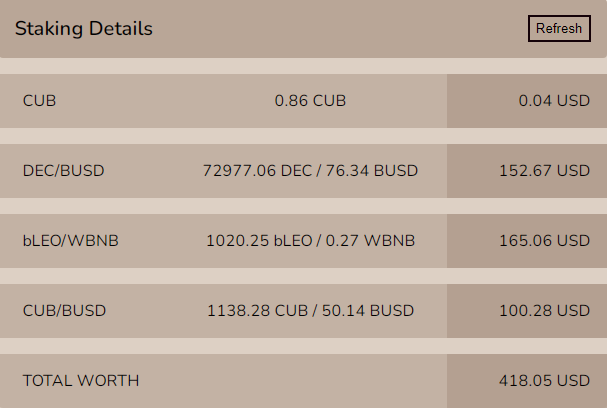 As expected, my holdings have taken a huge beating in fiat value. This was to be expected with the downturn in the markets. Both the bLEO and CUB farms have lost about half of their value compared to two months ago. DEC is back down to the peg so I think I will be cutting it from BSC next month. I originally put it in to get more DEC and airdrop points so it has fulfilled my own goal.
Please make sure to invest only what you can afford to lose and nothing I said is financial advice. Feel free to leave a comment if you read my post. If you have any questions, feel free to ask and I will do my best to answer.
Posted Using LeoFinance Beta
---
---