Many of us dream of having enough wealth to buy whatever we desire. However we just continue to live our daily lives and spend our money without thinking.
So what would happen if people decide to save a small amount every month and let that money work for them? I believe by doing investing a small amount every month you can generate huge returns. If you don't have the huge capital to generate returns, time can help you.
Letting your money work for you
Compound Interest is the way we let our money work for us. Some people may not realize it but the interest we get from the bank is essentially compound interest. The stock market, banks and passive income are possible ways to generate this compound interest.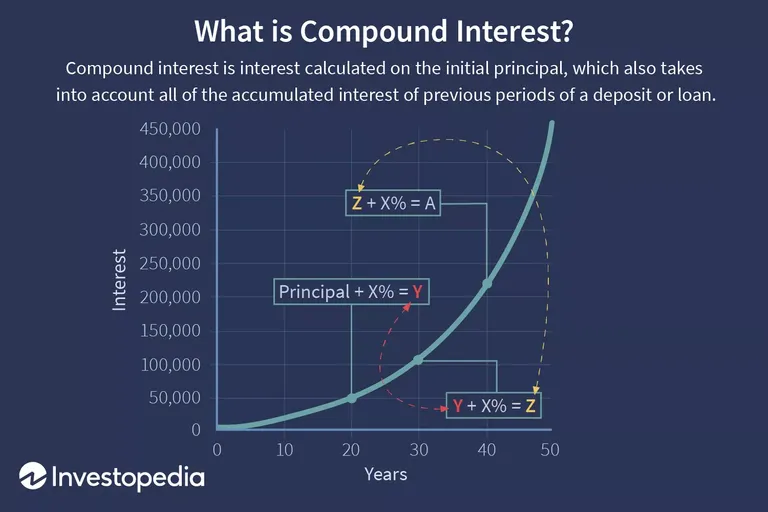 image credit
Just by looking at the image from Investopidia, you can see how your your initial investments keeps increasing over time and help you on the way to generate wealth. As each year passes, the returns become greater even though the percentage has not changed.
Calculating your expected returns
So what would investing $100 a month give you? It would depend on how your expected rate of return. For my example, I am considering $100 a month with zero initial capital and I use this compound interest calculator to simulate how much money we would make.
I created the chart below by inputting the values into the calculator. You invested a total of $36,000 but your wealth is now worth $193,392,83. This is because the money invested in the past is continuously earning you more money. So if you decided to not spend money, you would of made over 500% of your initial investment.

Passive Income on HIVE to create compound interest
There are many ways to generate interest on your investments in HIVE and this includes the usual HP, HBD and the other second layer tokens on Hive Engine.
HP is probably the easiest way to show how it can be made to compound your investment. It has an inherit interest of 3% per year. However you can also generate more interest on your HP by curating content or delegating it away to dlease if you don't wish to curate. You can read more about how to use dlease in this post.
HBD has also has interest now and it was announced here. Also dividend tokens like UTOPIS, EDS, SPI, EDI, LBI and many more also pay out dividends. These dividends generally tend to increase over time as part of them are re-invested to generate more returns and the other part is split to token holders. This means you could use your dividends to increase your share of the rewards and you may also see appreciation in the underlying value of the token.
Risks
Every investment has a risk and some are more riskier than others so you should always do your own research. You can't predict the future and sometimes projects or tokens/stocks die. But by investigating, you can find the investments that suits you and limit the chance of investing in a bad project. As always, you do not need to in a rush to generate wealth but saving a little bit of money each month will make this process easier.
Posted Using LeoFinance Beta