4 Days Later...INDEX Is Doing INDEX Things!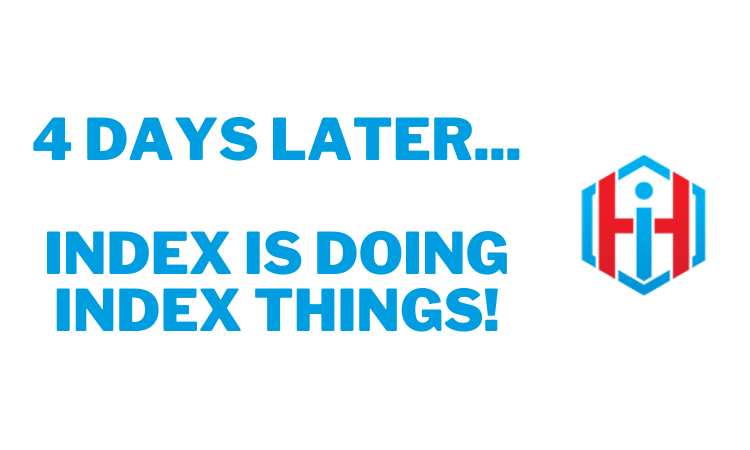 The whole idea for the INDEX token came from...My inability to understand...Options, puts, TA, calls, stop / loss...
You know...All the stuff most people in crypto salivate over.
I'm a simple guy. I like simple things...It's why I'm so attracted to this blockchain because no matter how many bells and whistles there may be behind the scenes...I can USE this stuff. Everyday. Without needing a PHd in computer science to figure it all out.
Same thing when it comes to investing. I like simple.
And to me, the simplest ideas ever in investing were these;
Dollar cost averaging into positions.
Buying the Index.
Simple.
I'm not sure when something will rise or fall. So when I dollar cost average into things...I'm protecting myself from massive swings PLUS taking the emotion out of it.
Buying the index always made sense because, I never knew what made a good stock or a bad one. I couldn't real financial reports from all those companies...So I just bet on the index. Plus the fact that historically fund managers could ever get the kind of returns an index did, so...Keep it simple.
So why not bring that same kind of simplicity to crypto.
That's why the INDEX was built.
For the crypto enthusiast who believes in the projects found on Hive-Engine! But doesn't want to study every single coin and community.
It allows them to get into the market, without having to 'play' the market.
And it looks like the blockchain agrees :)
We've had quite the launch!
It's been 4 days now since INDEX was launched and we've hit $1000 in volume 3 of the 4 days.

WOW!
We've also been as high at #4 on Hive-Engine and LeoDex...And we're sitting in 6th place right now when it comes to volume!

So exciting!
And we're just getting started.
The big plans for this token and project are to literally...Index the entire market. But we needed to start with the 10 amazing tokens we did. What awesome projects and awesome communities in each. We're so happy to have chosen these to help launch INDEX.
So what's on the agenda for the token?
Right now, we've been fine tuning the curation rewards to make sure when 7 days is up, we'll give everyone the best possible returns. But we're still learning what formula will work best.
Some holders have already started to receive SIM rewards which is great!!!
We'll also be working on the HE-Index.io page to give more information of distribution of tokens etc...So many exciting things coming!
But for now...It's fine tuning things and making sure INDEX works exactly like we envisioned! Massive shout out to @blainjones and @achim03 for their amazing work with this project.
And special thanks to all you that have believed in this vision like we do.
INDEX is crypto for the rest of us :)
As always, I'd love to hear your comments and suggestions on how we can improve the INDEX experience for you.
Better yet, swing by the CTP Community on Discord..And let's talk INDEX!
---
---