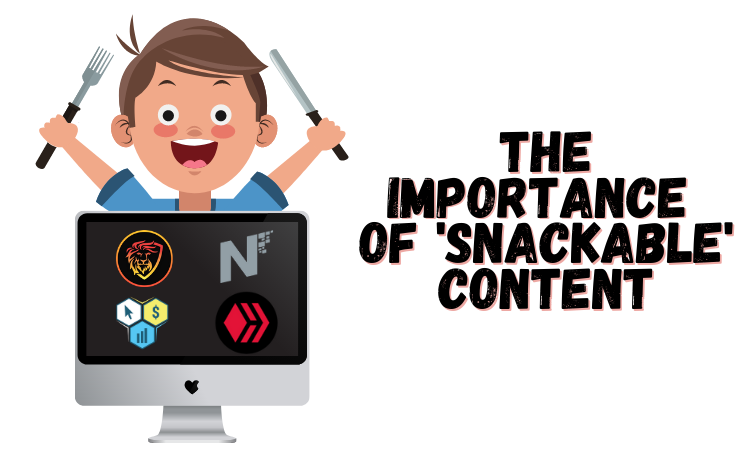 Over the past few weeks, I've been diving into some crypto projects that aren't on any blockchain per se...But have been giving me a glimpse into the future of basically....Everything online!
If you have been hanging around @LeoFinance for any amount of time, you'll know a big chunk of the creators here have discovered Noise.Cash
A slick little project backed by some massive supporters of Bitcoin Cash.
Yes, it's centralized and not only any blockchain...But it gives you a taste...A very exciting taste as to what will come from the LeoFinance team with their micro-blogging platform.
And while that's all fine and dandy...How do we transition from long form content that a lot of people n this blockchain are used to...Into bite sized 'snackable' content that really is...What the rest of the internet is used to...?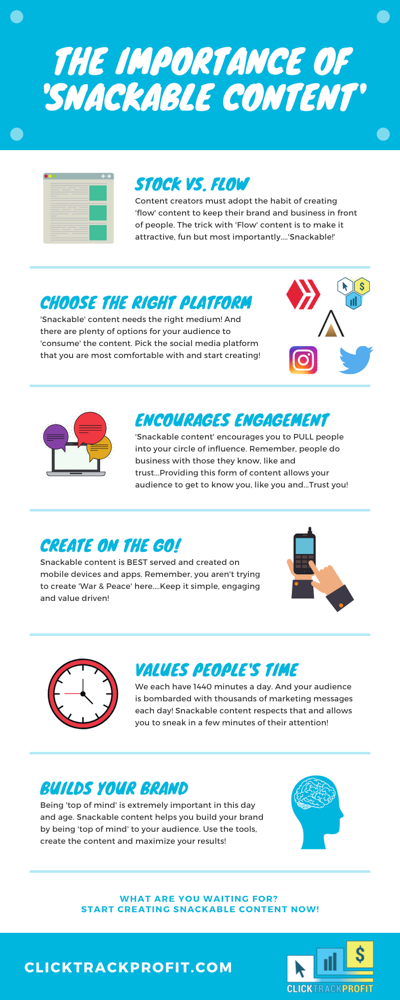 So that's a little graphic I created for ClickTrackProfit.com
(Note: Full image here if you need to blow it up)
If you are familiar with my core training platform, we're big on training our members into developing brands through content marketing and social media.
And yup, our training focuses on not only traditional social media...But the blockchains as well.
Specifically Hive, CTPtalk and of course...LeoFinance.
What is crystal clear to me after the past 2 weeks of messing around with Noise.Cash is that when Leo launches their micro-blogging project...The old guard better watch out!
The speed and micro-content that makes sites like Twitter and Instagram household names...Will then be coming to the blockchain.
So it's important for content creators and social media marketers to get READY for the changing of the guard.
We must take all the practices we used on traditional social media and start bringing it to these new platforms.
Simply put, this is just the beginning of the influx of potential users we will see. We are literally at the beginning of this.
My issue with why the mainstream never caught onto Hive immediately is that...The majority of the 'every day user' isn't going to sit around and read long form content 24/7....
But they will scan their phones....
They will 'like' things on the go.
They'll engage with super short video clips.
They will DEVOUR snackable content.
So my recommendation to you content creators on the blockchain....Gear up!!!
The masses will be coming, especially with all the drama surrounding censorship on the traditional platforms....
And we need to be ready :)
Some tips and tools:
Use Canva.com - If you are not a Photoshop pro, using an online tool like Canva is priceless. Remember, for snackable content it's got to capture people's attentions. Graphics do that!

Practice on crypto based platforms like Noise.Cash and even Torum. While they are not in the Hive eco-system you will be blown away at the results you can get while attracting them to follow you over here.

Remember, snackable content means....Short. Sweet. To the point.

Engage to every single person who responds to you! I cannot stress this enough...Do the @taskmaster4450 500 comment challenge if you don't believe me!

And don't try to create a masterpiece...Snackable content is what we call 'flow' content. Designed to keep you top of mind on social platforms and remind people you are someone they should follow. But it should never be an attempt at a Pulitzer Prize!
Hope this helps!
And I hope you are as excited as I am for the future of social media on the blockchain....
Posted Using LeoFinance Beta