The Secrets For Getting Really Lucky On Hive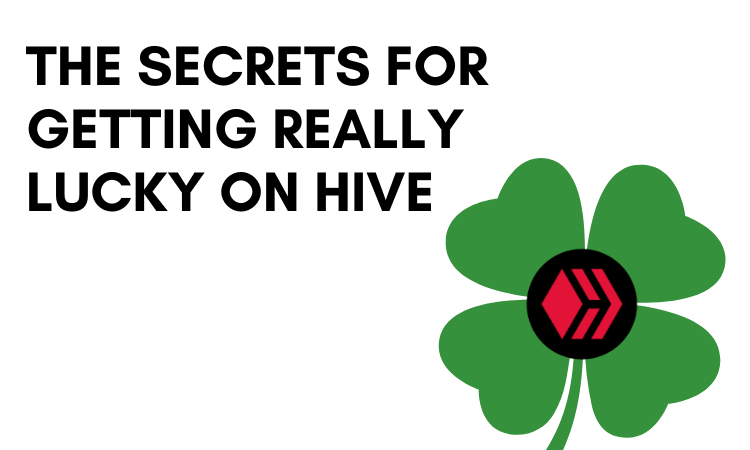 I recently had an interesting experience on social media...
Every where I go, I'm always talking about crypto, and more specifically the Hive blockchain and all it's amazing opportunities and tribes. In this recent conversation, it was presented to me that the only reason I was doing well in Hive is because...
I was lucky because I had more to invest than others did!
I was taken back by this statement because if anyone has been following my journey here, I joined and started building on the chain right after my life crashed and burned.
I lost my home, lost my business, lost my source of income...So when I say I got started on this chain with nothing but my hustle and grind, that's literally all I had!
On top of the lack of funds, I also had VERY limited knowledge of crypto and blockchain as a whole. But something drew me to this place and as I approach my 4 year anniversary on the chain...I still don't know what the heck I'm doing LOL
But back to the story at hand...I was told, I had more to invest than others did that's why I'm finally starting to see some results. Or as they put it, I was 'lucky'...
And to that I would say, the only secret that I know for certain is that you can WIN and get very lucky at 100% of the things you start...Just by showing up every day!
And here's why:
The majority of the people that 'start' something rarely see it through.
You get lucky...By continuing
Think about the trickle down effect that happens when you show up one day on this blockchain and start putting in the work:
You grow your reputation with like minded individuals
If you stop showing up, you are quickly forgotten about, however by showing up every day and putting in the effort, people start to notice you which leads to...
More followers
The more you show up and engage with members of this community, the more they start to follow you. Everyone is bombarded with marketing messages and creators pulling for your attention, so if you think you can show up once every month and generate engaging followers, I've got news for you.
And this leads to more rewards (*potentially)
Wanna learn how to get more rewards from the communities and tribes here?
Easy, show up daily and add value! If you are taking and not giving to the tribes or blockchain, you will be snuffed out quickly. Hive is FANTASTIC for finding the content creators and community members that actually care about this platform.
You POTENTIALLY will be rewarded if you put this blockchain and community first. Nothing is guaranteed, but I have not seen anyone come to Hive, put in the work and left with a sour taste in their mouth!
Don't play the slot machines
And what I mean is...Trying to flip Hive or any of the tribe tokens for a quick buck. Build your stake!!! I've been so focused over the past few years building my stake in Hive and the tribes I'm passionate about and it's starting to really pay dividends!
Growth here on the blockchain literally happens naturally when you don't treat this place like a slot machine!
Ignore price
The best thing about Hive and all the amazing tribes here is simple...We can actually USE this stuff each and every day! And when you think 'use case' first rather than what's the price of the token, great things start happening for your journey here!
Immerse yourself
I think this is my secret of all secrets here...And that is diving deep into the blockchain!
I never post to YouTube, I am loyal to @threespeak !
I have fallen in love with @Splinterlands and everything about the ecosystem and community. I don't even play Call of Duty anymore lol
I don't get my financial news from the Wal Street Journal, I hang out in @LeoFinance
I try to live, breathe and showcase Hive to the world. We've done that as well by creating applications here on chain and bringing our entire business and community over as well!
Complete immersion!
And as I approach that 4 year anniversary I can look back and honestly say...It was the GREATEST decision I've ever made in my life (next to marrying my wife of course lol)!
Hive has changed my life forever and it's not because I came here with big pockets, I actually had empty ones lol And it's most definitely not because I knew about blockchain tech....
It's changed my life because I saw it's potential 4 years ago, and after thousands of comments, posts, days on chain, wins and losses...I'm finally starting to get 'lucky'!
---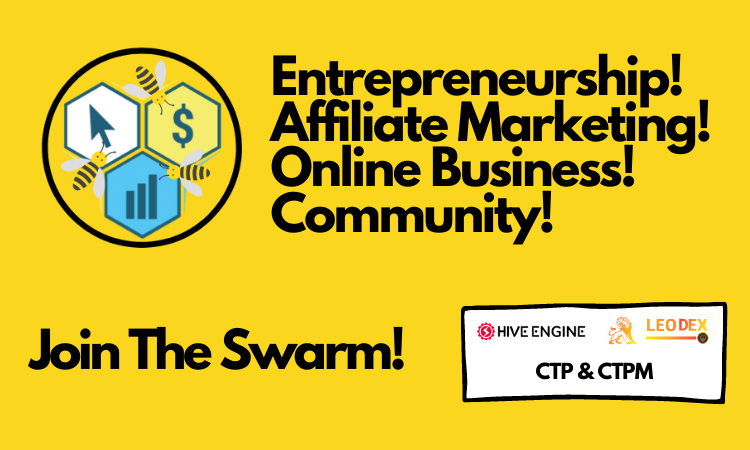 Vote for our Witness Node (clicktrackprofit) On..
Hive:
https://peakd.com/me/witnesses
https://wallet.hive.blog/~witnesses
Hive-Engine:
https://tribaldex.com/witnesses (clicktrackprofit)
---
---