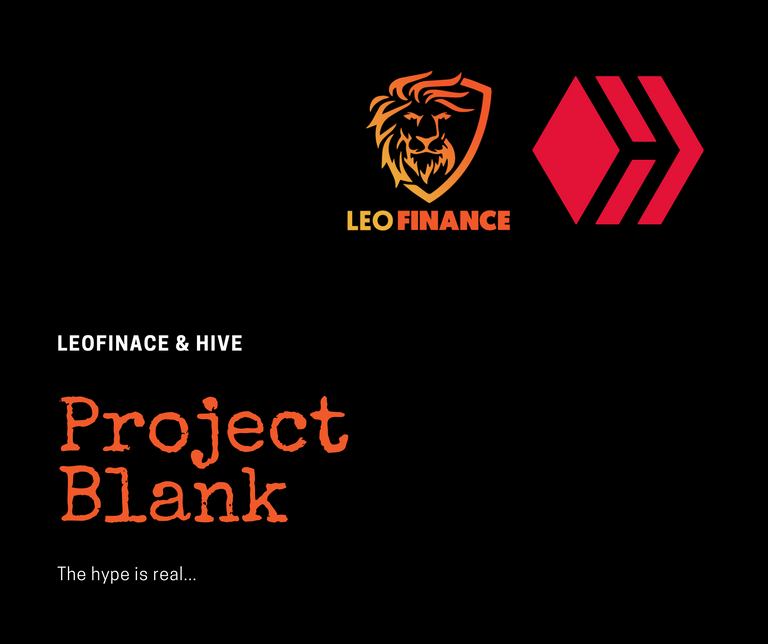 There is a lot to learn about #ProjectBlank. While @khaleelkazi and the @LeoFinance team provides some information of the project, there are still a lot of things undisclosed. The mystery surrounding the projects adds excitement and hype.
The promotions for #ProjectBlank through bitesize announcement is genius. The announcements hype up the community that #ProjectBlank is becoming a brand. The community has many questions about the project like the official name and the platform or app. It gains more interest from the community and the hype is through the roof. I personally believe that #ProjectBlank will meet our expectation or way above our expectation.
The official launch date is not yet announced, but with the latest announcements, I think we can have #ProjectBlank in the next few weeks.


---
#ProjectBlank can give hive a boost in organic traffic same as Noice.cash did for BCH. In Ask LEO: What Will #ProjectBlank Do For HIVE?, @hitmeasa pointed out that organic traffic and post-optimization is essential for #LeoFinace to be successful, and the same goes with #Hive. I personally agree with @hitemeasap. We need hive to have more traffic and in general, rank will in google searches. I think with #ProjectBlank can help bring traffic to the Hive chain.
The #ProjectBlank is envision to be like twitter and noise.cash. The project bring microblogging to the hive ecosystem. With #ProjectBlank, we can expect to have more engagement hence we do not need to do long and detailed post. As what I have read, the #ProjectBlank have similar feature with Twitter. We can search for "blank" tag and join the discussion with "blanks".
Hence #ProjecBlank focuses on short contents like tweets, we can do shitposting. If you don't know what is shitposting, it is a short content like tweets and Instagram post. You can post any topic in #ProjectBlank. It is not confine to crypto posting only. It raises some concern about abuses, plagiarism and spamming like @acesontop's AskLeo - Spam, Plagiarism and Project Blank He shared that #LeoFinance do a good job in spotting disoriented users. He point out @onealpha has done a perfect job directing this users to community guidelines. I believe it is same with #ProjectBlank. Rigth now, we still need to wait and see.
In ProjectBlank Impressions: A Geometric Progression of these numbers, @uyobong choose to see #ProjectBlank is a Twitter-killer but @hitmeasap can't take over Twitter. Both has good points. I personally inclined my opinion more on @hitmeasap than with @uyobong. I can see #ProjectBlank to grow similar to Twitter, but can't take over it in immediate future (about 1 to 2 years). With the numbers shown by @uyobopng, I am convinced #ProjectBlank will be a hit, and in distance future can be new Twitter.
I truly believe #ProjectBlank can and will change Hive for the better. All hopes are high! All figures are pointing to growth. #ProjectBlank is worth it. Let us help bring it to the moon with #Leofinace and #Hive.


Important things to know about #ProjectBlank token airdrop?
---
In ProjectBlank Q&A: How Will the Airdrop & Snapshot Work?, @khaleelkazi reveals who will received the #ProjectBlank token from airdrop. To summarize it up, four token holder is eligible for airdrop of the #ProjectBlank token:
Leo Power Holders
wLEO LP Providers (will be announced later)
Leo Miners Staked
Leo Mega Miners Staked
Here is the airdrop discussion:
You can support and check blog post of @khaleelkazi, ProjectBlank Q&A: How Will the Airdrop & Snapshot Work?.
Make sure you staked your #Leo for at least two weeks (what I know) before the airdrop to received the #ProjectBlank token. Youi can also check and interact on community discord for more information.

Note: Cover images and banner is created by the author using Canva.
Posted Using LeoFinance Beta