Hello again friends, I am again reporting with the results of the previous analyzes and with new ones that I am waiting for confirmations to enter the operation.
The first was the AUD / CHF pair that was a sale taking advantage of the trend and the formation of the pattern that I told you I liked a lot, it was an operation that occurred much faster than I expected, but these are the results of making a good entry fully complying with the parameters.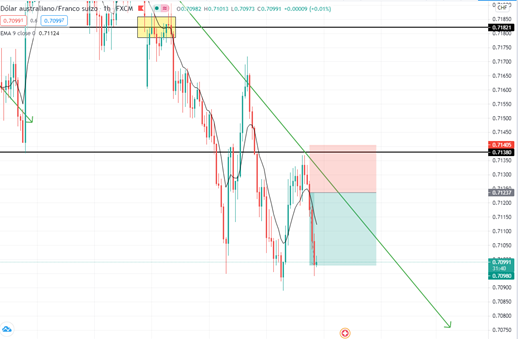 Chart AUD / CHF temporality 1h
In the next pair if we did not run with the same luck, in this one it was a total loss because in a single bearish candle it strongly broke both lines, the resistance and the trend, to go down and touch the SL.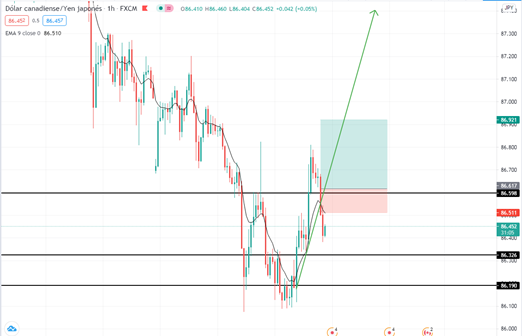 Actually, this defeat does not worry me at all because of the risk plan I have, I am not negative today, my first operation with the AUD / CHF pair closed with a good amount of positive pips that covers the defeat. of this pair. So I'm still in profit.
The analyzes that I have to continue with the day, I just have to do the full follow-up, I am not yet about to open the operation but I only wait for confirmations of each one of them, but they are entries that I like to obtain profits.
I continue with the AUD / CHF pair that has done very well with it. This time I am going to buy, of course the operation is not active yet but I like it a lot since the price has formed a strong support on two occasions, and I am waiting for the behavior of this asset, if the support respects me, and the Average Moving 9 cuts a bullish candle, there is the complete buy signal, but this is a few pips, equal to a ratio of 10 pips in SL to 20 pips in TP. But all this will be as long as the named parameters are met.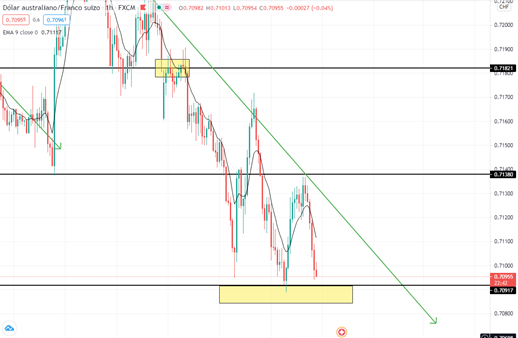 Chart AUD / CHF temporality 1h
The next pair is the NZD / JPY that is the same as the previous one, waiting for the fulfillment of parameters to be able to make the entry, hope that the support respects me, that the moving average cuts the bullish candle to enter the buy, while meet the parameters everything will be very nice.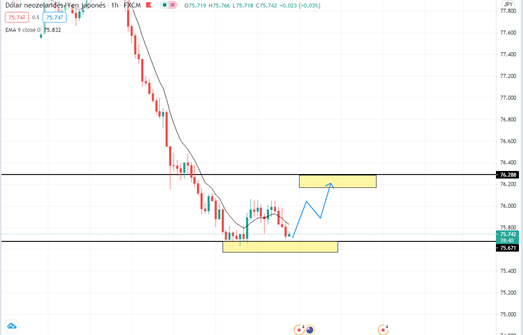 NZD / JPY chart temporality 1h
Last but not least is the AUD / JPY pair that this is also waiting for, the same parameters if they are fulfilled would be very good gains that it would obtain today. All this will depend on each of the parameters, this asset could enter at this time but it would be a premature entry, without confirmations, and as a good saying goes, a cautious man is worth two and that is why I prefer to wait for confirmations.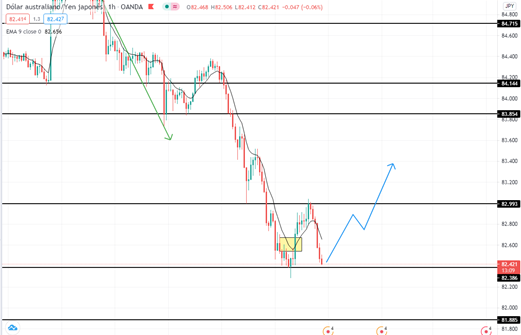 Chart AUD / JPY temporality 1h
Posted Using LeoFinance Beta