Hello friends, happy and productive Thursday for everyone, today we come with new analyzes to try to level the week after a few days in negative, but with a positive mind.
The first pair to analyze is the NZD / CHF that has been respecting the resistance, at the price of 0.6535, waiting for a slight retracement so that it makes the formation of the pattern in M, keeping track of the price action as it is close to the 0.6512 support that has not been broken since February 18, as it is in a macro bearish trend, it may be that it will cross it today, or perhaps it will rebound and make a change in trend upwards, I will be pending to take advantage of the market movements .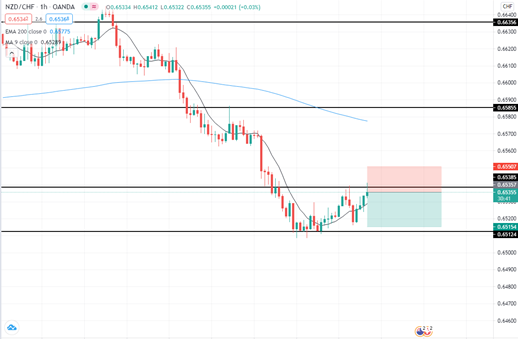 Chart NZD / CHF temporality 1h
The second chart is AUD / CHF this is also in a macro downtrend, it broke the support of 0.7091, and then I respect it as resistance, at this moment it is about to form the M pattern, to continue its downtrend. You could say that I form a Pullback to go on a strong sale. I really like this pair and I have the feeling that it will give me very good pips, to recover the losses of the previous days.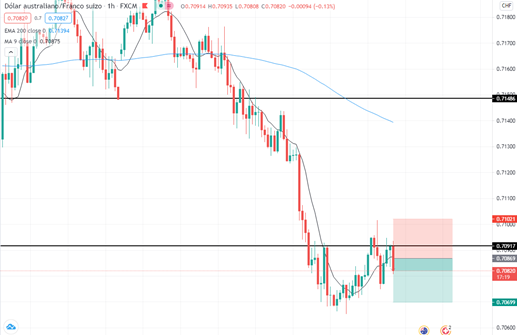 Chart AUD / CHF temporality 1h
The GBP / CAD Asset is in a strong support, in which it has respected several times, I am waiting for a purchase, waiting for a new rejection of that price to take advantage of the purchase, which may form the W pattern, the Si I place it much lower than the yellow band avoiding a strong setback to take me out of the operation and finish complying, in the same way as I will follow the price action, I will not place Tp, since it may take a long time to raise the price as shown in the graphic on previous occasions.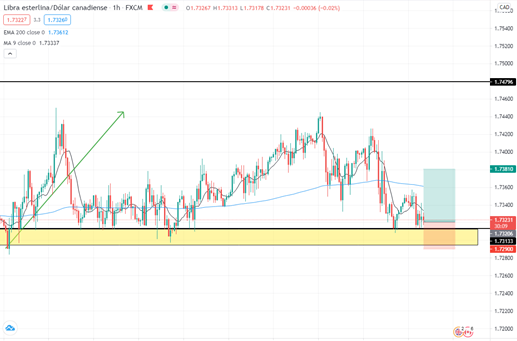 GBP / CAD timeframe 1h
I am monitoring the AUD / CAD pair since I am waiting for the price to respect the 0.9637 resistance as it has done on previous occasions, and for it to break its uptrend, to enter buy, but if this asset does not respect the resistance, and continues to rise, then I create a throwback I will enter a buy, to gain at least 20 pips, all this will depend on the movements of the market.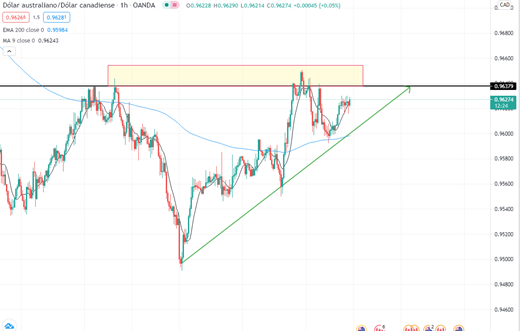 AUD / CAD chart temporality 1h
I hope these reviews are positive to level the week I had off to a terrible start.
Thanks to everyone for your support.
Posted Using LeoFinance Beta