Hello friends, today was a day in which those who took advantage the most were those who operate performing fundamental analyzes, before looking at the market I enter a page called forexfactory, which tells me if there will be important news that can influence The market, if there is this type of news, I do not operate, because there you must wait for the news to be pronounced and see how the market moves.
At this moment I hope that the market will take its course again, that everything continues to flow normally to be able to carry out my technical analyzes, but the CAD / CHF pair that was one of those that did not affect the news continues its course normally, and is in a consolidation range, I have already talked about this pattern before, and it is one of the ones that I like the most and that I have taken advantage of.
It is very simple, he is on a lateralized path, that in any comment he will take the course in buying or selling, we will only have to wait for him to meet the parameters, the first is that he breaks the box, that he respects the support or resistance, and the best confirmation of all, is the formation of a throwback or a pullback, there would be the ideal moment to make the respective entry.
The ideal would be to place the Tp at 20 pips and the same amount of SL.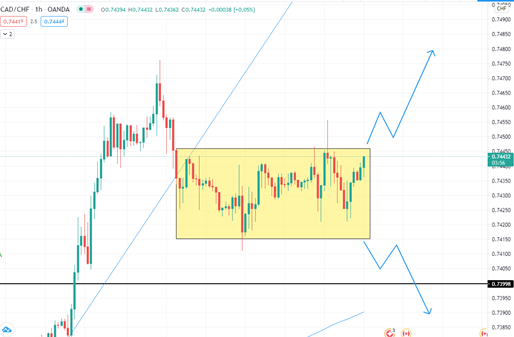 CAD / CHF chart temporality 1h
For today it is a single analysis as long as there are political, economic, health news among others worldwide, it is best to stay on the sidelines and not operate as I did today.
Posted Using LeoFinance Beta