Hello friends, today Friday ending the week in the forex, I am going to take advantage of some quick entries before the market closes.
First I will tell you about the operation that I was waiting for, the AUD / CAD pair was respecting the resistance of 0.9637 and it was also respecting the uptrend line, until it broke said trend, and the EMA of time 200 was cut, there between and the asset fell, to some extent, bounced but the price fell again to close the operation with the TP leaving me the first gains of the day. I already needed it.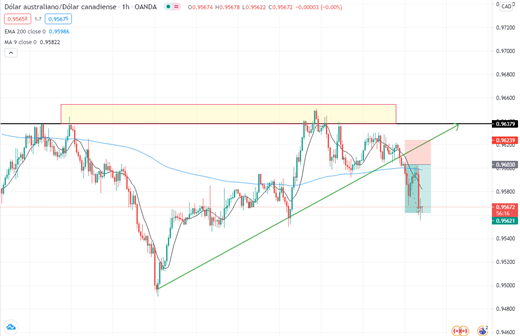 AUD / CAD chart temporality 1h
The pair in which I made a trade today was GBP / CAD in which it comes in a macro downtrend, and as I have always told you, the trend is our friend and we must go with it until it breaks its line, this asset continues to respect the line trending and approaching a historical price in which I hope it will arrive again, it already did in previous candles, but with a long wick, I hope it will arrive again. Today I will not trade with a fixed TP since as it is Friday, the market closes and I prefer to close my positions to leave them open for the whole weekend. I will track the price action.

GBP / CAD timeframe 1h
In the AUD / CHF asset I also opened a sale also because, like the other pair, it is in a downtrend, which it has been respecting, I also create a Pullback with the resistance line, to continue selling, waiting for it to leave me. about 20 pips of profit before the market closes. I like this one more than the previous one.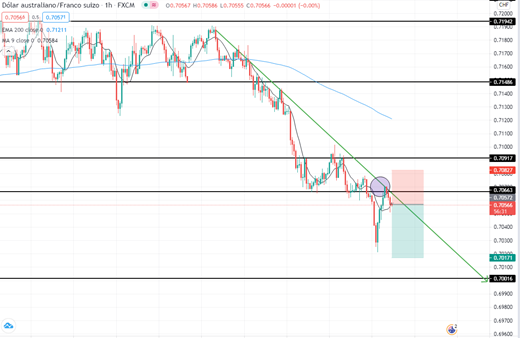 Chart AUD / CHF temporality 1h
And a pair that is the first that I will follow up on Monday is the EUR / AUD, it is on the rise but reaching a resistance that has already broken previously, but it returned to touch its trend line and respecting it, this asset can continue its upward course since it does not respect its ceiling, so we must wait for confirmation at least with a Throwback, which respects the support, or in the same way if it does not break the support, and breaks the trend line, I will wait for the formations of the sails, to see if it creates a Pullback to go on sale.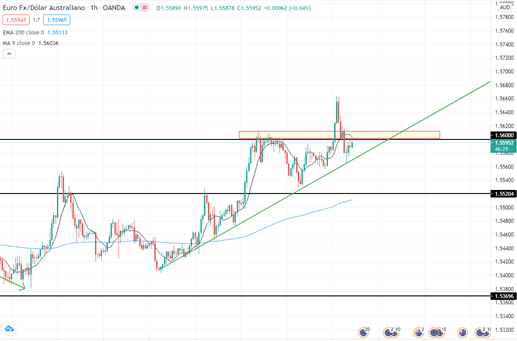 EUR / AUD chart temporality 1h
I expect results before the market closes, whether it is positive or negative, I will close all my positions as I always do.
Thank you very much for your support.
Posted Using LeoFinance Beta