Hello to all my friends on the platform, today I had not had time to post about how my analysis went yesterday but here I am with all the information, and very happy because I did very well with the operations .
I will talk about the pairs whose results did not speak yesterday, and the first is the AUD/USD pair, in which it operates in favor of the trend, which was on the rise, despite the fact that the price broke its support, to go down , then went back up, reaching a little higher than the placed Tp. To then break the support again and leave the price soaring for sale. But after having closed the operation automatically.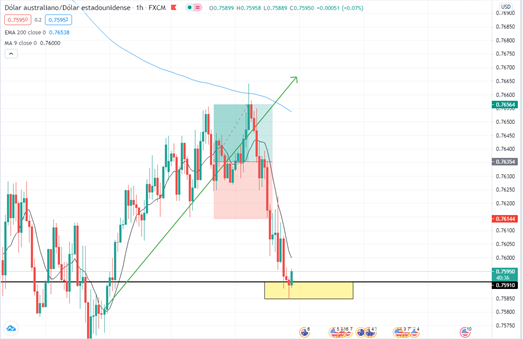 Chart AUD / USD temporality 1h
The second analysis was of the EUR/AUD pair, which was in a downtrend, and I took advantage of it, I spoke in the previous post, that I was waiting for that asset to reach the box indicated there to open another operation, for sale, no It was like that, price did not move that way, but in the same way it continued its downward trend and I closed the operation automatically in positive numbers. In analysis it complied perfectly.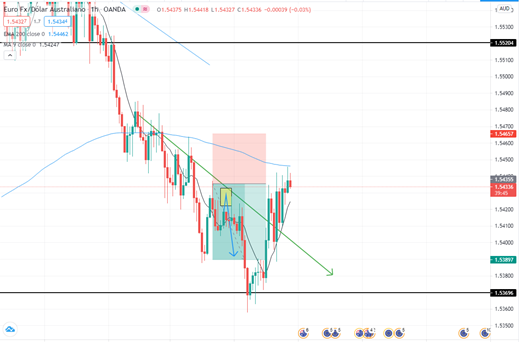 EUR / AUD chart temporality 1h
The third analysis if I ended up closing in the red, I expected the price to bounce off the support as it had done before but this did not happen like that, the price broke the support and plummeted to sell, closing automatically with the SL. But it is lost, it does not make me sad, this is something common in the day of any trader, I always keep in mind that not all of them are won.
My mistake was not waiting for the price to break the trend line.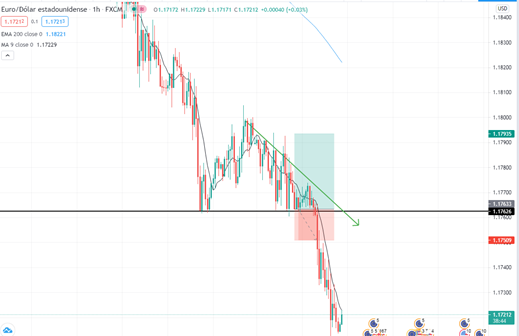 EUR / USD chart temporality 1h
Finally, the pair that I liked the most of all, the NZD/JPY, it had respected the resistance on two occasions, they are indicated on the chart, the third time it broke the resistance, I created a beautiful Throwback and went up like I had expected it, although the price did not reach the planned Tp, it closed automatically, at dawn while I was asleep, since before going to sleep I moved the SL to the price of 77,200 to ensure profits and avoid what happened, although it seems that the price will return close to 77,300.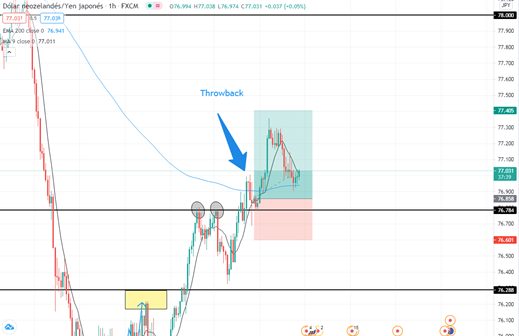 NZD / JPY chart temporality 1h
Posted Using LeoFinance Beta