Hello to all my friends on this platform, today after several days without making a post, I bring some analysis of some assets, in which I have great faith that they will be fulfilled, to make up for my days of absence.
To start I will talk about the AUD / USD that is in a macro uptrend, it has just broken the barrier of 0.7656, which on other occasions I respect as resistance, recently it ends up passing it and then respecting the price as support, to continue With its trend, for this asset I opened a buy operation taking advantage of our friend the trend. I hope it runs its course to have a few positive pips.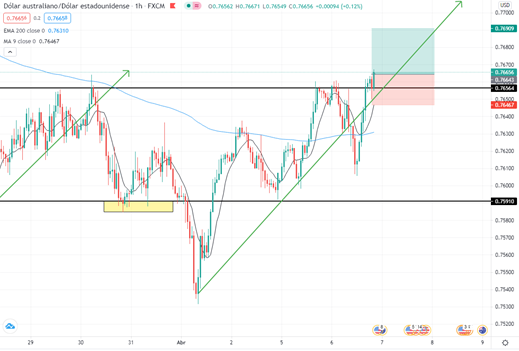 Chart AUD / USD temporality 1h
The next pair to analyze is the GBP / CAD that the price was falling, but broke the trend line, forming a W pattern on the chart, we can see that the EMA 9, cuts the bullish candle and is positioned as support of the following candles, the price is also close to the 200 time EMA, take advantage of this trend line break and the EMAS guides to make a buy entry, placing the Tp at a round price of 1.7420, hoping that the asset arrives there and continues to rise, giving more than 30 pips in positive, and placing the SL with 20 pips, however it will be monitoring the price action because I am waiting for some possible entries in which I will continue talking to you .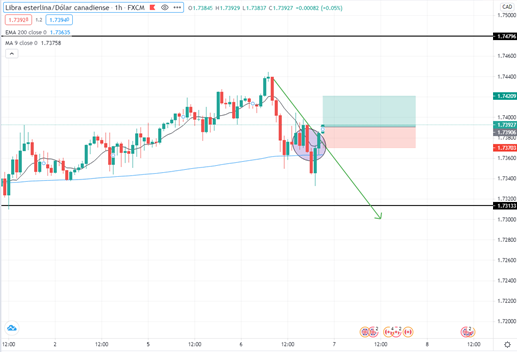 GBP / CAD timeframe 1h
The pairs that I am waiting to make entries in the operations are two.
The first is EUR / NZD that is in the process of forming an M pattern, I am waiting for it to break the uptrend line, and for the 9 EMA to cut the bearish candle to enter sale, taking advantage of the fact that it is active in the In the last hours it has rejected the price of 1.6840, possibly it falls at least 40 pips or more, I hope it reaches the price of 1.6800, I like this operation a lot, of course I just have to hope that it meets the parameters that I have spoken to you.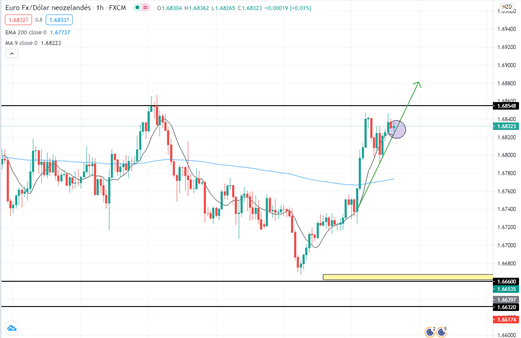 Chart EUR / NZD temporality 1h
The next pair that I am waiting for some movements is the GBP / USD that is in the formation of the W pattern, waiting for it to break its small downtrend, and for the EMA of period 9 to indicate the moment to buy to be more sure, Of all these operations, this pair's is the one I like the most.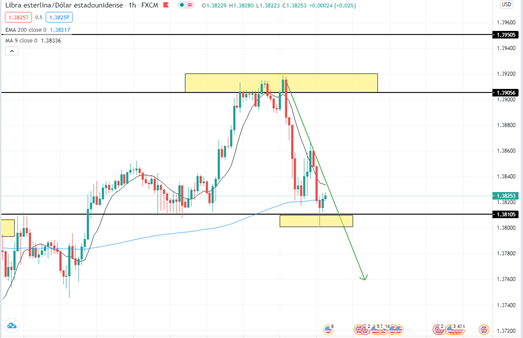 Chart GBP / USD temporality 1h
These are all for the moment, if new entries are formed later, I will be publishing them, thank you very much for your support.
Posted Using LeoFinance Beta