Hello to all my friends on this platform, today Monday I bring you very good analyzes to start the week with the best of energy.
I start with the GBP/ CAD pair, which is in an uptrend, and as I have always said, the trend is our friend, we must go with it, at this time I found the price reaching the support of the trend which has It has been respecting in other opportunities, it has only made false breaks with candle wicks but the trend continues its course.
I entered the trade with the price of 1.7375, placing the TP close to its last highest price, 1.7426 since nothing assures me that it will reach its high price again. The SL places it at 1.7342 to withstand any type of setback in the operation.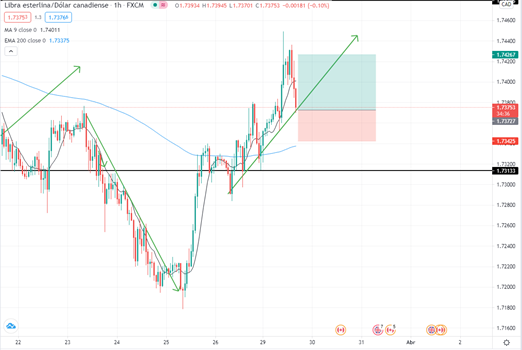 The following is the AUD / USD, this pair is very similar to the previous one, which is in an upward trend, the price is reaching its support which has been respecting and continues to do so, in this operation I will continue the trend waiting get good results.
This operation, as you can see in the chart, I am operating with a risk range of 1 to 1, that is, risking one pips to win one, which I do very little at the time of trading, but since I am with the trend, I feel safe and I hope not to lose. Although nothing is certain.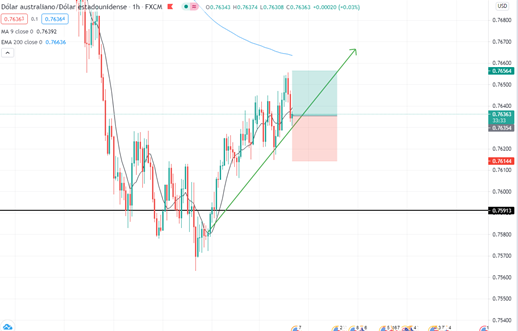 Chart AUD / USD temporality 1h
The third pair on my list is the EUR / AUD that is in a downtrend that I also want to take advantage of, it was in a good position for entry, I touched its resistance and respect that was the most important thing and I entered the sale operation , to take advantage of its downtrend.
In this operation I hope to make a profit of at least 40 pips, placing the Tp close to its lowest price. And risking 30 pips. I hope this operation closes us positively.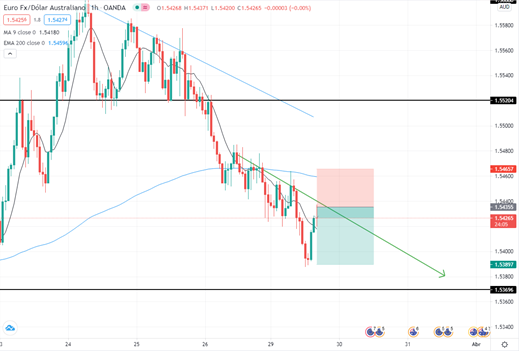 EUR / AUD chart temporality 1h
These three have been the first to start the week, I hope they are all achieved, then I will be telling you the results and perhaps publishing new analyzes.
Thanks to everyone for your support.
Posted Using LeoFinance Beta