Hello to all my friends at Leo Finance, today I bring you very, very bad news, all the analyzes of yesterday were negative. Despite each of them, they met the parameters that I always use.
The first was the AUD / USD, in which I expected a buy, I was told to follow the uptrend line and that it had already crossed the resistance line and then the use of support, but then, it broke the trend and the line of support to go on sale, forming a pullback and closing our operation automatically with the SL.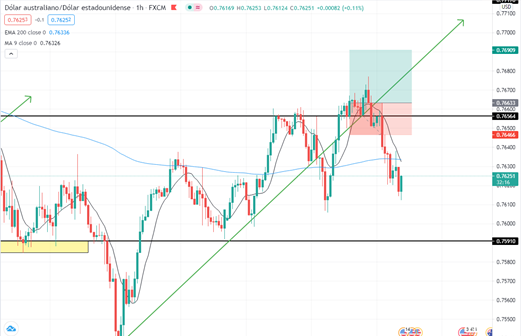 Chart AUD / USD temporality 1h
The next is the GBP / CAD pair in which I expected a buy, it came in a downtrend and if it broke the line it would form a W pattern, this operation actually reached the expected price of 1.7420, and rose a little more, but before That, the operation had already been closed automatically, because the price had reached the SL. In which he was the one who took me out with negative the operation even though he later complied. I think yesterday was not my day at all.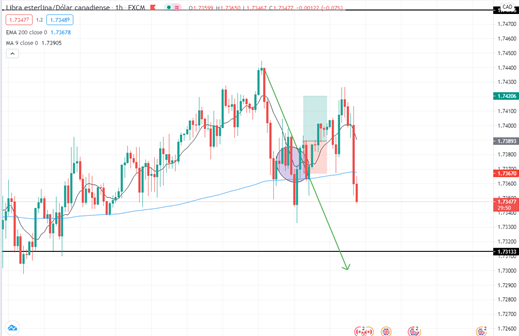 GBP / CAD timeframe 1h
The last one was the one I liked the most of all, GBP / USD is beautiful, it was in a downtrend, it reached its support, I rejected it with the candle wick, it broke the trend line, the 9-period EMA was cutting The bullish candle, everything is in order, everything was aligned to enter the buy, and I did, everything was going absolutely fine until in just one hour the price moved just under 40 pips for sale, which took me out of the negative operation. The SL closed me automatically, thus putting my three operations in negative.
I do not remember when was the last time that all my operations closed in negative, but hey if on several occasions I had hit most of my operations, there was even a week that I only had one negative operation. I think it was time to have another defeat again to focus more on each of them.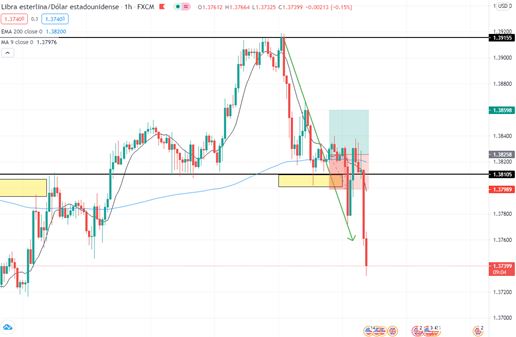 Chart GBP / USD temporality 1h
Today in the morning I only plan to open an operation that is very simple and I like it is the EUR / USD pair, in which it is in an uptrend, it broke the resistance of 1.1878 and created a throwback, in which I opened a buy operation , hoping that this price follows its course, and that at least it gives me about 20 pips of profit, to raise my morale that the market lowered it yesterday.

Chart EUR / USD temporality
I hope to close this position in positive and later carry out some new analyzes to upload it by this means. Thank you very much for your support.
Posted Using LeoFinance Beta