Hello friends.
After an excellent week, today Friday I am left with three analyzes, waiting for the operations to close today.
The first is the EUR / AUD pair, this is in a small uptrend, in its next movements I hope that it will break the resistance it has there again with a full-body candle, then it continues to respect the support, there it would enter In compa, until the close resistance, I would place my Tp 1.5420 there it would be the closing of the operation, if the market were not going to close because it was the weekend, I would let my operation run to see if it continues to rise and continue to obtain more positive pips , but since it is Friday, we do not know what will happen this weekend, so it is best to close the operation. The SL would put it at least 15 pips below support.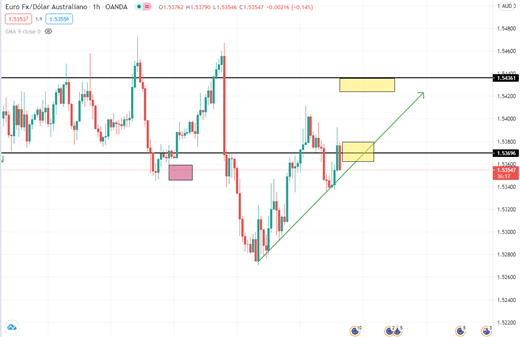 EUR / AUD chart temporality 1h
Continuing with the next pair, which is the EUR / NZD, which this week we did very well with it, today I observe a sale, and the price has respected that resistance several times, it has only made false breaks, but I think that this time it will return to drop the price, so I decided to enter a sale, which the TP will be at the price of 1.6585 which is a point relatively close to the closest support, also apply an SL at the price of 1.6650 higher than the wicks of the candles earlier, so it could withstand an upcoming market decline.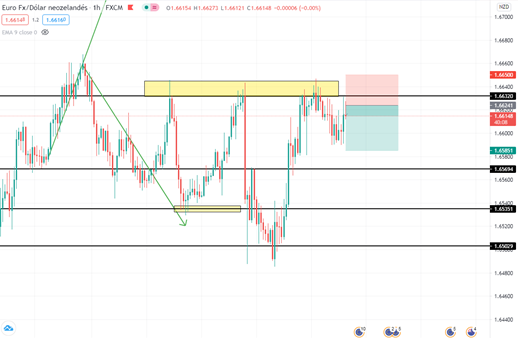 Chart EUR / NZD temporality 1h
Finally to finish I will talk about the AUD / JPY pair who was in a downtrend but reached a support which I respect and then break its trend line, to have a small consolidation above its support, you can see that such Once the price does not continue to fall, due to the respect that was created with your floor, in this pair operate in purchase, after seeing the rejection of the candles with the price in which you are. I placed a TP of 84.64, very close to the next resistance, although with the course of the day I may close the operation a little earlier to ensure, the SL is at the point of 83.98 below the last wicks of the candles that I left the market.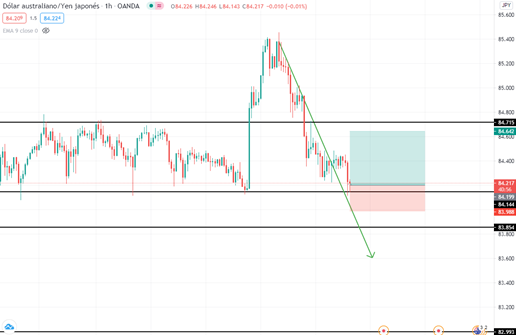 Chart AUD / JPY temporality 1h
Well friends, these have been my three analyzes for today, I hope that each one of them will take longer. Thank you very much for your support.
I also want to thank my friend @forexbrokr, for guiding me to solve the problem that my account presented, I am already in the process of solving, I will continue to be active in the currency market.
Posted Using LeoFinance Beta