The options credit spread bonanza started during the 12th episode of the LEO Roundtable when we started talking about options trading, credit spreads and generating income.
I first got interested in options when I was in High School. I traded options in the most simple way imaginable: buying puts when I felt that something was overbought and buying calls when I thought it was undervalued.
Back then, I bought puts and calls with only about 1-2 weeks till expiration. It was a gamblers strategy and each trade had a lower than 15% probability of making money. The reason why it worked for me back then is partially luck and also partially because when I was right, the payoff was massive and would offset the 5+ losing trades that came before it.
After a couple years of doing that part-time while I was still in school, I decided to stop trading options (or at least stop doing it actively). It felt too much like gambling and I decided to pursue other things like business, marketing, entrepreneurship and the whole deal.
Since doing the Roundtable Podcast episodes, I can't help but jump back in to the idea of trading and options. The clear difference this time is that I am now on the other side of the trade.
Instead of gambling on low probability, high profit trades, I've now started doing credit spreads which give a high probability of success with a max defined profit that is much smaller than the risk.
In a nutshell, I'm trading spreads that take a large amount of risk (in terms of capital at risk) compared to the reward that is possible. The key difference is that a spread gives the advantage of a high success rate. Using other factors when we initiate a trade, we can further increase our probability of making money.
The main part of this conversation that got me so heavily interested in options again is the idea of earning an income through high probability trading. After doing 28 trades so far, I can say that it is far less stressful than buying puts and calls and I think it's a lot more fun as the trading is much more active and less "wait and see".
Trade On

Here is a screenshot of my trades so far. I've opened 20 credit spreads since starting this new journey of relearning the options world and experimenting with different types of options spreads - playing with width, lot size, underlying etc.
The overarching goal here is to keep my trades small (risking about $350-$900 per trade) and to trade extremely often. By doing this, I'm able to both collect data and collect experience with credit spreads. It will only improve my trading going forward.
In this next chart, you'll see all the trades that I've closed thus far: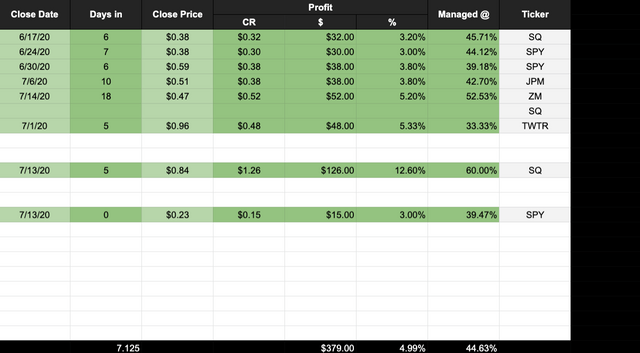 So far, I have yet to have a losing trade. Obviously, a losing trade is right around the corner at some point. Nobody can have a 100% win rate.
Once a losing trade comes along, I will log that experience closely. It's the losers that define the portfolio and finding the right cadence in terms of whether to roll the contracts for extra time, a higher/lower strike price, etc. will all come with time and experience.
The totals at the bottom are interesting (even though it's only showing 8 closed trades):
Average Time in a Profitable Trade: 7.125 Days
Total Profit: $379
Average Return on Capital Per Trade (ROC): 4.99%
Average Closing % of Max Profit: 44.63%
My goal with this is not to make as much money as possible, but instead to make as many trades as possible. As I said, the experience is important and whether or not I stick with trading options in the long-term, I think there are a lot of lessons to learn from this kind of approach - in terms of decision making, exposure to the markets and having skin in the game.
---
LeoFinance is an online community for crypto & finance. We run several projects that are powered by Hive and the LEO token economy:
Posted Using LeoFinance