It's official. The amount of short seller positions in TSLA has now reached about $19 billion USD, making Tesla the most shorted U.S. company on record.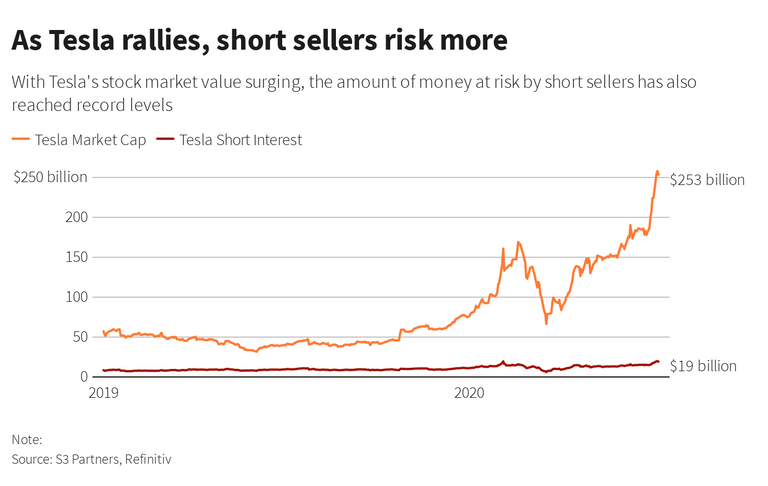 Source: S3 Partners
On recent speculation that TSLA might get added to the S&P500, buyers have been flocking from near and far to pick up as much Tesla as they can. With all of this incredible buying pressure, Tesla is up from $1200 to now $1500 (as of today) just this week!
To add more context, TSLA dropped to about $400 during the pandemic lows in mid-March. The stock has more than tripled in just 4 months.
While Tesla is not the only tech stock that has been booming, it does seem to be the ultimate outlier in terms of how much buying activity is happening. The price is just running through the roof.
On a personal note, I contributed to the $19 billion USD of short sellers when the stock hit ~$1100 by adding a put debit spread to my portfolio. After TSLA crossed $1k, I was in disbelief that it would go any higher.
With my conviction that the entire market is overpriced, TSLA hitting these crazy highs while the pandemic is still upon us seemed completely irrational. That position is now -60% and has been getting worse by the day as TSLA continues to shoot toward the moon.
This is coming from someone who is and has always been incredibly bullish on TSLA for as long as I can remember. In fact, the first time I bought any stock in my life, I split the little money I had and bought some shares of TSLA and some shares of AMZN.
I can see Tesla hitting $1 trillion in market cap easily some day, but I still believe that it needs more time. Its current valuation is just over $250 billion.. making it the most valuable car maker in the world (although I and many others who follow the company don't consider that label to be accurate).
The good news for my portfolio is that I'm still long TSLA stock and have no plans to sell much of it at these valuations. I've slowly sold a few shares during the rally from $700-$1500, but nothing major. My long stock is intended as a multi-year (and even multi-decade) hold and the recent gains have more than offset the losses from the small short position I took.
---
Some Fundamentals
Fundamentals seem to not carry much weight these days as the entire stock market has exhibited the V-shaped recovery that most of us didn't believe would be possible. The economy has 1 story while the market seems to be off running with its own version. Or perhaps we're just seeing the effect of the infamous brrrrrrr.
Tesla has its next earnings call scheduled for July 22nd. I'd say the speculation is about 50-50 on both sides of the coin: some are saying that their profit/overall earnings will suck and others are saying that they'll knock expectations out of the park.
Personally, I'm feeling a little Jekyll and Hyde at the moment. As a TSLA shareholder, I'm always hoping these earnings calls will be a homerun in terms of beating expectations but as a TSLA short-seller (temporarily), I'm also kind of hoping for a bad earnings call so I can collect up some premium on my options and then use the profits to buy up more shares on the cheap.
We'll see what happens but TSLA posted some delivery numbers recently that beat expectations by a wide margin. We've also seen an aggressive re-opening of Tesla operations after Covid and Elon is being Elon as per usual so anything can happen at this point.
Bottom line, I've got my long stock and I am extremely bullish on Tesla the company (even if I'm bearish on TSLA the $1500 stock). The short position is either a way for me to get a little extra cash and hedge against a sudden correction to the downside or its a way for me to lose a little lunch money.
Where do you stand on Tesla? Are you a part of the $19 billion (either in spirit or actual positioning)? Or are you praising this shot to the moon through and through?
---
LeoFinance is an online community for crypto & finance. We run several projects that are powered by Hive and the LEO token economy:
Posted Using LeoFinance