Bitcoin has been trading sideways since May. In the aftermath of the mid-March crash and subsequent recovery, volatility is now dropping at a rapid pace.. but volatility isn't the only thing dropping.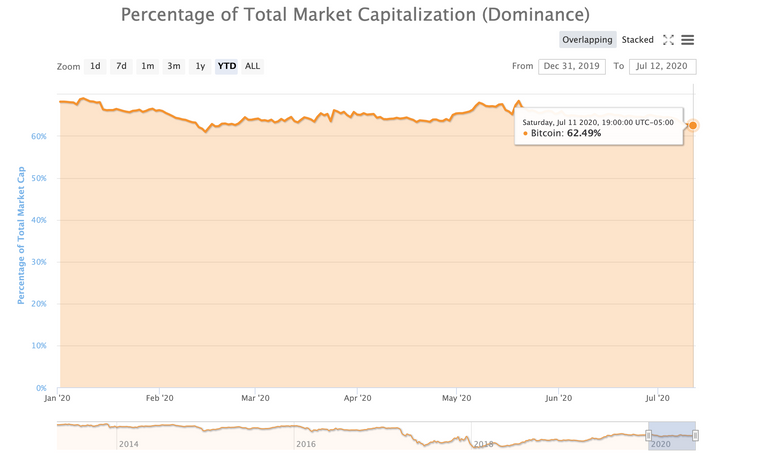 Source
This is a chart showing Bitcoin's dominance over the crypto market YTD (December 31, 2019 - Today). Since May, we've seen Bitcoin trade sideways and drop in both dominance and volatility while many altcoins have been rising in price - some showing triple digit gains.
Powered By DeFi
DeFi is all the craze this year. MakerDAO has been around for quite some time and has provided me (and many others) with the ability to collateralize our crypto and utilize a DeFi product to take out loans or earn interest on our investment in the space.
Other protocols like COMP, KyberNetwork, etc. have been gaining more and more traction as of late. These DeFi protocols are all different but similar in many ways.
Regardless of what specific problem these protocols are trying to solve, we're seeing an explosion in the usage, hype and investment in the DeFi space.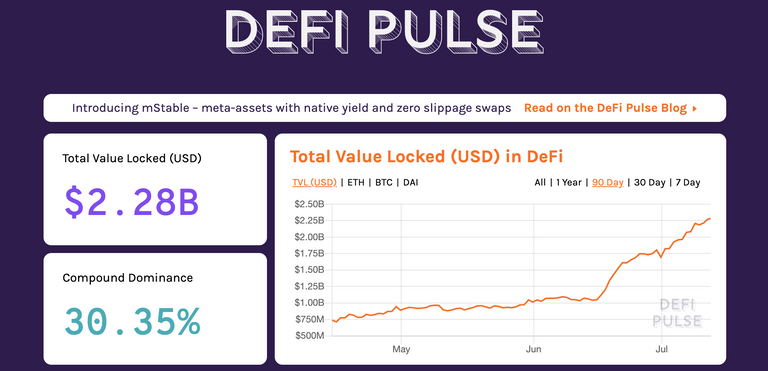 Defi Pulse
Check out the value locked in DeFi. It has been exploding since May - rising from ~$900 billion USD to now $2.28 Billion USD; reaching new all-time highs with each passing day.
Value being locked in DeFi is a great thing for many reasons. One core metric that I'm following is the value locked in specific cryptocurrencies that I'm invested in.
You can think of these locked tokens as being almost like staked tokens. Everyone on Hive knows the importance of having a high % of tokens staked rather than running around liquid.
While these tokens are not exactly "vested" as stake, they are still locked to some degree. They can be moved quickly if there is a need by the user to do so - as all they have to do is pay back the loan. There is typically no waiting period to unlock your crypto a collateralized protocol. With other protocols (especially interest-bearing ones) there may be a waiting period.
Is This Actually an Altcoin cycle?
I keep asking myself if this is actually an altcoin cycle. I have made many posts in the past talking about how I own a bunch of cryptocurrencies but only hold very significant investments in:
Bitcoin
Ethereum
Hive
BAT
Outside of those 4, I don't pay much attention to other cryptocurrency projects. While I've enjoyed some gains in these 4 projects, I still have yet to see some triple digit action out of this supposed "altcoin cycle".
Many altcoin maximalists would say that it's because I'm not invested in the "right altcoins".. but I'd beg to differ. Yes, there are projects that people have followed like Comp and Kyber for a while, but if this was a true altcoin season, wouldn't ETH be exploding in value? After all, 99% of these projects are built on the Ethereum network.
This may be just the beginning stages of an altcoin cycle. If that's the case, then I am glad. If this is not the beginning of an altcoin cycle, then I'm still betting that Bitcoin will regain some of that dominance and the tide of the entire crypto space will rise with it.
Right now, we're just in the wait and see business.
Question of the Day: Do You Have any Alt Coins in your portfolio that have seen double or especially triple digit gains?
I'm especially curious about the triple digit defi coins that you might hold. Tell me about them in the comments so I can live vicariously through you.
---
Join The LEO Community So You Can Brag About Your Bag!
LeoFinance is an online community for crypto & finance. We run several projects that are powered by Hive and the LEO token economy:
Posted Using LeoFinance