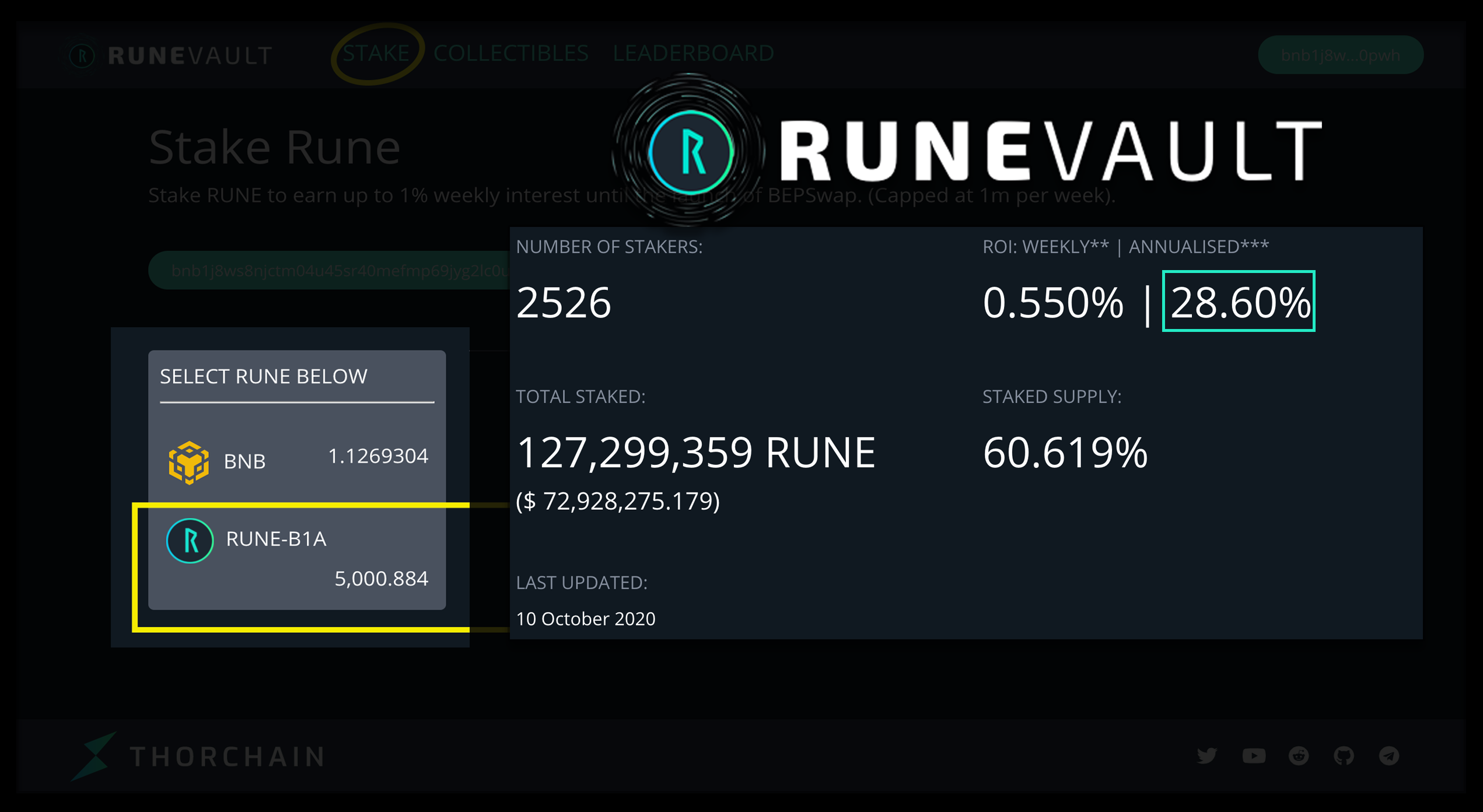 Thorchain (RUNE) is a project that I've gotten more deeply involved with lately as @jk6276, @shanghaipreneur and a few others threw me down the rabbit hole. It's a truly incredible project once you start peeling back the layers.
On the surface, a quick glance might make you think that it's like any other DeFi project out there. Just "another" liquidity pool token organization following the trend.
After more research, the story quickly takes a different direction. Thorchain is aiming to fix a lot of issues that exist in DeFi while tackling some of the broader issues in crypto as a whole.
Wrapped coins offer great versatility, but dealing in the native asset provides more security and less third-party risk. With something like Wrapped Bitcoin (WBTC) for example, you're relying on the WBTC ecosystem to not fail. The custodians, the merchants, etc.
WBTC allows you to do a lot of cool stuff - like take out collateralized loans, participate in liquidity pools, etc. - but it also forces you to lock up your real BTC and take out a third-party version of it: WBTC.
Thorchain is creating cross-chain liquidity pools that allow you to pool native assets across a multitude of chains. Main net hasn't even launched yet, but you can see what they've done over on https://chaosnet.bepswap.com/.
Outside of that, the infrastructure design of Thorchain is extremely impressive. Clearly, this was made by people who understand economics at a high level. Incentives are clear and node operators and liquidity pool providers take center stage.
Why Stake RUNE in Runevault?
A few months back, the only option to earn yield on your RUNE was to stake it in Runevault. I've gotten involved in the project more deeply the past month or so, but now there are other options: you can bind your RUNE in a node (if you have 300k+ RUNE) or you can provide liquidity to one of the pools on BEPswap.
The pools are interesting and I'll continue to keep an eye on it. I may pool a small position just to play around and show support, but I'm not a big fan of the available pool options.
Right now, the most attractive pool is RUNE-BNB. The problem for me is that I'm not a BNB hodler and don't really want to be. If RUNE moons (which I think it will), then I'll get left holding a bunch of BNB that I'd rather not hold.
I also hear that the Bitcoin cross-chain integration isn't far off. So I may only have to wait a month or so to be able to actually pool my real BTC with RUNE and earn rewards. Since I have buckets of BTC just lying dormant, this is extremely attractive.
Until then, I want to earn something for all this RUNE that I'm accumulating. Runevault is a simple option that allows you to stake RUNE and earn an APR for HODLing. The current APR is about 29%.
How to Stake RUNE in Runevault
Step 1). Get an Address and Get Some RUNE!
Now on to the actual guide. First, you have to get yourself a Binance chain wallet (RUNE currently lives on Binance chain).
I'm going to use the Binance Chain app on my Ledger hardware wallet.
One you get your wallet, you'll receive a public address to deposit your RUNE into. This whole process is very similar to Ethereum.
Binance chain has an explorer and a DEX. I connected to the DEX to see my wallet address and then opened the explorer to check when my RUNE landed there:
https://explorer.binance.org/address/bnb1j8ws8njctm04u45sr40mefmp69jyg2lc0u0pwh
Step 2). Don't Forget to Fill the Tank!
You can see here I sent a little RUNE as a test. Again, this is my first time using Binance Chain so I wanted to make sure everything went as expected. This is the moment that I realized that I needed some BNB in the wallet for "gas".
You don't need much. I think 0.15 BNB should suffice for a number of transactions.
You can also find Runevault on the official Thorchain website: https://thorchain.org/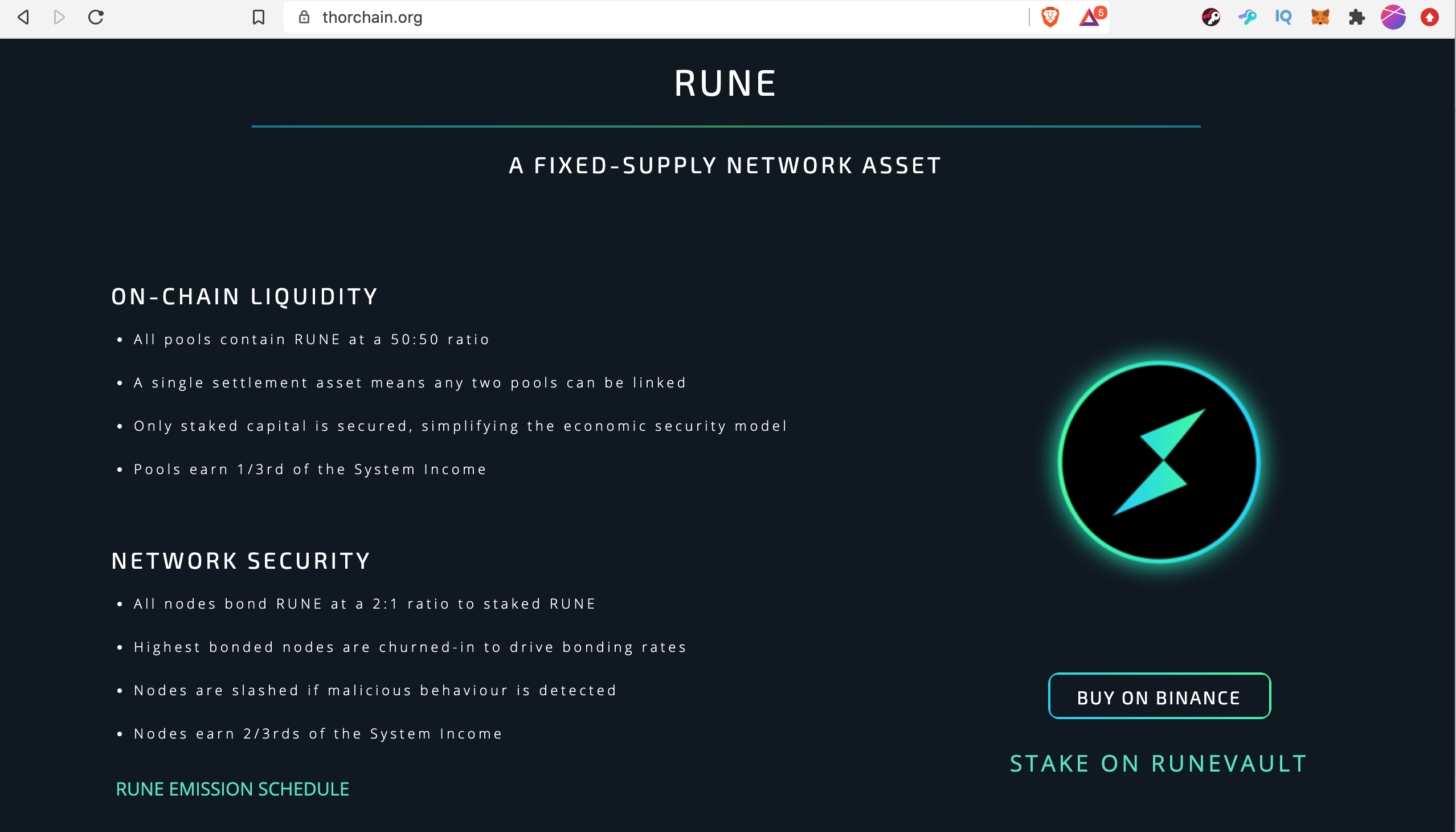 Step 4). Connect Your Wallet:
Click "Connect my Wallet" in the top right.

On the left, you'll find 4 different wallet options. Again, I'm using a Ledger hardware wallet: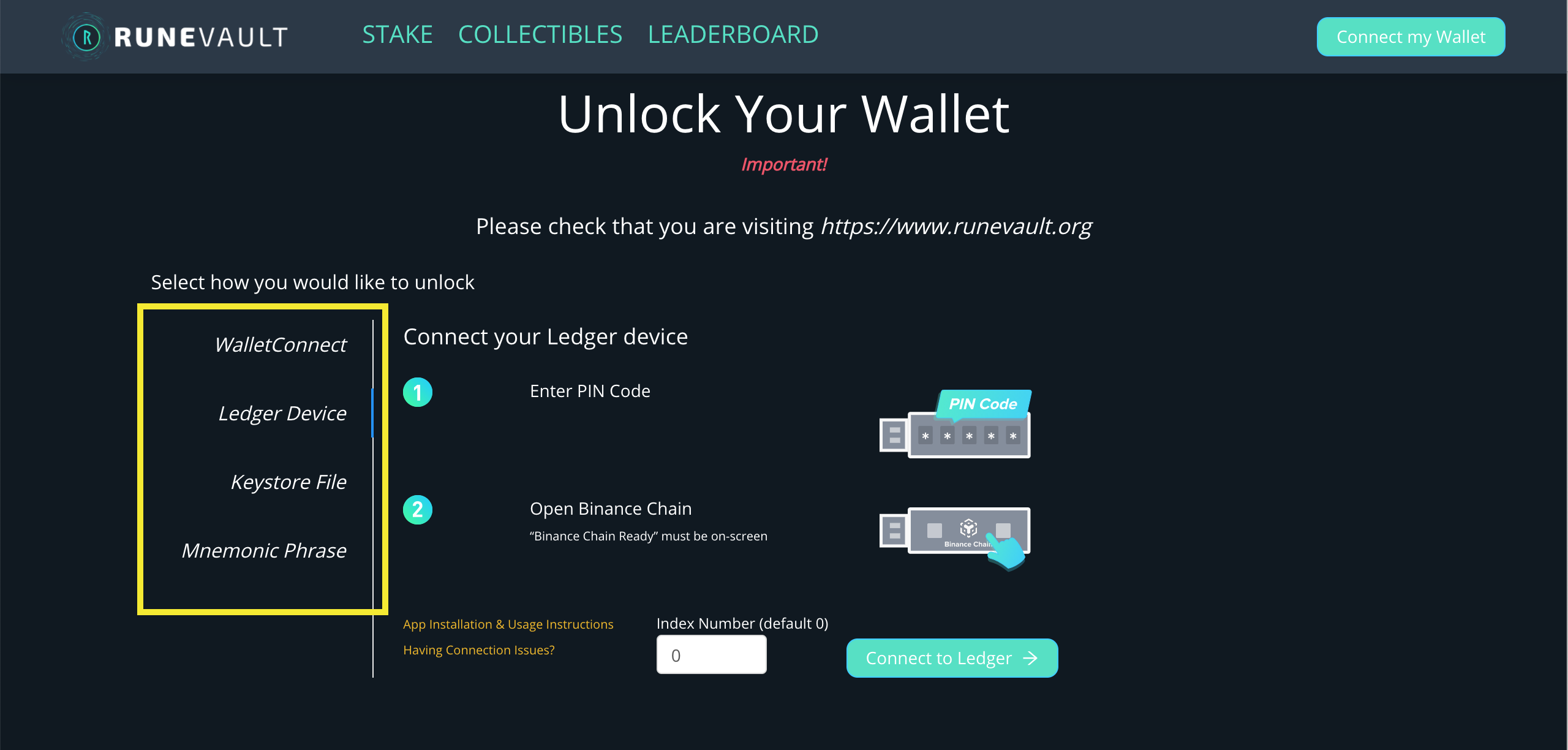 After connecting, you can click on your Address in the top right. It will show you your current Binance Chain asset balances:

Step 5). Stake:
Click stake in the main menu and you'll see the stake page. Then just click on RUNE in the "SELECT RUNE BELOW" menu: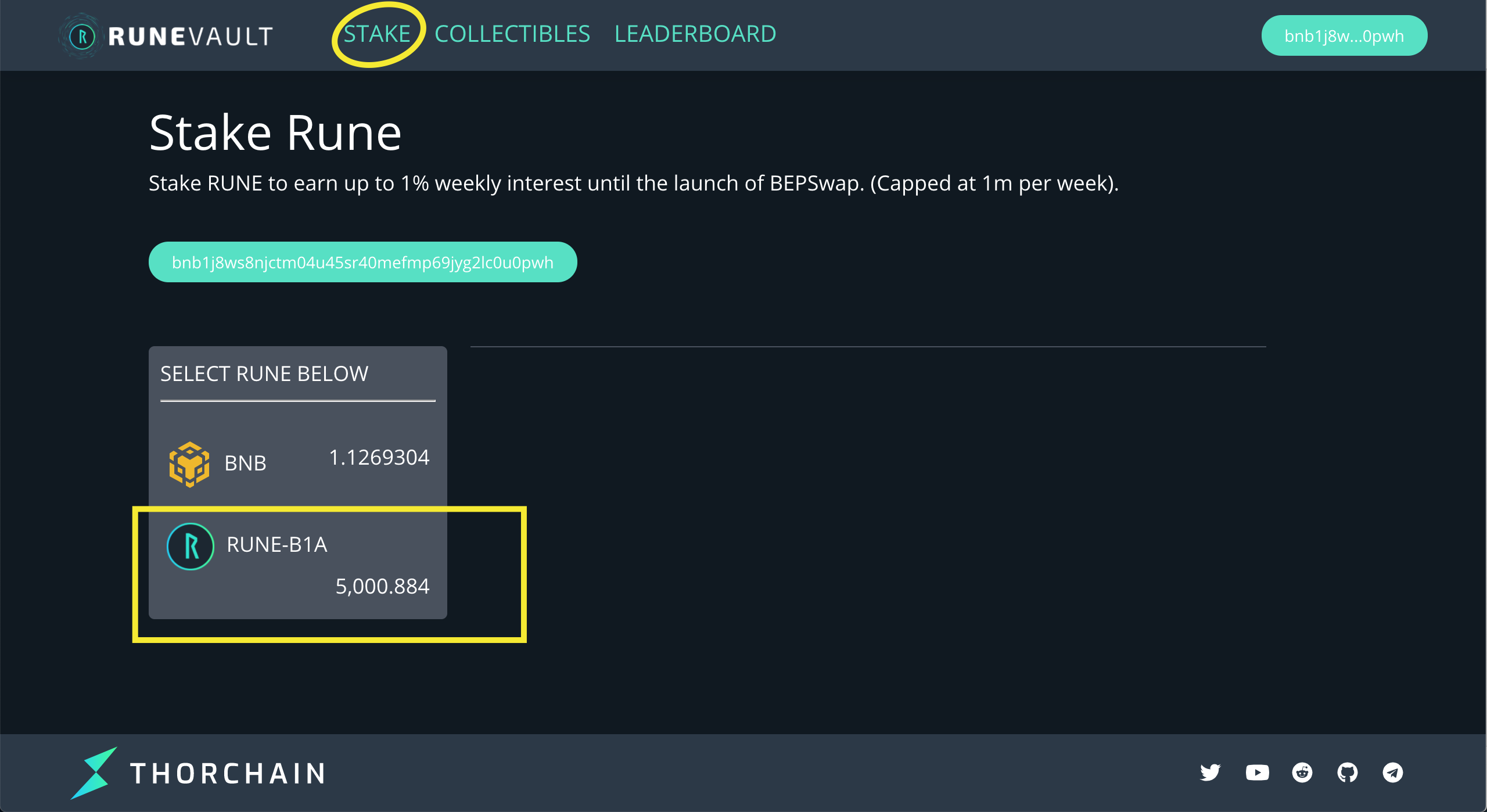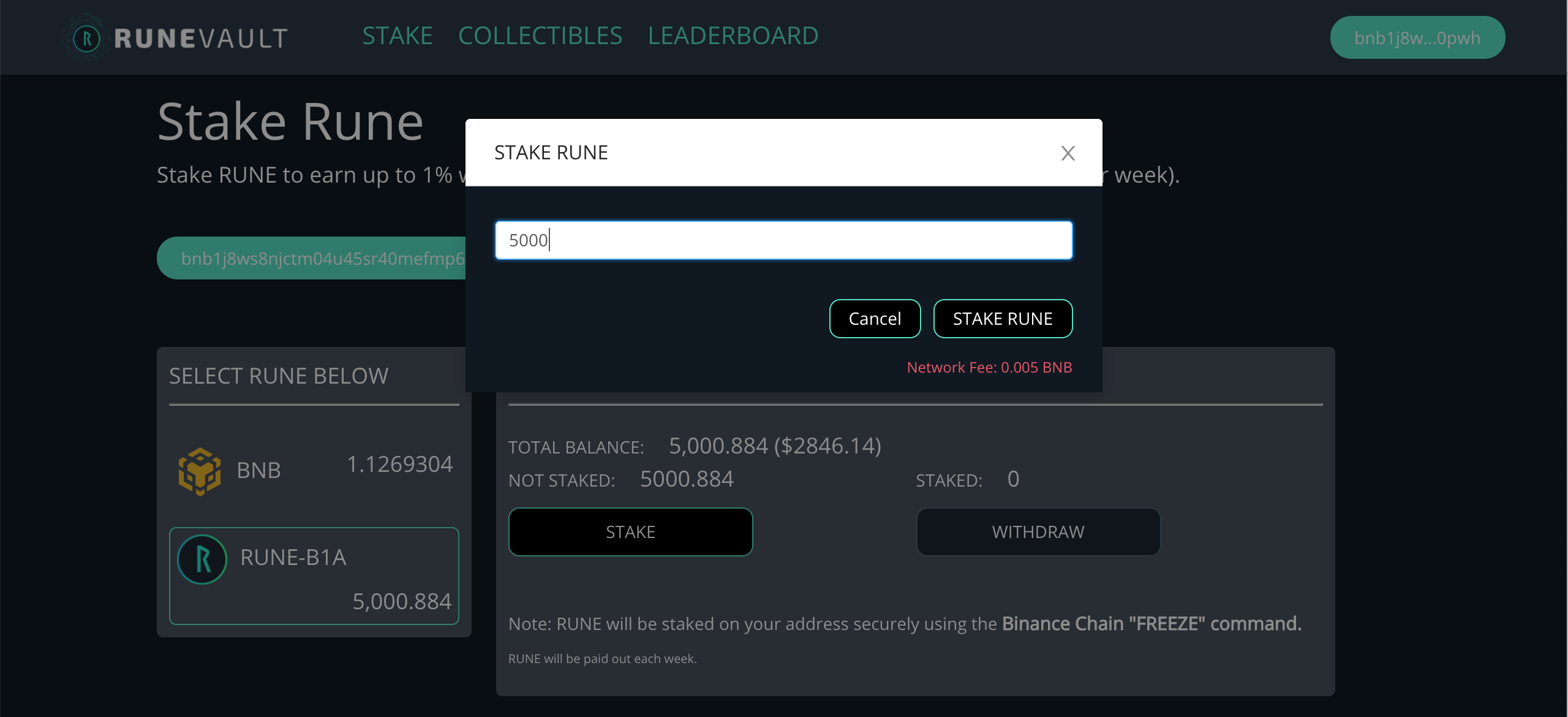 Great Success!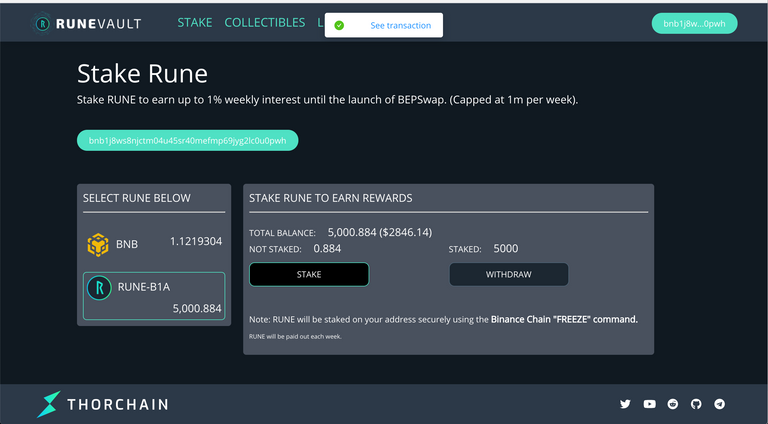 After you stake, you'll get a "See Transaction" popup. You can go to Binance Chain to view the freeze operation you just did to stake the RUNE: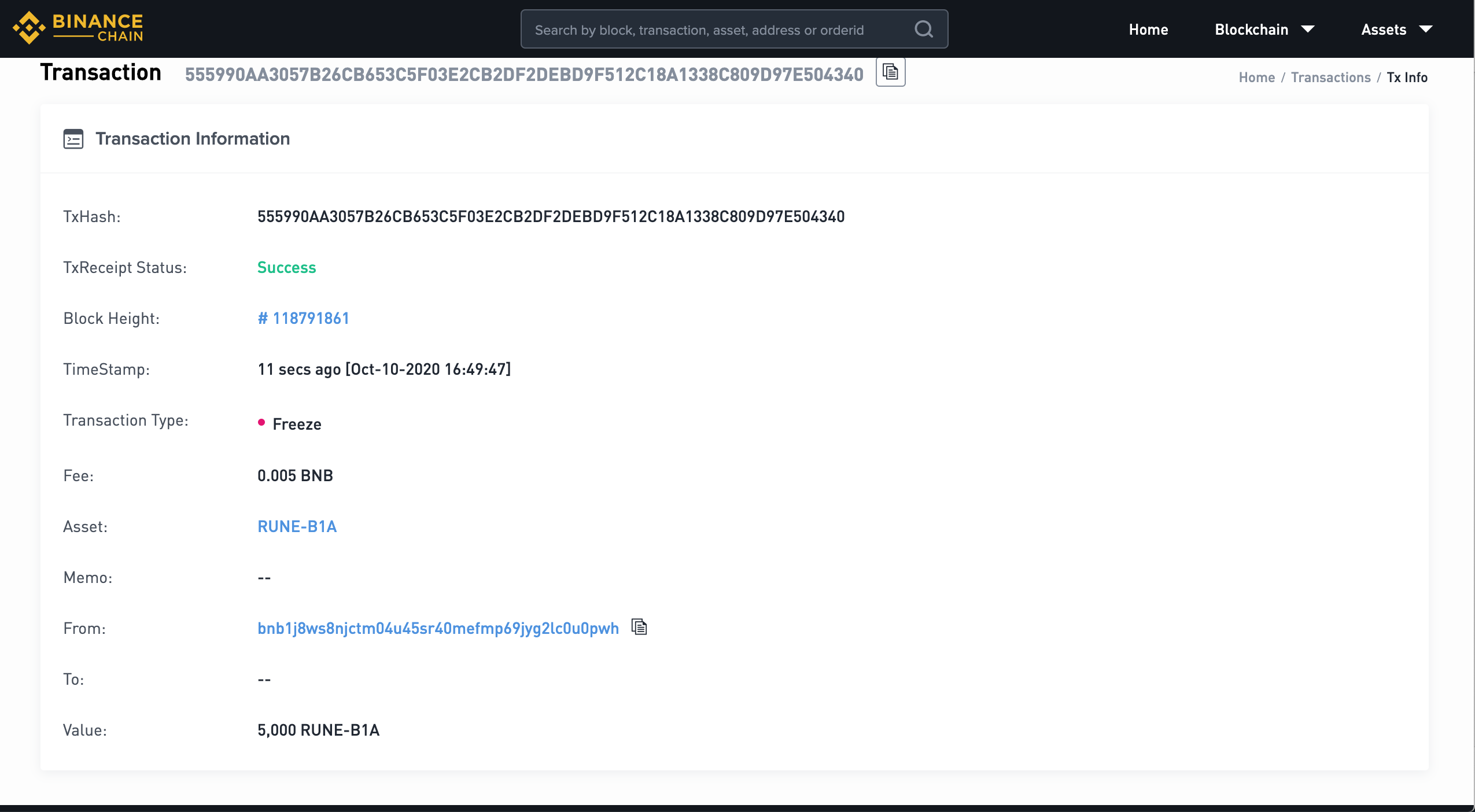 ---
That's it. It's a pretty simple process, even for someone who's never used Binance Chain before. The staking rewards are paid out weekly (at a random time each Sunday). Sit back and earn, can't argue with that.
I may lock up more RUNE in here. I'll wait and see how the first payout goes and then consider moving more over. Once the BTC - RUNE pool option opens up, I'll be eager to unstake out of Runevault and become one of the first "real" BTC liquidity providers ⚡️

LeoFinance is a blockchain-based social media community for Crypto & Finance content creators. Our tokenized blogging platform (https://leofinance.io) allows users and creators to engage and share content on the blockchain while earning LEO token rewards.
Follow @leofinance for official updates
Posted Using LeoFinance Beta