I'm Gunning for #1 Engagement on LeoFinance This Week | Beat Me and I'll Send You 100 LEO!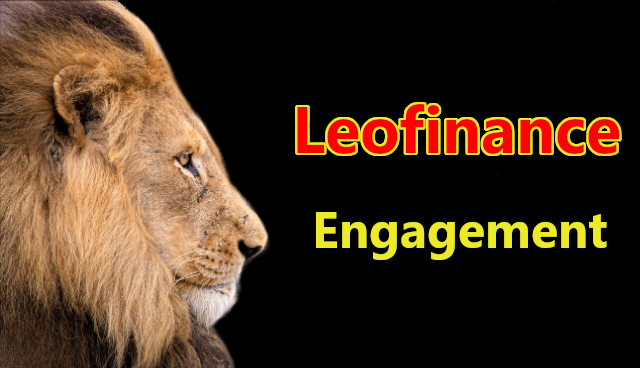 @abh12345 posts LeoFinance Weekly Engagement statistics. The leaderboard uses a few different metrics to track engagement on LeoFinance and LeoMobile. Most weeks, I rank somewhere in the 20-40 range.
@taskmaster4450 is frequently in the top 3. There are others out there like @finguru @jfang003, @forexbrokr, @nialon11 and many more that rank super high every week.
With the new LeoAds mechanic going into effect, our focus as a community should turn back into the community. We need to focus on:
Great, evergreen content that drives traffic for years on end
Great engagement which increases ad views short-term and adds significant juice in the long-term
Community onboarding
External onboarding
Focusing On Engagement
As a community on LeoFinance we need to focus more on engagement on the site and build what we've got. As discussed in that @leofinance post, the average monthly ad revenue is about $4,000 which puts the average APY at 4-10% for LEO POWER holders (add in the 18-20% from curation rewards and you've got nearly 30% APY for staking LEO as LEO POWER which is pretty exciting).
As many said in their comments and tweets responding to that post, this is a self-fulfilling cycle:
LEO POWER hodlers earn more APY when people engage more and drive traffic to leofinance.io
As more engagement happens on leofinance.io, LEO POWER holders earn more
LEO POWER holders are incentivized to use their LEO POWER to spur engagement and reward good authors
LEO POWER holders earn more rewards as their upvotes start driving more traffic and engagement
🔁
Engaging on LeoFinance
My engagement can be relatively spotty. I get caught up in development and sometimes forget to be active around here.
I've wanted to change this for a while. I do have spare time in between calls and dev meetings and I really believe that with the expanded LeoTeam, I have a greater ability today to be more engaged with everyone.
I also highly value the feedback I see on posts and comments that everyone makes on LeoFinance. Usually, I'm lurking around the site - reading almost every post and most of the comments related to LeoFinance and some of the projects I follow like Thorchain and Terra.
Instead of just lurking, I'm going to do my part and spur more engagement on the site.
As a LEO POWER hodler, I want to see more traffic and more engagement which = more ad revenue. That means more $$ in my pocket every single month as I see LEO POWER added to my balance from the ad revenue.
Beat Me, Earn 100 LEO
So following the metrics that @abh12345 uses, I'm going to engage more on LeoFinance.io. This means:
Replying to everyone who comments on my posts
Commenting on posts I read on LeoFinance
Curating more content
...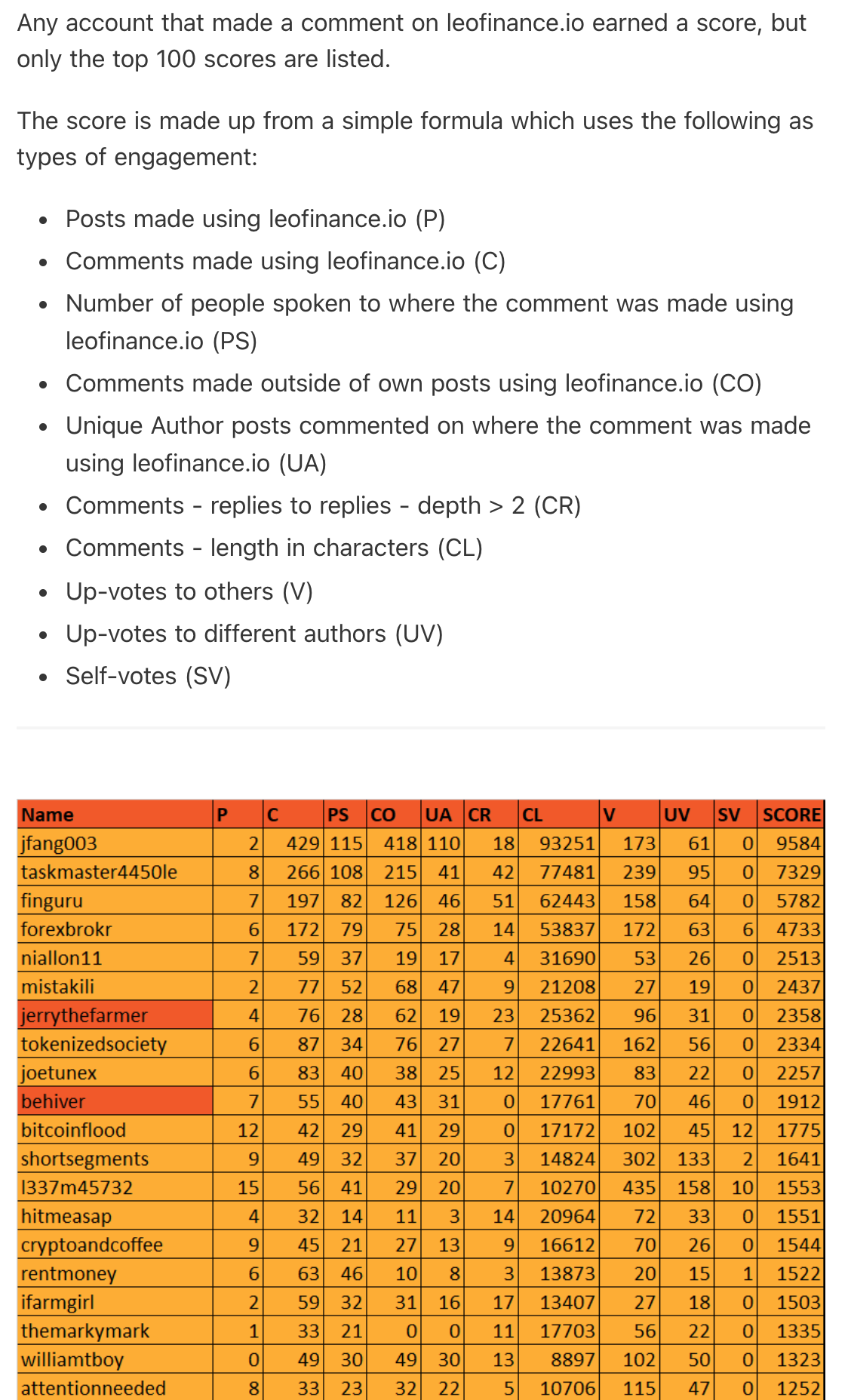 These are the top 10 from last week along with the criteria for engagement that Asher uses to collect and rank people.
I'm going to supercharge my usage of LeoFinance.io and LeoMobile to hit rank #1.
Anyone who ranks above me in Asher's next weekly LeoFinance Engagement Post will get 100 LEO sent to their account.
This week has already begun.
Get Ready,
Get Set,
Engage!

LeoFinance is a blockchain-based Web3 community that builds innovative applications on the Hive, BSC, ETH and Polygon blockchains. Our flagship application: LeoFinance.io allows users and creators to engage and share content on the blockchain while earning cryptocurrency rewards.
LeoFinance | CubFinance | Hivestats | LeoDex | LeoFi
Delegate HP & Earn 16% APR, Paid Daily. Currently @ 2M HP
---
LeoMobile Open Beta is Now Live! Join The Fastest Growing Web3 Community:
IOS / Android

Posted Using LeoFinance Beta
---
---